Here, we first give you a brand-new overview from IWA 2022 on the most important ammunition innovations from RWS and show you the manufacturer's videos on the corresponding products. The first information on the new products from RWS for 2022 is exciting: as was the case last year, the established manufacturer of hunting and sporting cartridges is not only expanding its already wide range with new loads of existing product lines, but also with completely new developments. 
All new ammo products from RWS for 2022 (Hunting & Sport)
Below, we present an overview of all new products from RWS, sorted into the areas of hunting and sport. At a later date, we will provide more details on the individual products when the market launch is imminent. But now to the announcements of the new ammo products from RWS for 2022: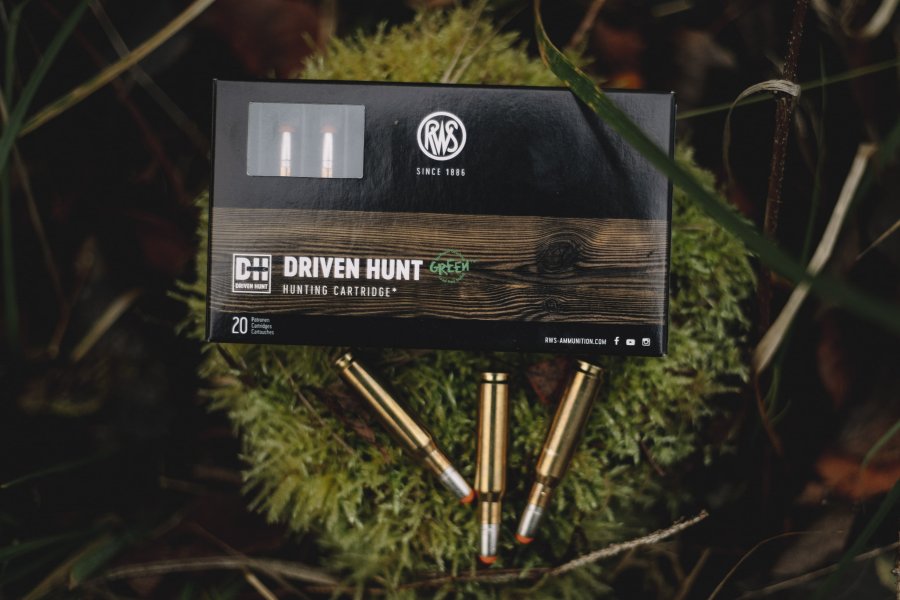 RWS Driven Hunt: new lead-free ammunition for 2022 specifically for driven hunting
For hunting with lead-free bullets, RWS has had a high-performance cartridge in all major calibers on the market for some time now in the form of the HIT. In the meantime, all doubts about lead-free ammunition should have been dispelled thanks to convincing results. Where it has to be lead-free, it is probably the best alternative. However, with its new development, RWS wants to go one better in terms of bullet effect, especially at short ranges.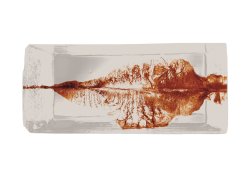 Specifically for driven hunts, RWS is introducing the new Driven Hunt, a deformation bullet that has been adapted precisely to this type of hunting: a maximum knock-down effect is to be achieved at shorter and shortest ranges, as the bullet design has been optimized for particularly fast deformation and energy transfer. Shooting tests on ballistic gelatin show an immediate mushrooming of the bullet, which should safely pin down even very tough game with a powerful instantaneous effect. 
In addition to the high deformation readiness, the bullet design also ensures the highest possible residual bullet weight: besides the ballistic performance on the target, this should also ensure a high level of game preservation. The boat tail, familiar from the match range, together with the performance grooves give the bullet the necessary accuracy.
RWS has significantly expanded its hunting ammunition range in recent years with special short-barrel loads for the HIT and SPEED TIP Professional bullet types for use in hunting rifles with shorter barrels. For 2022, they are going one step further and are now additionally launching the RWS Driven Hunt, an even more highly specialized bullet for driven hunts. Here are the technical details and planned calibers for the market launch:
New lead-free driven hunting ammo: RWS Driven Hunt – Data and prices:
| | | |
| --- | --- | --- |
| Caliber | Bullet weight | Available from |
| .308 Win. | 10.7 grams / 165 grains  | 1st quarter 2022 |
| .30-06 | 10.7 grams / 165 grains  | 1st quarter 2022 |
| .300 Win. Mag. | 10.7 grams / 165 grains  | 1st quarter 2022 |
RWS HIT in two new calibers for 2022: lead-free and effective
The caliber range of the proven RWS HIT is experiencing further expansion: the lead-free ammo will also be available for .30 (7.62mm) with 10.7-gram bullet and .323 (8mm S) with 10.4-gram bullet – recommended for hunting small game – starting in the second quarter.
This further complements RWS's extensive range of calibers for lead-free hunting: the ammunition selection for hunters with a wide variety of rifles and uses is growing. The advantages of the mass-stable deformation bullet RWS HIT made of copper are now available not only for the widely used calibers, but also increasingly for more rarely encountered calibers: in addition to a flat trajectory and high instantaneous effect, these include game meat preservation due to splinter-free mushrooming – with a certain exit wound.
New calibers of RWS HIT hunting ammunition – data and prices:
| | | |
| --- | --- | --- |
| Caliber | Bullet weight    | Available from |
| 7.62 mm / .30 | 10.7 grams / 165 grains | 2nd quarter 2022 |
| 8mm S / .323 | 2.6 grams / 160 grains | 2nd quarter 2022 |
RWS Target Elite Plus with heavier Scorion bullets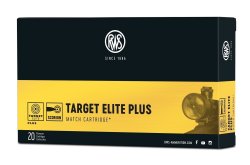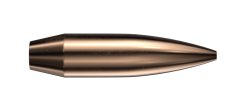 Last year, RWS introduced its new in-house development for the sporting field: the Scorion bullet family. 
The advantages of the Scorion bullet, such as a particularly stable, flat trajectory and minimum sensitivity to crosswinds for open-range competition, were not only available to reloaders, but were also used within the Target Elite Plus match cartridge series in calibers from .223 Rem. to .338 Lapua Mag. 
The precision bullets, both for reloaders and as Target Elite Plus loads, will now also be available in the popular long-range 6.5 Creedmoor and 6.5 X 55 SE calibers with heavier bullet weights of 9.3 grams starting in the second quarter of 2022. We tested the Scorion bullet at the range.
Video: New 6,5 calibers of RWS Target Elite Plus + technical data
This video has been hidden because of an external service (YouTube) that could potentially collect personal data.Allow video services for the duration of the visitAllow video servicesStop allowing video services


| | | |
| --- | --- | --- |
| Caliber | Bullet weight    | Available from |
| 6.5x55 SE    | 9.3 grams / 143 grains (also available: 8.4 grams / 130 grains)  | 2nd quarter 2022 |
| 6.5 Creedmoor   | 9.3 grams / 143 grains (also available: 8.4 grams / 130 grains)  | 2nd quarter 2022 |
New RWS R Plus Long Range rimfire cartridge in .22 LR caliber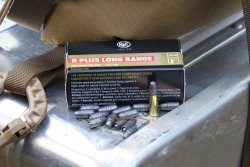 Let's stay with the trendy topic of long range: the unbroken popularity of long range shooting is also becoming increasingly widespread in the rimfire sector. RWS is responding with the brand-new R Plus Long Range cartridge, whose bullet features familiar longe-range characteristics: higher weight for greater stability in crosswinds and a pointed tail section. 
The resulting aerodynamics, together with a high muzzle velocity of 355 meters per second, are said to provide a flat trajectory and achieve accuracy even at over 200 meters, setting standards in the rimfire range. Thanks to the usual high quality and experience of RWS, we are confident that the manufacturer will achieve this set goal.  After all, the R Plus Long Range is part of RWS's premium rimfire ammunition, which already includes the world-famous R50.Daten der RWS R Plus Long Range Randfeuerpatrone im Kaliber .22lfB

| | | | | |
| --- | --- | --- | --- | --- |
| Caliber | Bullet type  | Bullet weight | Barrel length  | Available from |
| .22 LR   | RN | 2.8 grams / 43 grains  | 650 mm  | 3rd quarter 2022 |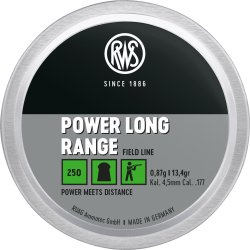 RWS Power Long Range: air rifle pellets for long ranges
Speaking of long range: not even the air gun range seems to be safe from this boom! Fortunately, because a new, sophisticated pellet design with high weight, together with a bullet shape for low air resistance, should enable long ranges of beyond 25 meters – assuming an air rifle with a power of 40 joules and above. 
As a result, the Power Long Range air rifle bullets are said to achieve impressive accuracy even at long distances, making plinking and varmint hunting particularly effective. The Power Long Range pellets from RWS will be launched with a bullet weight of 0.87 grams in .177/4.5 mm caliber and 1.65 grams in .22/5.5 mm caliber in the third quarter of 2022.
RWS Power Long Range pellets for high-power air rifles – data:
| | | | | | |
| --- | --- | --- | --- | --- | --- |
| Caliber | Bullet shape | Bullet weight   | Power | Pieces per package   | Available from |
| .177/4.5 mm | Streamlined | 0.87 grams / 13 grains   | From 40 Joules | 250 | 3rd quarter 2022 |
| .22"/5.5 mm | Streamlined | 1.65 grams / 25 grains   | From 40 Joules | 150 | 3rd quarter 2022 |
We will introduce you to the individual loads and products from RWS in more detail during the course of the year. 
---
Further information on the new releases from RWS can be found at rws-ammunition.com.