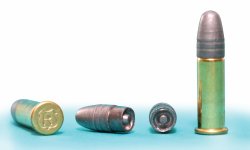 Manufacturer RWS has placed the R Plus Long Range in the Premium Line of its KK cartridges. The new cartridge in .22 LR features, among other things, a new, patented bullet design with a conical tail and a very high BC value. In addition to its favorable aerodynamic properties, the new rimfire cartridge has a special load that accelerates the bullet to a muzzle velocity of 355 meters per second (in a 650-mm barrel), thus ensuring a flat trajectory.  As is well known, a higher bullet weight usually also results in less wind drift. Therefore, the new RWS R Plus Long Range uses a bullet weighing 2.8 grams (43 grains), which makes the projectile less susceptible to crosswinds from the outset than with the maximum bullet weights of 2.6 grams (40 grains) otherwise common in the rimfire cartridge range.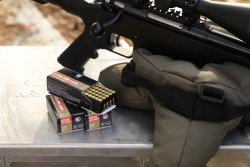 As we already reported from IWA 2022, RWS wants to set new standards in the field of rimfire cartridges with the R Plus Long Range.  Whether the manufacturer known for its high quality and experience – not only in the rimfire cartridge range – has achieved this self-imposed goal is shown by a test made by our colleagues who were able to conduct a meaningful comparison test with the new RWS R Plus Long Range over various distances even before the market launch. In this exclusive preliminary test, a total of no less than 3,000 rounds were fired with the new RWS rimfire cartridge and other cartridge types available on the market. You can read how the new RWS R Plus Long Range performed in this elaborate ammunition test here in the test report on all4shooters.com. 
RWS .22 LR R Plus Long Range ballistic data

Distance:


Bullet Velocity:


Bullet Energy:


0 m
355 m/s
176 J
50 m
318 m/s
142 J
100 m
294 m/s
121 J
150 m
279 m/s
109 J
200 m
266 m/s
99 J
250 m
253 m/s
90 J
300 m
239 m/s
80 J

The ballistic values given were determined by the manufacturer RWS with a 650-mm barrel.