A match bullet "Made in Germany" naturally makes sense in several respects, because in Europe there can always be supply bottlenecks for loading components from foreign production, especially from the USA. In the imaginative word creation "Scorion" there is the term "score" for "gaining points or achieving results", and we wanted to find out more about whether the young bullet can also hit something. As part of our investigations, a 300-m test was also planned, but due to the modest weather conditions, it fell through in the truest sense of the word. So we had to content ourselves with 100-m data for the time being, whereby we used 3 bolt-action rifles in the standard .308 Winchester caliber for the tests.
First measure, then shoot: the Scorion from RWS in detail

The market for match bullets is highly competitive and has been dominated for many years by manufacturers such as Hornady, Lapua and Sierra. Here you have to excel in performance if you want to get a piece of the pie as a newcomer. RWS obviously also made an attempt to optimize the geometry of the new 168-grain Scorion bullet. The bearing surface and the boat-tail are decisive factors here. Compared to the popular Sierra HPBT MatchKing, the RWS Scorion has a much longer bearing surface, comparable to the Lapua Scenar, but without the long slant of the boat-tail. Here the Scorion is again more comparable to the MatchKing.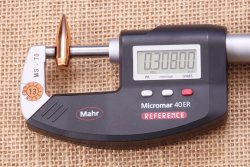 Why did the designers made the RWS Scorion this way? The answer is quite simple: most shooters who are intensively involved in reloading minimize the bullet free bore as much as possible. And those who do this with a bullet from RWS find ideal conditions for this, because the long bearing surface means that the maximum length of the cartridge does not change so much. At the same time, the short boat-tail ensures that the bullet is still optimally guided in the casing. At the base of the bullet, a recess can still be seen, which is intended to ensure optimized gas discharge when the bullet exits the muzzle. Weighing 10 Lapua, RWS and Sierra bullets taken out of the box, the following results were obtained: the highest difference of 0.43 grains was found in the Sierra Matchking bullets, Lapua did better with 0.26 grains, but the smallest difference of only 0.17 grains was found in the new RWS Scorion. These lower tolerances in the production of the RWS Scorion quickly explain the reasonable price difference. Because for 50 bullets, the German manufacturer would ask 30 to 35 euros. The competition is somewhat less expensive, with 100 bullets being offered for about 42 to 50 euros.

Bullet tolerance comparison of Sierra, RWS and Lapua
Testing the new RWS match bullet on the shooting range
In order to test the performance capabilities of a wide range of different rifles, we took three test rifles to the 100-m firing line. In addition, the handloads for the RWS Scorion bullet used 3 different types of powder covering different velocity ranges: Vihtavuori N140 for moderate velocities, IMR Enduron 4166 for medium velocities and Lovex D73.5 for maximum velocities, although here the transitions are fluid, of course. So we covered a velocity range of about 720 to 810 m/s. With the match rifle featuring the new HERA H7 stock system and Remington 700 Short Action bolt and barrel, as well as the young German TTS Xceed  bullpup sniper rifle, we achieved 2 top groups each below the 0.39"/10 mm mark. 
The best group was 0.27"/7 mm (40.0 grains Lovex D.73.5, achieved with the TTS Xceed), closely followed by 0.31"/8 mm (42.0 grains Vihtavuori N140 with HERA H7/Rem 700) and two 0.35"/9 mm groups (42.0 grains IMR 4166 Enduron with HERA H7/ Rem 700 and 41.0 grains Lovex D73.5 with TTS Xceed). The Savage 110 Precision SA did not get along as well with the German RWS Scorion bullet, although top groups of 0.47"/12 mm (41.0 grains IMR 4166 Enduron) or 0.51"/13 mm (41.0 grains Vihtavuori N140) are anything but bad.
You can see all other results of our exclusive test in our clearly arranged ballistics table: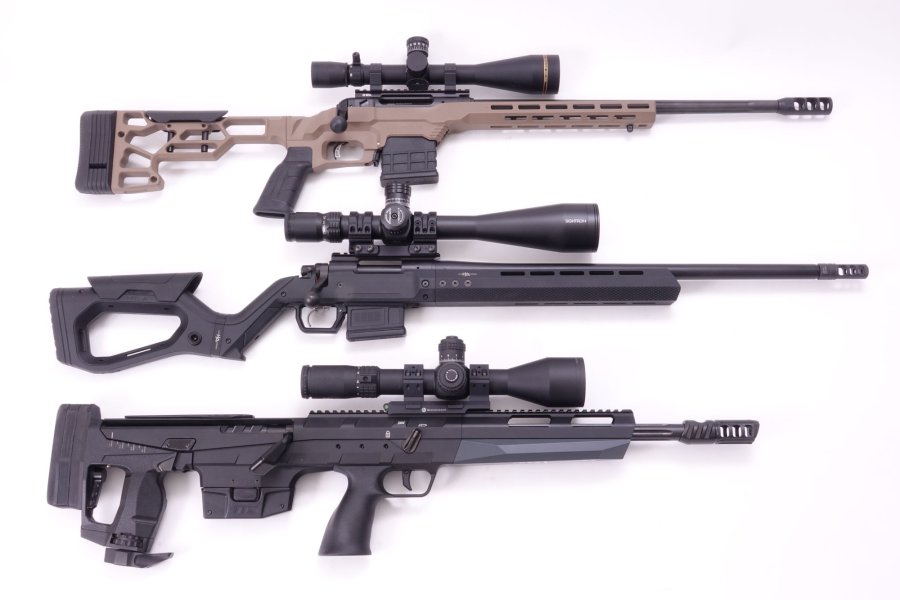 All shooting range results of different loads with the RWS Scorion match bullet








HERA H7


Savage 110


TTS Xceed


Bullet     


Powder load


OAL

v2

Δv2




SK




v2


Δv2




GP




v2


Δv2

SK

168 grs. HPBT RWS .308

40,0 grs. Vihtavuori N140

72

719

15

20

723

12

18

720

14

16

168 grs. HPBT RWS .308

41.0 grs. Vhitavuori N140

72

737

6

16

744

6

13

746

10

14

168 grs. HPBT RWS .308

42.0 grs. Vihtavuori N140

72

756

8

8

765

3

19

765

9

11

168 grs. HPBT RWS .308

41.0 grs. IMR 4166

72

737

10

14

732

13

12

749

8

18

168 grs. HPBT RWS .308

42.0 grs. IMR 4166

72

755

7

9

758

10

15

761

5

15

168 grs. HPBT RWS .308

43.0 grs. IMR 4166

72

778

12

12

791

16

18

792

11

10

168 grs. HPBT RWS .308

39.0 grs. Lovex D73.5

72

762

11

11

765

12

16

767

12

19

168 grs. HPBT RWS .308

40.0 grs. Lovex D73.5

72

781

10

17

792

7

21

790

4

7

168 grs. HPBT RWS .308

41.0 grs. Lovex D73.5

72

806

9

19

800

8

28

808

7

9

Appendix: all handloads in brand-new RWS cases with RWS Large Rifle primers. Test setup: seated using a front bipod and a rear sandbag support. 5 shots at 100 meters. Sights: Sightron rifle scope on HERA H7/Rem 700, Leupold 8.5-25x50 riflescope on Savage 110 Precision SA, Delta Optical 4.5-30x56 riflescope on TTS Xceed). Abbreviations: OAL in millimeters, v2 = bullet velocity in meters per second (measured 2 meters from muzzle, Δv2 = difference in bullet velocity in meters per second, GP = group at 100 meters. No responsibility is taken for the loading data presented here. Every reloader acts on his own responsibility!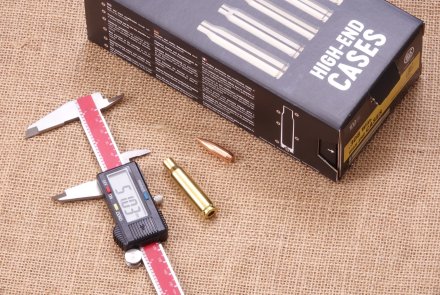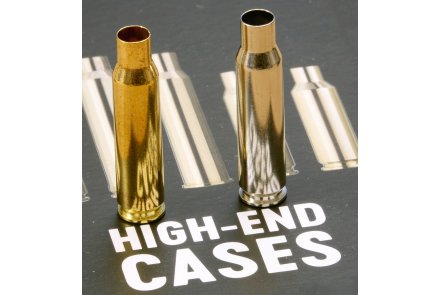 Conclusion: the new RWS Scorion match bullet

The new German match bullet in the form of the RWS 168-grain HPBT Scorion has nothing to fear from the established international competition and is at least on the same level in all key performance parameters. In terms of weight tolerances, it is in some cases superior to the competition, which is evidence of the high manufacturing costs. Therefore, the price can also be considered justified.
---
Text: Michael Fischer and Stefan Perey

You can find out more about RWS and the different reloading components on the RWS website.