TriggerTech, whose products have become the most popular triggers in the US Precision Rifle Series and the National Rifle League, releases its Weatherby Mark V Triggers. Designed for competition, precision shooting, hunting, rugged hunting, harsh environments, target shooting and varmint hunting, the new Mark V Field Triggers (2.5-5.0 lbs)  are compatible with current USA models (1996 and on) Weatherby Mark V rifles. TriggerTech has also released Mark V Primary (1.5 – 4.0 lbs) and Special Triggers (1.0 – 3.5 lbs) to the aftermarket. Both TriggerTech Models are available with a Weatherby Curved lever or a Straight Flat lever in PVD Black. 
The new drop-in Mark V triggers feature TriggerTech's Zero Creep technology to get away from the limitations faced by sliding friction triggers (all other triggers are sliding friction triggers), with a patented, free-floating roller is captured between the sear and the trigger for ideal release characteristics.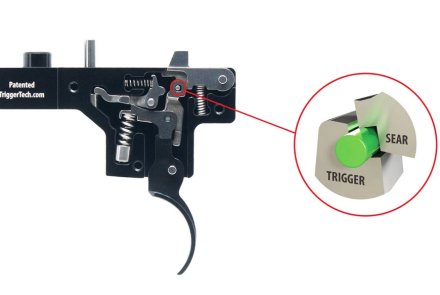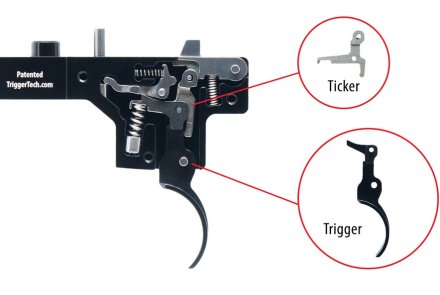 The new patented (pending) Dynamic Over Travel Technology in another key feature. As explained in a press release, "The bolt release on a Mark V Trigger is built into the trigger lever function - the user pulls the trigger with the bolt open to operate the bolt release. This presented a new challenge for TriggerTech as minimizing overtravel is a key focus for TriggerTech. TriggerTech developed and patented (pending) Dynamic Overtravel Technology to get away from the overtravel implications of this design. Dynamic Overtravel Technology is comprised of a patented, bolt release transfer bar that acts as an overtravel stop when the bolt is closed but clears when the bolt is opened allowing the trigger to operate as a bolt release lever." According to the manufacturer, this advancement makes it possible to engineer "the ideal overtravel characteristics into the Mark V Trigger".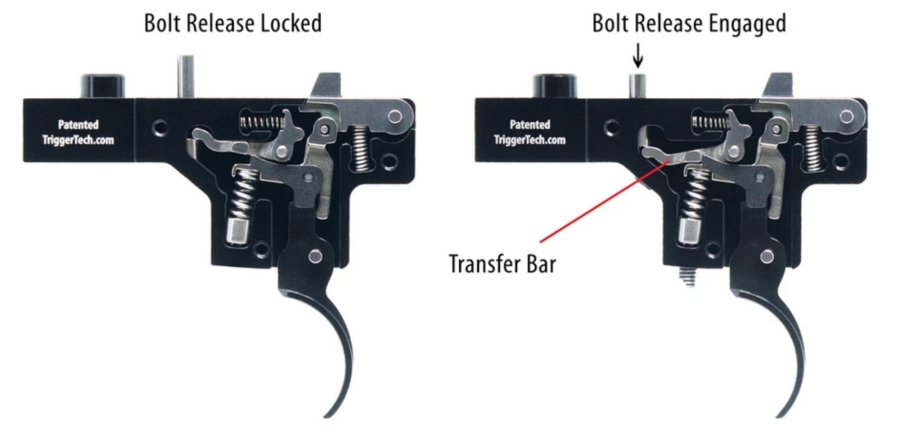 TriggerTech also developed a component to achieve a perfect overtravel and reset control. TKR Technology utilizes what they call the "ticker" –  "an intermediary component that can pivot freely from trigger lever to enable the sear to release without requiring further displacement from the trigger lever. This minimizes overtravel and sets you up for the perfect reset - one that is short (< 0.030") but remains tactile and forceful enough so you are not wondering if your next shot is good to go."
Lastly, the patented CLKR Technology – a detent and set screw combination – enables the operator to adjust the trigger's pull weight with tactile clicks.
Trigger housing is 6061-T6 Aluminum (anodized), while all key components are 440C Stainless Steel. Prices for the new TriggerTech Weatherby Mark V Triggers range from 194.99 USD (Field model) to 234.99 USD for the lighter-pull "Special" versions.