Based in the old gun quarter of Birmingham, Brocock is a well-known and appreciated UK manufacturer of airguns. In 2022 the company introduced BRK as a new name for its air rifles to better reflect the brand's emergence as a leading manufacturer of prestigious pre-charged pneumatic (PCP) air rifles. Designed as rugged hunting and general sports airguns, BRK air rifles are the choice of professional pest controllers, but not just that: BRK rifles are also used in the world of competition shooting, notably winning the 2023 Extreme Benchrest 75 yard Competition.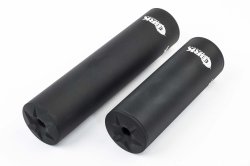 © WORLD COPYRIGHT: NIGEL E ALLEN 2023
In addition to its air rifles, new for 2023 BRK is introducing its MF 1/2" UNF silencer. The manufacturer claims it's "The quietest silencer BRK has ever made eclipsing the performance of many existing and more expensive custom brands". Two variants are offered: on one hand, the MF170 mm is the long version designed for ultimate silencing and use on shorter rifles such as bull-pup designs and carbines. 
The MF 121, on the other hand, is the short variant, intended to compliment longer full-length rifles. Both silencers have 40-mm diameters which makes them particularly effective in cutting down muzzle noise and fit industry standard 1/2" UNF threads. The MF silencer is caliber specific to .177 (4.5mm) and .22" (5.5mm) caliber, and is designed for use on airguns only, of course.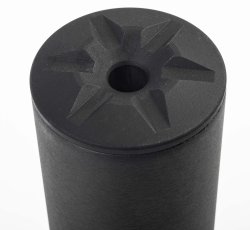 © WORLD COPYRIGHT: NIGEL E ALLEN 2023
Founded in 1989, Brocock has been a significant player in the UK airgun market for over a quarter of a century, first for their Tandem Air Cartridge System (TACS) pistols and now for their PCP air rifles. Today the company manufactures a range of advanced precharged pneumatic air rifles at its purpose-built Staffordshire UK base, where it is co-located with its sister company Daystate.
Modern BRK rifles feature Huma Air regulators, XR sidelever rifles and the BRK Ghost that with its advanced CNC machining introduces the very latest in high tech air rifles. Modern BRK's are also "modular", that is being adapted from parts within the same brand to add folding stocks different bottle/cylinder configurations and many accessories to allow you to customise and adapt your Brocock to suit your individual needs.
BRK MF silencer specs and prices
| | | |
| --- | --- | --- |
| Model: | MF121 | MF170 |
| Weight: | 151 g (5.32 oz) | 195 g (6.87 oz) |
| Length: | 121.78 mm (4.79") | 170 mm (6.69") |
| Diameter: | 40 mm | 40 mm |
| Fitment: | ½" UNF | ½" UNF |
| Calibers: | .177 (4.5mm) and .22" (5.5mm)  | .177 (4.5mm) and .22" (5.5mm) |
| Prices (MSRP in the UK): | £110.00 | £115.00 |