Headquartered in Centralia, in the U.S. state of Washington, ZEV Technologies originally started offering the first drop-in replacement triggers for Glock pistols.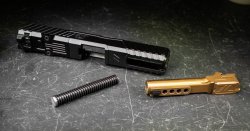 Over the years, ZEV's catalog has been extended to include other parts/accessories for Glock and SIG Sauer pistols, and even complete firearms such as the SIG Sauer-based P226 ZEV 9 and Z365 XL Octane models, both in 9mm. 
ZEV still manufactures interesting kiit, though, and one of them is the Hyper Comp ported slide kit, compatible with both ZEV's own OZ9 Compact receivers and Glock 19 1st though 3rd Gen frames.
ZEV Hyper Comp slide kit: reduced muzzle rise and recoil, better accuracy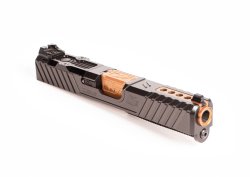 ZEV's Hyper Comp slide kit includes the full upper parts kit with installed sight set, the recoil assembly with reduced weight recoil spring for running on a G19 1-3 Gen frame, and a ZEV RMR cover plate.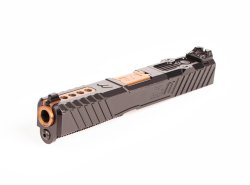 The slide kit is machined from 17-4 Stainless steel billet and features a lowered ejection port. It is RMR (Ruggedized Miniature Reflex ight) ready too. The front sight is pinned to the mono-block barrel that integrates with the open ended slide. The four compensating ports are milled directly into the barrel.
The manufacturer claims that "When first firing the Hyper Comp slide kit, you'll take notice of how much faster you can acquire the sights. Powered by four ports that are integrally tapered, this system reduces muzzle rise and recoil impulse without increasing length or mass". Is that true? You can judge for yourself: the video below shows an OZ9 equipped with the Hyper Comp system vs a standard Glock 19
This video has been hidden because of an external service (YouTube) that could potentially collect personal data.Allow video services for the duration of the visitAllow video servicesStop allowing video services
ZEV also ensures match grade, precision milled tolerances that are tighter than factory and improved accuracy and grouping performance upon installation. At $1,100, the ZEV Hyper Comp slide kit doesn't come cheap, but it's definitely an upgrade on your stock gun. As usual, it's up to you to decide if it's worth it.