These animals have in fact adapted to the changing environment, the result being an increase in their numbers that would have been thought impossible just a few decades ago.
And the hunter, who is the direct descendent, playing an active role in the environment in which he lives, has also adapted to this change with new techniques used to hunt the growing numbers of boar and other hoofed game. These techniques range from the age-old and widely-used driven hunt where many men and dogs hunt over a vast area; then there's the "girata" or'turning' method, a similar technique but with fewer hunters covering a more limited area, and some hunt boar on their own with hounds, or selectively, taking up the gauntlet in a direct challenge with the wildest of game.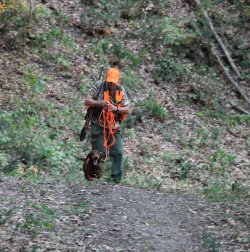 The hound's nose helps the hunter track the game to its den. Quite often, considering the proverbial vitality of boars and other large hoofed game, a tracking dog is indispensable after taking the shot to find and retrieve the kill. 
When moving through the woods, almost always through dense vegetation that's hard to penetrate, technical aids are essential for dogs and hunters alike, so they can move as freely as possible while remaining easily visible in the brush to prevent unpleasant accidents.
Riserva: range of accessories for hunting in the woods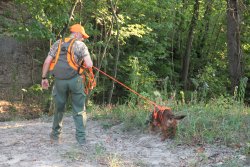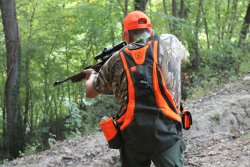 Riserva produces accessories to make hunting safer and easier, and for both these products Riserva has a range of dedicated accessories for the protection and comfort of hunter and hound when out in the woods. 
To protect the dogs' vital body parts if attacked by the game or when moving through dense vegetation, Riserva has designed a high-visibility fluorescent orange harness with a rotating eyelet to stop the lead twisting, adjustable clips for fast fitting and elastic on top so the harness flexes as the dog moves. It's made of Cordura, which is resistant to abrasion and tearing.
It is available in various sizes to adapt to the most commonly used breeds of tracking dogs. So the handler can keep the dog at bay, Riserva has designed a long lead, also called a "check cord", for tracking dogs. It's 10 metres long, made of strong fluorescent orange cord and has a clip on one end to attach it to the dog's harness.
Riserva hunters vest/backpack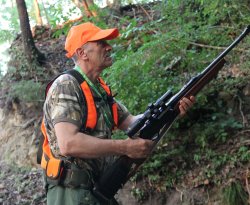 For trackers, Riserva has a specific dog handler's vest/backpack, designed and tested on the hunt to be just the right compromise between a technical vest and a backpack. 
Available in a green version with a high-visibility orange strip, as well as a high-visibility orange version with reflective strips on the sides, this accessory is ideal for the driven hunt.
It offers many advantages, including being able to carry all the accessories you'll need for hunting game or retrieving a kill, with a small game-bag in the back that can be used to carry accessories or bulkier clothing such as a check cord, jumper, torch or whatever else you might need. 
Designed to stay close to the shape of your back so it won't catch on bushes and branches, this strong but lightweight accessory is made of thorn-proof cotton with fluorescent orange panels. It comes with adjustable shoulder straps and belt, an internal hook and loops for a 2-litre Camel-bag plastic water bag with a screw cap, mouthpiece and tube with slots in the top to hook it into any backpack or vest. 
A hidden waterproof pouch keeps your documents safe. 

A detachable multi-calibre cartridge holder can be fixed to the side; green and high-visibility orange with a press stud and clip to easily clip it to or remove it from your belt. The removable, adjustable, high-visibility orange bottle holder has the same features with a clip to easily clip it to or remove it from your belt. Everything a hunter and his dog could need to follow the game's scent through the woods in the greatest comfort and safety.