Anyone who loves walked-up game shooting, especially in the mountains, knows that clothing has to be light, waterproof and breathable. Apart from sweat, there are numerous factors that could be decisive in the enjoyment and success of a long and often tiring day of hunting. 
Being able to move quickly and precisely not only minimises tiredness, but also improves the precision of shouldering your weapon, which on many hunts can make the difference between success and failure. Depending on the conditions and the time of day, insulation from fluctuating temperatures is also important to ensure comfort, dryness and ease of movement. 
Riserva R2051 jacket: light and waterproof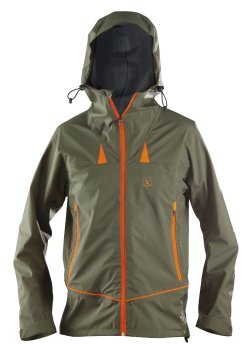 Riserva offers a range of dedicated hunting products, including the R2051 jacket, a light and waterproof technical jacket that incorporates three-layered laminated RidryTex technology. 
This hydrophilic fabric, which is also used in motorcycle jackets, absorbs internal moisture and immediately transports it to the outside. 
Fitted with an adjustable hood, the jacket also features two raised front pockets for ease of use even when wearing a backpack. 

The R2051 jacket is a must for much of the hunting season, particularly the autumn months, but it is also ideal for carrying with you in your backpack thanks to its light weight and practical design, ready for when the weather takes a turn for the worse and a waterproof jacket could make the difference between a successful hunt and going home empty handed.
Both the hood and the bottom of the jacket can be adjusted using the appropriate drawstrings. Weighing just 405 grams, the R2051 jacket is green and features high-visibility orange zips and strips, which could prove extremely useful when hunting as a team in the woods. It is available in sizes S to XXL.
---