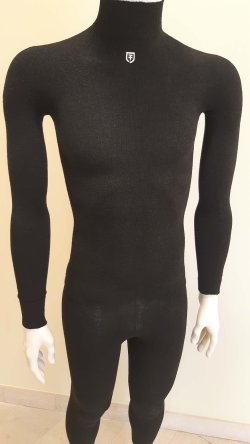 For some types of hunt the arrival of winter cold coincides with hunters' best expectations, especially for those who hunt migratory birds and are waiting for wild species coming from the north or from eastern areas, such as waterfowl. Intense days of waiting and emotions but often decidedly adverse from a climatic point of view and characterized by cold winds and low temperatures that causes wild animals to move.
There are many waiting hunts that fans won't give up for any reason, even on freezing days. Just think of the time spent hunting pigeons in the field in winter or the long boar hunts that last whole days. In any case wearing clothing that can protect from the cold and allow you to maintain the right concentration without hampering movements can make a difference both for health and for the enjoyment of your hunting hours.
Forcetek Silvertek, hunting comfort
The designers of Forcetek company thought about this studying the Silvertek fabric technical shirt and underpants, which are light and comfortable to wear but extremely effective in maintaining body temperature even in extreme weather conditions.

Silvertek is a fabric made made of an extremely light and elastic fiber containing silver that regulates body temperature. Ideal for low temperatures, it keeps moisture away from body and thanks to its antibacterial protection it prevents bad odors creating a dry microclimate at constant temperature between fabric and epidermis. Silvertek garments are manufactured using an innovative "Absolute No-Seams" technology, granting maximum possible comfort, resistance and long use. While wearing these garments in direct contact with the skin the feeling of general and constant warmth is immediate. Elasticity allows for a perfect fit of the garments to the body's shape, while always remaining soft and comfortable.

Like all Forcetek brand products, Silvertek line is 100% made in Italy and available directly online by visiting www.forcetek.it website.