When the first version of the Valdres came out on the market along with the entire Crispi collection of the time – the first ever to feature hi-visibility orange inserts – it was something of a Copernican revolution. It was the first all-leather boot in fact, which presented unique characteristics that would later be copied more or less by everyone: lightness combined with strength, comfort with the added touch of class and elegance (very rich, however, in technical implications) determined by the orange color of the midsole and many other details. Orange is the corporate color of course (a bit like the Ferrari red), but it was obvious that there was something else too: a clear wink to the world of hunting and the need to be visible in the woods, typical above all for wild boar and woodcock hunters, all factors that immediately made the most attentive and demanding hunters fall in love with it. The writer was among them!
Little to say: it was a kind of shock, something that made everything else seem old and outdated. It was the new, period. The now and here: what we all wanted and needed to some extent.
Since then – since the first model I mean – a lot of water has passed under the bridge, or rather mud and rocks under the soles of our boots, and could be expected, the Crispi Valdres has evolved too.
It features a wider last and has became more comfortable, until reaching a state of the art that for a great many users represents a kind of non plus ultra. Yes, a great many are now wearing their third, fourth pair: and there is no way to convince them to use something different.
You can say, but have they gone crazy in Crispi to come up with the Valdres Pro then? No, it's just that they thought of creating an additional version of the same platform, with the understanding that the "old" Valdres remains, and will remain on the market for a long time to come!
Video: new Crispi Valdres Pro GTX boots
This video has been hidden because of an external service (YouTube) that could potentially collect personal data.Allow video services for the duration of the visitAllow video servicesStop allowing video services
The evolution of the Crispi Valdres Pro GTX

Who, then, was the Valdres Pro designed for? To understand it, one must get to know it closely, analyzing its structural features one by one. First, separately, then comparing it to its "parent".
Upper: it is made of the highest quality Nubuck leather. Water repellent in its own right, it is treated for total waterproofing that does not compromise breathability.
Inner sleeve: it is made of Gore-tex Performance Comfort, for additional waterproof protection and perfect breathability.
Inner lining: made of soft fabric with light padding, it ensures absolute comfort.
Footbed and comfort: the former is a differentiated structure, the latter is provided by Crispi's Thermo Wire Tech, an innovative system which permits to support the upper by giving extra structure, better stability, protection and support when walking.
Midsole: it is of the type you would expect to find in a sneaker or hiking shoe, that is featuring a dual-density differentiated polyurethane structure, capable of great shock absorption, ensuring grip and braking even in the worst terrain and the most challenging elevation changes.
Outole: features the brand new Vibram tread with special prismatic surface, providing high comfort on uneven ground and rocks and excellent grip in the most adverse conditions characterized by rain or mud.
Removable insoles: these are the classic CRISPI Air Mesh + Felt + Active Carbons. For excellent breathability and anti-sweat and anti-odour action thanks to Crispi 3D construction
Structural protections: they are provided by high quality hard rubber toe cap and rand.
Fittings and laces: all of the highest quality, with laces in elegant pearl gray matching the polyurethane midsole inserts.
So what differentiates them from the Valdres as such?
On the technical side, the midsole and outsole, which are not better or worse in this case – just designed for different uses.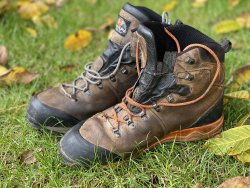 On the aesthetic side, the full brown, grey & black coloring, much more sober and therefore also dedicated to those who, when hunting, either do not want high visibility because it is disadvantageous to them (I am thinking of migratory bird hunters) or those who rely more on clothing to achieve it and prefer to have more traditional and versatile footwear on their feet (I am also thinking of the selective hunter, no doubt, as well as the mountain enthusiast).
So, we are talking about a 100 percent Valdres, but with some variations on the theme designed to make it a boot with a broader spectrum of use, and featuring a look that also gives a nod to Nordic markets and all lovers of traditions, without being forced to give up innovation.
Our field test of the Crispi Valdres Pro GTX boots
Personally, I am on my third pair of Valdres in my life, as I have always been very comfortable with them.
I had a preview of the Pro boots, the subject of this article, already this summer, and I had a chance to test them from the training period until the quail and pheasant hunting seasons. So we are talking about countryside use and warm season. The feeling compared to the original model was twofold: on the one hand, the immediate, absolute feeling as soon as I put them on my feet, with a perfect fit and absolute comfort from the first outing. Like they had always been mine. On the other hand, the feedback of absolute pleasantness when walking, with the new midsole fully doing the job for which it was designed.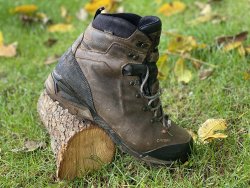 Then came the first outings in the mountains and on somewhat more challenging terrain, but nothing changed: just perfect!
Ditto, when we found ourselves fording creeks and streams in Istria, as well as when we started looking for our first woodcocks in the Lika mountains. Just one word: exciting!
With the usual lightness and that extra in terms of comfort and traction that doesn't hurt. I also liked the color a lot, since I have a ton of orange and green fluorescent stuff!
The only flaw, but certainly not a boots' fault, was the heat. Designed in fact as they are for fall-winter hunts, even with very thin socks in this year's heat sometimes they cooked my feet. I repeat, the problem is NOT with the boots themselves, but rather with a season that saw me going out with the dogs in the morning and bathing in the sea at noon until early November!
In any case it seems that at Crispi they have also found a solution to situations like these, which have dramatically characterized the last 2-3 seasons (heat and dryness on the verge of the unbearable!): we will see, and in case we will keep you updated!
In the meantime, one cannot help but congratulate Crispi's research and development department, which once again surprised us with yet another masterpiece destined to become a great classic, specially made for the most "fierce" walkers and the most demanding hunters.
Well done, well done, well done! And thank you...
---
For more information on the Valdres Pro GTX boot please visit the Crispi website.