Designed for great walkers
All hunting boot companies had a common starting point: the mountain boot.  What characterized it? Tough leathers, visible stitching, stiff or very stiff outsoles not infrequently hobnailed. They were footwear certainly made to last, but heavy, often very heavy, and "tough": to protect the wearer from rocks, harsh environment and bad weather. Trying above all to give stability and traction in the most extreme conditions. Times then changed and new materials appeared in the market, and hence the boot underwent a path of progressive lightening and cosmetic upgrades, declined in a thousand ways. But the boot always remained the same: more or less lightened, more or less cosmetically refined, but still a boot. With all the reasons in the world, mind you, especially if we are talking about real mountains and rocks. Especially if we are talking about hunts that are static or not very dynamic by nature, such as all those mostly from blinds: characterized by not-too-long marches to reach the various hunting sites often in cold, or very cold weather. There was, however, a world for which this was not enough: that of great walkers devoted to extremelly dynamic hunts, such as woodcock, for example. Or dog handlers used to lead packs of wild boar hunting dogs.
Hunts made up of dozens of kilometers a day in continuous ups and downs. Tiring hikes in which not infrequently you have to perform really athletic movements. Forms of hunting that in the meantime had seen more or less all technical equipment become lighter and more effective: from firerarms to clothing. With the extreme lightening of the former thanks to the introduction of light alloys and the use of smaller gauges to make them easier to carry; and the latter, the territory now of technical textiles, where old hunters in moleskin trousers and grandfather's greatcoats have long been just pale memories. The last few seasons have done the rest: all characterized by fairly mild weather where the problem, if anything, has always been heat, not cold.
Video: Crispi Futura CX GTX hunting boots test
This video has been hidden because of an external service (YouTube) that could potentially collect personal data.Allow video services for the duration of the visitAllow video servicesStop allowing video services
Crispi Futura CX GTX , the revolution of boot concept
Therefore, the idea was to meet all these needs by proposing to the most technical and demanding hunters – especially those who hunt with pointing dogs – something they were looking for, but which did not exist yet: super technical and protective hunting footwear, stable and resistant, able to guarantee extreme performance, light and fitting like a sneaker, but robust like a boot. Here then, was the revolution of the concept itself: actually starting from a sports shoe, and toughening it up so that it retained all its functions, plus the classic ones of a perfect hunting boot. It was there that Futura began to take shape...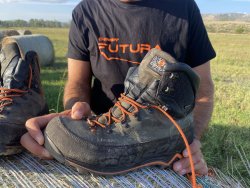 Now, just as a house is built from the ground up, likewise a technical shoe can only be designed around its outsole and midsole system. And it was precisely over the EFX, or Elastoflex System platform, that everything was conceived. We are talking about outsole plus midsole in one piece, with shock-absorbing properties like what you would expect in a last-generation running, basketball or volleyball shoes, to the benefit of joints, tendons and ligaments, while maintaining a perfect level of stability and control. "Boot-like". On the bottom, the new proprietary tread developed with Vibram called Megagrip has been added, with unique traction and safety features thanks to the combined use of a brand new ultra-gripping compound, and a truly ingenious tread cleat pattern. For the upper... well, they have been getting there in stages!
Prototypes that came out of Crispi's research and development department were provided for an entire year of testing under the worst conditions in the world to some pro-hunters. That is, people who hunt professionally. We are talking about Daniele Cecchetti and his lady, always hunting with their dogs from the Apennines to half of Europe, especially in the North. And then there is the experience of the author: busy between hunting and training nine months a year mainly in Croatia, from the peaks on the borders with Bosnia and Slovenia to the stony plains and hills of Dalmatia. It was from our extreme experiences and suggestions that the Futura CX GTX took shape.
Futura CX GTX, the first in a series
Compared to the prototypes, which were largely made of fabric, they opted without sacrificing lightness for an upper made entirely of water-repellent Nubuck, equipped, however, with an anatomical collar in full-grain leather and Crispi High Resistance Tech fabric for the malleolus area (higher and more wrapping than the prototype) and the gusset. From the outsole, a rubber rand showing the Crispi name rises to protect especially from rocks and abrasions.
The lining was and has remained Gore-Tex, for a perfect combination of waterproofing and breathability. The last has been widened a bit, as it is Crispi's custom to produce along with the entire shoe concept the instant-fit effect. That is: you take it out of the box, you put it on, and it feels like you've had it on your feet forever, how comfortable it is from the start!
Hardware (lace eyelets), all of high quality, has been placed higher to offer no contact with environmental roughness and ensure greater longevity for the laces.
The color chosen by Crispi for the final version, a beautiful blue-gray called storm-grey, combined with orange laces, surprised even Daniele and me for its originality, elegance and absolute impact strength that immediately make it clear that Futura is something else: the first, amazing example of a new species...
First Experiences with the Crispi Futura CX GTX
Introduced first at EOS, then at IWA and Caccia Village, I had a chance to actually try it in preview since early June, at the Trivellato Trophy. From there, I have only ever used Futura for both training and actual hunting, which until now has meant mostly quail in Northern Croatia between Kutina and Sisak, and then in Dalmatia near Zadar. Now, the instant-fit worked wonders right away, so much so that no adjustment period was necessary. Pick up, put on, and go!

Everything good that was in the prototype remained there, with added protection for the ankle thanks to the higher collar at the ankle anti-distortion system, and that sense of safety that leather always conveys as opposed to simple fabric. Otherwise, I found only that same perfection that I had already experienced with the prototype tested since last November, and from there on it was my most used hunting shoe ever for the entire woodcock season. The reason is simple: it was the most comfortable and lightest of the bunch, the one that especially in the presence of rocks and dry terrain best allowed me to jump like a kid from boulder to boulder as if I had tennis shoes on my feet, jump over low walls nimbly, and equally to deal with back-breaking climbs and descents with a still healthy back! At 57, that's not too bad, it it?
In Kutina, we found ourselves hunting amidst plains of ragweed that in the morning until 9 a.m., were and remained quite dewy. With protective gaiters on, not a drop passed. Ditto, when I found myself crossing small trickles and streams in Sisak among clouds of mosquitoes. The mosquitoes stung me, but my feet remained dry.
Just one, small point that for the sake of honesty I cannot fail to point out: despite all the lightening of the case, from 22/23 degrees and up, the shoe is warm even with very light socks. Which, however, makes you assume that by using socks of different weight, they can be fully used throughout the woodcock season without the slightest problem. As for ruggedness and durability, last year's prototypes, greased and with new laces, are still as good as new. Need we say more?
Yes: that we will see you for more feedback during the woodcock season, which is now just around the corner.
Crispi Futura CX GTX specs and price
| | |
| --- | --- |
| Manufacturer: | Crispi |
| Model: | Futura CX GTX |
| Color: | Storm Gray |
| Upper: | Water-repellent nubuck with collar in full-grain leather and Crispi high resistance tech fabric  |
| Lining: | Gore-Tex Footwear Product |
| Insole: | Differentiated structure Elastoflex System |
| Removable Footbed: | Crispi Air Mesh + Felt + Active Carbon. Outstanding breathability and anti perspiration – anti-odour action thanks to the Crispi 3D construction  |
| Protection: | Heavy duty stitched rubber rand with Crispi logo |
| Outsole: | Vibram Megagrip with EFX System midsole |
| Weight (Average): | 690 g |
| Price: | 280 euro approx. |
---
For more information please visit the Crispi website.