Test of the three Crispi boot models: Valdres, Ascent EVO and Lapponia
Valdres (also available as a women's version), Ascent EVO and Lapponia – these are the boot models that were given to us for testing, after a careful evaluation of the various types of activities (not just hunting) in which we would have used them. Three must-haves, 3 top boots (in addition to the classic Nevada, which we'll talk about later) from the Crispi production that we had on our feet trying them "in the worst conditions in the world". We'll say it straight: we abused them like hell – that is, using them the way they should be made for. No concessions, no mercy, no "forgiving"! And why should it have been different? Hunting boots were created to guarantee comfort and protection in the most extreme conditions that nature can present in its unchanging millenary unfolding, and it is there that they must work, not in a living room or in downtown streets! So, that's where we took them, hunting quails and partridges in summer, pheasants in early autumn, and then woodcocks across the harsh Dalmatian terrain, alternating mushroom and asparagus picking…
Crispi summer boots
After a late spring break-in with short walks in the countryside – just the minimum amount of time necessary for the boots to adapt to our feet, and vice versa – we started with the summer dog training in Croatia.
Our goal was to evaluate the boots' thermal response in reverse to what is required and expected from footwear usually conceived with rocks, high mountains, woods, cold and humidity in mind. That is, we wanted to see and understand which of the three models was best suited to long marches in scorching climates. In short, their ability to cope with heat.
Crispi Valdres: almost unchanged in form and substance over the years (why change perfection?), they proved to be very comfortable, but being all-leather with a Gore-Tex lining, even if it is true that they withstand the morning dew (when present) very well, later in the day, as the miles are chewed up their "winter proof" design shows all its limits by literally making your feet burn even with very light cotton socks. It's physics, baby: for every advantage there is an equal and opposite disadvantage!
That is: for summer-like climates you need something else…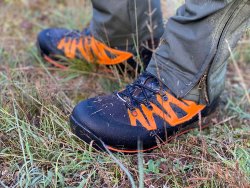 Crispi ASCENT EVO: insanely beautiful, they underwent significant aesthetic and functional improvements since the first series.
A wider sole, first of all: excellent for all types of feet from the first fit, with the added advantage of guaranteeing total walking comfort even over long distances.

Addition of tobacco-colored nubuck leather inserts compared to the "all black" look of the past, increasing the hunting flavor.
Micro-aerated technical fabric inserts for greater breathability.
On summer fields, they provided better thermal performances than the Valdres. However, even here after half an hour of intense walking in search of partridges and quails, after 7 a.m. the heat  was really too much for our feet! Being designed for woodcock hunting, they reach their limits at 25-30° Celsius! And it could not be otherwise…
Crispi Lapponia: if there's one boot that comes closest to being the summa perfections for all hunts in hot climates, this is the Lapponia! An evergreen that was (almost, as we will see later) born perfect  for what it is intended for. It is in fact the lightest of the three in all respects, both in terms of weight and thermal qualities. It's natural then that with these boots on your feet, the fields that are devoured and 3-4 hours of marching, even in hot climates, become a very pleasant event! In fact, we used them continuously, even during all the mount crossing in search of pheasants in September and October. Flawless.
Crispi autumn/winter boots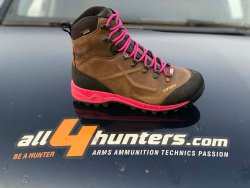 There are two factors that most characterize the seasons of the last decade: a general increase in average temperatures, coupled to heavy storms (especially rainstorms) that makes them longer and more intense. It follows that hyper-heavy boots are now useless, or almost, and the increasingly important feature is the uppers' water resistance, as well as a good sole-and-tread assembly that can ensure a safe and consistent grip on mud and rocks – especially if wet

Valdres and Ascent Evo, are at home here, and you can just take your choice depending on the environment and climate, with the Ascent Evo as a true all-rounder able to perform like a charm in all circumstances, and the Valdres as a must-have when facing intense wet, cold and snow.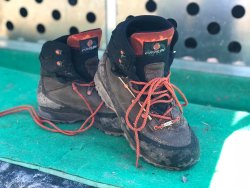 The Lapponia in these scenarios, used with light or heavy socks (in 99% of our hikes we ALWAYS use good, rather light tennis or technical socks), still snatch relevant results, provided that you are in dry climates where, thanks to their lightness, they make you fly…
No, it's not because even a single drop of water can enter the upper (perfectly insulated by the Gore-Tex liner), but because they feature a special compound sole aimed at finding the best possible compromise between durability and grip, to the detriment of the latter in the medium-long term!
Yes, because the most recent series at least after a year of use and wear with the natural change from "rubber" to "plastic" due to a physical-chemical degradation, on wet rocks tends to have little or no grip, and this is not good. But at Crispi they told us that they are working on it…
For all the boots – but it is our personal opinion derived from the fact that we use our boots professionally – we did not consider durability because: 1) one year is perhaps not enough; 2) with an average of 15 kilometers a day among rocks and thorns, ice and mud, rain and cruel heat, we change our boots anyway to always have them in top condition.
One note about hardware for all boots: perfect from the aesthetic point of view, it has serious limitations on the "cosmetic" side – the orange high-visibility buttons are beautiful in the gun shop and in the box, but after a few weeks of real campaign they tend to break too easily, creating a not very pleasant effect.
Wrapping up
Crispi Lapponia: for the beginning of the season up to, and including, all fall; best for dry days.
Crispi Valdres: perfect for colder climates, in all circumstances.
Crispi Ascent Evo: our favorite of the trio, able to handle any situation very well, except in serious heat conditions.
Our ranking (from 1 to 5 stars)
Crispi Valdres:
Stability and protection: ****
Comfort and lightness: ****
Water resistance: *****
Grip: ****
Aesthetics: ****
Crispi Ascent EVO
Stability and protection: *****
Comfort and lightness: ****
Water resistance: ****
Grip: ****
Aesthetics: ***** 
Crispi Lapponia:
Stability and protection: ***
Comfort and lightness: *****
Water resistance: ***
Grip: ***
Aesthetics: ****
---
For more information on the Valdres, Ascent EVO and Lapponia boots please visit the Crispi website.