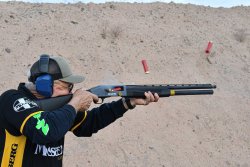 Franco Palamaro, © F.PALAMARO
Ferkinghoff has thus landed a strong partner with a great product catalog of handguns and long firearms. Especially for US manufacturers, it is important that sales and service in Europe match their needs and are accordingly efficient and customer-oriented. Ferkinghoff in particular is very well positioned there. 
Ferkinghoff, on the market for 30 years, has focused on US brands as a wholesaler from the very beginning and includes their successful products in its range. The Ferkinghoff team attaches great importance to marketing its brands with heart and mind. After all, a brand's image can only be conveyed to customers through their own conviction. 
""We are delighted to represent such a successful brand as Mossberg in our products range", says Andrea B. Ferkinghoff, CEO of Ferkinghoff International. "Together with the Mossberg team, we will actively market and further promote the firearms range."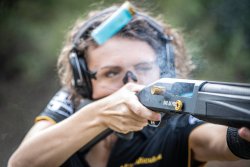 Lee Thomas Kjos, © KJOS OUTDOORS
Mossberg is also looking forward to working with the Ferkinghoff International team. Last year, the US manufacturer decided to reorganize its international sales structure. "With its existing track record, Ferkinghoff International was a clear choice for us and we look forward to a long and successful partnership," said John MacLellan, Vice President Sales and Marketing at Mossberg. 
Just in time for the SHOT Show, Mossberg presented its new 940 JM Pro shotgun as well as an expansion of its pistol series with the MC2c (Compact) in 9 mm caliber. Hunters and marksmen alike can expect to see these new products, which will be available in Europe soon. 
At the IWA 2020, Mossberg will exhibit its complete products range at the Ferkinghoff International booth in Hall 1-442.