In recent years, Turkish company Derya has been focusing on the manufacturing of semi-automatic shotguns that are extremely specialized in form and function. Derya already had in its catalog a semi-auto model expressly dedicated to IPSC shooting, the Lion Practical, featuring a conventional design, but now it has developed a special version of its MK-12 model inspired by the AR-15 assault rifle design.
A special version for the Formula One of sports shooting
The Derya MK-12 IPSC is a semi-automatic shotgun chambered in 12 gauge with a 3"/76 mm Magnum chamber, designed for dynamic shooting and officially approved and certified by IPSC, the International Practical Shooting Confederation. With its five different barrel lengths and different handguards, accessories and color options available, the IPSC Derya MK-12 can be modified to your liking. 
This model optimized for Dynamic Shooting in the Shotgun Division features a special trigger assembly, an oversized magazine release, an ambidextrous safety and an easily reversible charging handle. The long Picatinny rail extending from the receiver rear to the handguard front allows the mounting of flip-up iron sights, as well as red dot sights of all sorts. The magwell is bright orange in color, like the other moving or functional components and controls of the gun, such as the safety. The MK-12 IPS can use 5-, 10- and 20-round box magazines for 12-gauge Magnum cartridges. The polymer stock is AR15-style, adjustable in length and features a height-adjustable cheek rest. 
The pistol grip with synthetic rubber coating ensures a solid grip even in the most frantic stages of IPSC competitions, guaranteeing perfect operation of manual controls. The bolt features the Buffer Bolt technology that makes the recoil of the gun much more manageable. The upper and lower receiver are made from high quality aluminum. The muzzle has a high-efficiency muzzle brake/compensator that can be removed or replaced with great ease. Chokes are interchangeable and internal, of the MC-3 type – the same used on all smoothbore guns of the Turkish company. The barrel is available in five lengths: 9.44, 13.77, 16.9, 19.68, 24 in (24, 35, 43, 50 and 61 cm). 
In the latter version, the gun is 44.5"/113 cm long overall and weighs 7.7 lb/3.5 kg. Retail price is around 1200 euros.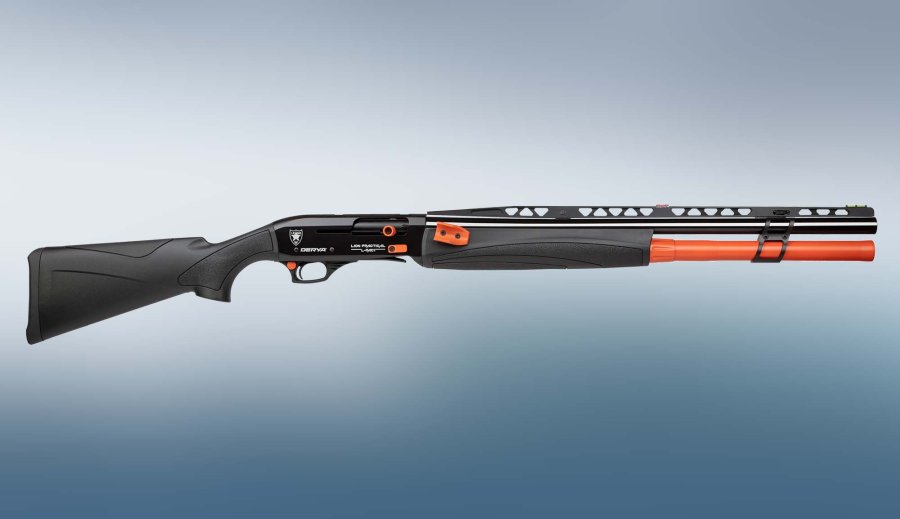 Derya MK-12 IPSC specs

| | |
| --- | --- |
| Manufacturer: | Derya - Turchia |
| Type: | Semi-automatic shotgun |
| Gauge: | 12 Magnum (3" chamber) |
| Operating System:  | Gas-operated |
| Barrel Lengths: | 9.44, 13.77, 16.9, 19.68, 24 in (24, 35, 43, 50 and 61 cm) |
| Stock: | Telescopic, polymer, adjustable cheek rest |
| Handguard: | M-Lok interface |
| Sights:  | Flip-up rear and front sights, Picatinny rail for optics |
| Weight: | 7.7 lb/3.5 kg (with 61 cm barrel)  |
| Overall Length:  | 44.5"/113 cm (with 9.44"/61 cm barrel) |
| Price:  | About 1200 euro (price may vary in your country) |