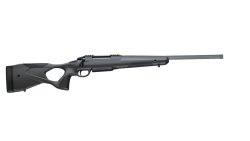 One of the really innovative design features of the new bolt-action rifle is the quick interchangeability of the stock. Rearstock and forend of the Sako S20 can be configured according to the shooter's individual preferences by using the appropriate interfaces and loosening two screws. A tactical precision rifle stock and a hunting stock with thumb hole are available. Switching between stocks is quick and easy, so that the Sako S20 can be converted from a precision rifle to a hunting rifle or vice versa in just a few minutes. Inside the Sako S20 stock is a chassis made from aircraft-grade aluminum, which carries the entire recoil forces.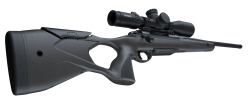 The ergonomic hunting stock of the Sako S20
The Sako S20 thumbhole stock with height-adjustable cheek piece and length of pull that can be adjusted by means of spacers was developed with a view to maximum shooting comfort and outstanding ergonomics. The forend is designed for a wide range of hunting environments. Its integrated, soft, leather-like grip surface is made from high-quality synthetic materials and offers optimal grip in all weather conditions.
The quickly detachable sling placements on both sides of the stock allows for optimal attachment of the sling, thus improving rifle handling.
The tactical precision stock of the Sako S20
In terms of ergonomics and features, the stock is more similar to that of a modern sniper/precision rifle such as the famous TRG series from Sako. The forend with a wide, flat underside helps balance the rifle even in long range shooting. Combined with a wide range of M-LOK and QD compatible accessory options, the Sako S20 adapts to all body sizes and shooting situations. 
A solid system bedding for the new Sako repeaters

The steel receiver with integrated optics mounting rail and three-lug bolt rests on an aluminum V-bedding system. The cold-hammered barrel, optionally fluted, can be 20"/508 mm or 24"/610 mm long. The trigger, which is adjustable in a weight-of-pull range from 2 to 4 lb (1000 to 2000 g), can be moved backwards by 3 mm or forwards by 4 mm with the aid of an Allen key. This refined trigger assembly is combined with a firing pin safety.

The Sako S20 comes initially in 8 calibers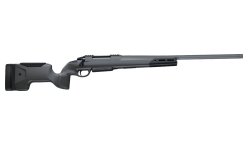 The box magazines, made from fiberglass reinforced composite material, hold 5 cartridges in standard calibers and 3 cartridges in magnum calibers in the standard version. Magazines with increased capacity of 10/7 cartridges are also available as an option. The new Sako S20 will be offered in the following calibers for the market launch:
 .243 Winchester,
.308 Winchester,
6,5 Creedmoor,
.270 Winchester,
.30-06 Springfield,
7 mm Remington Magnum,
.300 Winchester Magnum
6,5 Precision Rifle Cartridge (PRC).