At the heart of the S20 in the main "Hunter" and "Precision" configurations is an aluminum chassis, hidden at first glance, that Sako introduced more than three decades ago with the TRG-21/41 sniper rifle in .308 Winchester/.338 Lapua Magnum. The steel action of the Sako S20 with a V-shaped bottom is bedded into the aluminum chassis over its entire length, with three screws connecting the two main components. On the top of the action are two integral Picatinny mounting rails for attaching a scope. The action houses a stainless steel bolt with three locking lugs and 60-degree throw. The three lugs are designed as triangles with rounded corners and flattened sides. A clever arrangement of the extractor and ejector in the bolt head ensures that they are not weakened at any point. The recessed bolt face completely encloses the cartridge base. Any primer blowout caused by excessive gas pressure is kept out of the shooter's field of view by a 2.5 mm hole on the left side, 10 mm behind the bolt face. The cold hammer forged barrel in 20" (510 mm) or 24" (610 mm) lengths is available in two contours: a fluted, light hunting one with 18 mm outer diameter, and a medium heavy, cylindrical match contour with 20 mm outer diameter. A 5/8-24 UNEF thread is available at the muzzle in each case. In addition, one can choose between black bluing or gray Cerakote finish for the surface coating of the steel main components.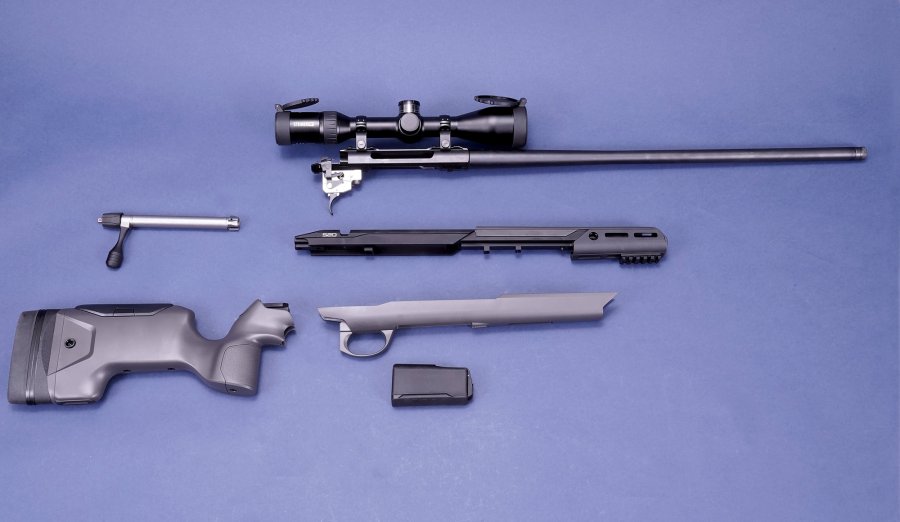 These design details make the Sako S20 Precision a particularly flexible bolt-action rifle
The hard core in the form of the aluminum chassis is encased by a shapely, modern stock made of fiberglass-reinforced polymer. Here, the "soft shell" definition should only be understood proverbially, since the synthetic stock is extraordinarily robust and rugged.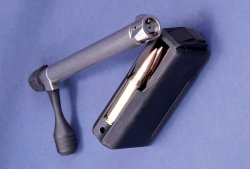 Buttstock and forend are interchangeable, with the "Hunter" buttstock designed as a thumbhole stock and the "Precision" buttstock captivating with its vertical pistol grip. The main difference between the forends is that the "Precision" version has additional M-LOK interfaces. Length of Pull (LOP) can be varied with intermediate spacers, and the recoil pad can also be adjusted in height. After pressing a pushbutton, the cheek piece can simply be pulled upwards and thus height adjusted with six fixed positions. A scale indicates the selected cheek piece setting. The stocks features QD sling placements.
The trigger is optionally available in single stage or double stage variants and pull weight can be adjusted between 1,000 and 2,000 grams. In addition, the position of the trigger blade can be moved either backwards (by 3 mm) or forwards (by 4 mm), which allows maximum fine-tuning with regard to LOP. The trigger is combined with a two-position slide safety mounted on the right side of the receiver, which acts on the firing pin. In the rear, safe position, it locks the trigger and blocks the bolt (transport safety) by means of a pin that moves upwards and engages in the bolt guide cam. This bolt lock can be deactivated by means of a lever immediately in front of the safety, so that the chamber can be opened even when the safety is engaged (safety slide in the rear position). When the safety slide is in the forward position, the Sako S20 is ready to fire.
The double-stack box magazines made of fiberglass-reinforced polymer are available in different sizes and hold five or ten cartridges in the standard .243 Winchester, 6.5 Creedmoor and .308 Winchester short-action calibers. In the .270 Winchester, 6.5 PRC, .30-06 Springfield, 7 mm Remington Magnum and .300 Winchester Magnum long-action and magnum calibers, magazine capacity is three or seven cartridges. The rifles come standard with the smaller capacity magazines, and the larger magazines are optional. The magazines are designed to support cartridges by the shoulder and also accept loadings with an overall cartridge length above the CIP specs. This should please reloaders who want to experiment with longer bullets and/or long VLD bullets. In addition, the shoulder support in the magazine also protects the bullets from any damage caused by recoil, which could otherwise have a negative impact on ballistics and accuracy. 
If necessary, those who are both hunters and sport shooters can transform their S20 from a "Hunter" to a "Precision" version by converting the stock parts in a few minutes. Only two screws need to be loosened and the buttstock can be released from its interlocking with the chassis and pulled off to the rear. The forend is just as quickly replaced. The Hunter stock set with rear and forend parts costs 378 euros, the Precision stock set just under 100 euros more. The two-piece complete stocks are available in four finishes/color options: Onyx Grey, Black Rock, Forest Green and True Timber Strata.
Accessories from the Sako catalog for the S20 Precision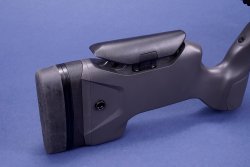 Sako offers plenty of extra accessories for the S20 series, such as a monopod/rear spur for the M-LOK interface (made of aluminum, not plastic) on the buttstock underside or an ARCA rail for the forend underside of the S20 Precision. In addition, a barricade stop that can be placed in front of the magazine, a thumb rest that can be fixed on both sides above the vertical grip, and a muzzle brake are available.
The range of accessories is rounded off by in-house mounts in three heights for riflescopes with 25.4/30/34 and 36 mm main tube diameters, as well as extra spacers (2x5 mm each) for individual LOP adjustment.
Test results / accuracy: on the shooting range with the Sako S20 Precision and the Steiner Ranger 8 riflescope in 2-16x50
Bullet - weight -

Manufacturer - Type - Caliber


Manufacturer - Type


OAL (mm)


v2 (m/s)


v2 diff. (m/s)

Accuracy at 100 m (mm))

155 grs Hornady BTHP .308

Hornady American Gunner factory cartridge

70.5

791

14
27
165 grs GECO Express .308

GECO factory cartridge

70.2

810

13
25
165 grs GECO Star .308

GECO Fabik cartridge

64.8

795

9
22
168 grs RWS Scorion .308

RWS factory cartridge

70.6

782

10
17
168 grs SAKO HPBT .308

SAKO factory cartridge

70.4

786

7
5
175 grs PPU FMJBT .308

PPU factory cartridge

71.1

798

6
38
175 grs S&B HPBT .308

Sellier & Bellot Match factory cartridge

70.0

789

14
18
180 grs S&B HPBT .308

Sellier & Bellot Match factory cartridge

71.1

801

8
23
180 grs MEN HPBT .308

MEN Sniper Line factory cartridge

70.6

783

3
22

(Test setup: Sitting position, using a front B&T Industries Atlas BT10 bipod and a rear sandbag rest. 5 shots at 100 m. Scope: Steiner Ranger 8 2-16x50.)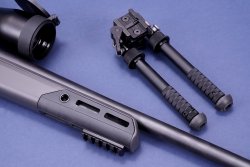 On the range, an S20 with the 51 cm short, fluted barrel with slim contour certainly cuts a particularly good figure, especially if you add a silencer in conventional or "over barrel" design. Our S20 Precision, on the other hand, was equipped with the 61 cm barrel in "Semi Heavy" contour, which meant that almost all types of ammunition were in the 800 m/s velocity range. Fitted with a Steiner 2-16x50 Ranger 8 scope and a B&T Industries Atlas BT10 bipod, we moved to the range with our sporting Sako S20 Precision in standard .308 Winchester caliber.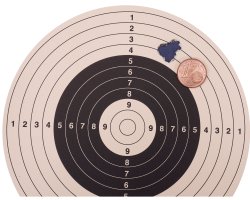 Nine factory ammunition types in a bullet weight range from 155 to 180 grains were to show what the Finnish rifle is capable of. The bolt-action shot achieved the best result with the in-house Sako 168-gr HPBT ammunition, because the 5-shot grouping at 100 m measured just 5 mm (!). Sako guarantees 1-MOA groups (around 29 mm) at this distance with its own ammunition, a value we were able to undercut very, very significantly. Double-digit, but below 20 mm, were the 17 mm (RWS 168 Grains Scorion HPBT) and 18 mm (Sellier & Bellot 175 Grains HPBT) groupings. Only with the 175-gr PPU FMJBT did our test gun not seem to want to get along and produced the worst group, at near 40 mm. All other results can be found in the table.
We liked the Sako S20 Precision in shooting practice for its good controllability, which is mainly thanks to the sporty stock design with a straight buttstock underside, vertical grip and long forend with bipod placed far forward. The underside of the buttstock was optimally seated in our sandbag, providing a perfect, straight-line recoil path. The adjustable cheek piece also allows you to position the head ideally in front of the scope.
Sako S20 Precision in .308 Win. specs and price
Model:

Sako S20 Precision

Action:

Three-lug bolt, locking in the receiver 

Barrel:


610 mm long, cold hammered with 1-11" twist, 20 mm outer diameter

and 5/8 x24 UNEF muzzle thread


Stock:


Aluminum chassis core with interchangeable buttstock with height adjustable cheek rest, vertical grip,

M-LOK forend with QD sling placements 


Magazine:

5-round polymer box magazine

Trigger:

Single stage, measured trigger pull weight: 1,230 g

Safety:

Two-position slide acting on firing pin and locking trigger and bolt

Overall Length:

1,130 mm  

Weight:

4,930 g (with mounts and optics)

Price (RRP in Germany):

2.425 euro 

The all4shooters.com test conclusion on the Sako S 20 Precision in .308
The Sako S20 series impresses as a well thought-out overall concept with coordinated conversion and expansion options, which appeals equally to sport shooters and hunters. The convertible chassis design is just as impressive as the quality of workmanship, ergonomics, handling, function and ccuracy. The mid-range price of 2,425 euros for the Sako S20 Precision in .308 Winchester with "Oxyd Grey" stock and blued surface finish is therefore in our opinion fully adequate.