We have come to expect anything from the Italian Davide Pedersoli, considering that the company's production capabilities range from fine replicas of historical firearms to hunting rifles in the powerful .45/70 caliber such as the Boarbuster. Yet, we didn't expect a super-light break-action rifle like the Black Widow, chambered for the .22 LR cartridge.
Pedersoli Black Widow: super compact and aggressive
The new Pedersoli Black Widow .22 rifle is ideal for recreational shooting and survival, and it is easy to carry thanks to the removable fore-end and to the locking system that allows the barrel to be folded towards the stock, making the gun easily fit into a medium size backpack.
The stock, made from technopolymer, is lightweight but rugged; it features a pistol grip design with a skeletonized butt end, inside which eight cartridges can be lodged. The barrel measures 19.21"/488 mm and has a six grooves with a 1:15/406 mm twist. Its length allows to take full advantage of .22 LR cartridges' powder load, while ensuring remarkable accuracy. In a standard .22 LR load, in fact, the powder burns completely in a 14/18 inch long barrel (about 35 to 46 cm). The total length of the Pedersoli Black Widow is 35.9"/913 millimeters and the weight is 3.3 lb/1.5 kilograms.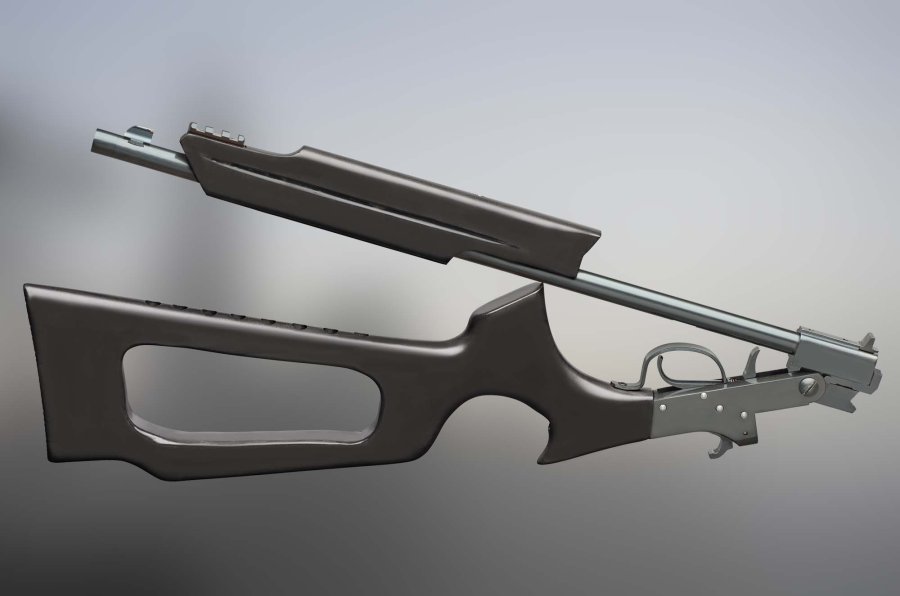 The muzzle is threaded and ready for a muzzle brake or a suppressor – where the law allows it. The receiver is drilled and tapped for the mounting of a dedicated ½ inch rail, which allows a scope or red dot sight to be fitted on the gun. The iron sights consist of a notch rear sight and a blade front sight. They are dovetail mounted on the barrel, and therefore easy to adjust. The single stage trigger is single action, with external hammer. The action opening lever is located in front of the trigger guard.
With the Black Widow in .22 LR caliber, Davide Pedersoli enters a vast world, still partly to be explored – the world of folding Survival rifles, that in the USA are very loved and appreciated, even if in other countries they are penalized by nonsense laws that prohibit their use for hunting.
The Pedersoli Black Widow will be available from July 2021 with a retail price of about 349 euro (price may vary in different countries).
Pedersoli Black Widow rifle specs and price

| | |
| --- | --- |
| Manufacturer:  | Davide Pedersoli |
| Model:  | Black Widow |
| Type:  | Single shot break-action rifle |
| Caliber: | .22 LR |
| Action:  | Single |
| Weight: | 3.3 lb/1.5 kg |
| Sights: | Adjustable (the rifle is optics ready) |
| Barrel Length: | 19.21"/488 mm |
| Overall Length: | 35.9"/913 |
| Stock: | Technopolymer |
| Price:  | 349 euro (price may vary in your country) |
| Availability:  | July 2021 |
---
For more information please visit the  Davide Pedersoli & C. website .