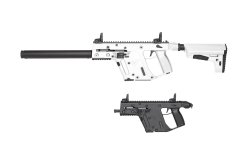 The KRISS Vector GEN.II is the next evolution of the Vector platform, taking it from a firearm into a multi-caliber weapon system and is compatible with the ubiquitous Glock magazine. Changing between calibers can be done in seconds, without any tools. The KRISS Vector GEN.II is more ergonomic with a redesigned trigger, a short throw ambidextrous safety lever, and a more comfortable pistol grip.
New for 2016 from the KRISS Arms Group are the new Vector GEN.II SDP pistol and CBR carbine in 9x19mm caliber; both feature the patented Super V Recoil Mitigation System that redirects energy down, and away from the shooter, which eliminates felt recoil and muzzle climb.
The KRISS Vector GEN.II SDP is the stockless, semi-automatic pistol variant of the KRISS Vector platform, featuring a threaded, 5.5" barrel and a rear quick detach sling point; the KRISS Vector GEN.II CRB is the carbine variant of the platform, and features a 16" barrel and a DEFIANCE KRISS Stock offering a wide range of adjustment and length of pull.