Presented at the 2016 SHOT Show, the Kriss Generation II is the latest update of the Vector project. Compared to the previous model, it's distinguished by improved ergonomics thanks to a general restyling of the trigger, grip and ambidextrous safety.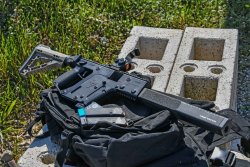 The main technological characteristic is the "Super V Recoil Mitigation System" recoil reduction system, that also strongly characterizes the aesthetics of the weapon, which is truly unique.

The Super V system features an inertia block inside a recess behind the magwell, connected to the bolt by an articulated mechanism. When firing the inertia block is pushed downwards, compensating for muzzle climb and recoil, as well as allowing a very high rate of fire (1200 rounds per minute in the full-auto version).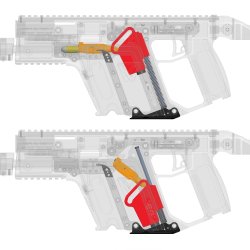 In the semi-automatic version, the system offers great controllability. Mirko Mazza, the Italian dynamic shooting champion lent himself to help us discover this unique firearm. Mirko profitably uses the long barreled version to participate in IDPA shooting competitions in the PCC (Pistol Caliber Carbine) division.
"I placed first for two years in a row at the National IDPA," tells us Mirko. "Last year it was experimental but this year, being it official I took home the title of PCC Italian champion and of Most Accurate, which means I was the most accurate shooter; moreover I stayed undefeated throughout the 2018 season".

Initially chamber only in .45 ACP caliber, the Kriss Vector is available also in 9mm Luger with two barrel lengths: 5.5 in / 140 mm (pistol version) and 16 in / 410 mm (rifle version). There are two 9mm pistol versions: SDP (without stock) and SBR (with a M4-style stock). The CRB version is equipped as standard with Magpul iron sights and a Defiant Kriss stock that can easily be replaced with other M4 stocks.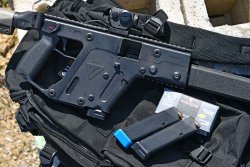 The Kriss Vector is fed by Glock compatible 17-round double-stack magazines, easily available on the market. 

The overall length of the rifle version is 978 mm, with an empty weight of about 3800 g.

As said above, the Kriss CRB barrel is 410 mm long and the section protruding from the receiver is protected by a light alloy shroud designed to enhance the gun's grip and aggressive look: therefore it's not a sound suppressor as a casual observer might believe.