The French Army renovates its weapons inventory. After the adoption of the GLOCK 17 Gen5 as its new service pistol under the acronym PANG ("Pistolet Automatique de Nouvelle Génération"), the French Minister for the Armed Forces Florence Parly shared via twitter a photo of the newly adopted sniper rifle, the 7.62x51 mm FN SCAR-H PR.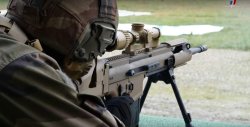 Belgium's Fabrique Nationale Herstal, jointly with subcontractors Sensor Systems and Telefunken-Racoms, had won an order from the French Army for the new Fusil de Précision Semi-Automatique (FPSA, or Semi-Automatic Precision Rifle) and optics some days ago. Now, minister Parly confirms that 2,620 SCAR semi-automatic sniper rifles "will arrive in the forces from 2020". The contract's value is not known at present, but each rifle costs about 6,000 euro, so math is easy to do. Even if it's not a huge contract, the adoption by the French Army is good news for FN, also for potential new orders from other armies. The  SCAR has already been adopted by Belgium and some other European countries such as Portugal.
The French Army released an interesting video that shows some of the rifle's features. (It's in French, but images help.)

FN SCAR-H PR / FPSA in video
This video has been hidden because of an external service (YouTube) that could potentially collect personal data.Allow video services for the duration of the visitAllow video servicesStop allowing video services
The FN SCAR (Special Operations Forces Combat Assault Rifle) is a gas-operated modular battle/assault rifle with a rotating bolt that was developed for the United States Special Operations Command (SOCOM). Today, besides the SCAR-H PR precision rifle, FN's SCAR product family includes the SCAR-L (5.56x45 mm NATO) and FN SCAR-H (7.62x51 mm NATO) assault rifles with interchangeable barrels, and the recently introduced FN SCAR-SC subcompact carbine. In this regard, rumors have it that the French government has ordered some FN SCAR-SCs in 5.56×45 mm too. The carbines should equip some unnamed unit. We look forward to receiving more info.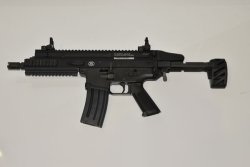 The French Army FN SCAR-H PR will replace France's vintage FR-F2 bolt-action rifles and comes with a Schmidt & Bender 1-8x24 day scope and a bipod.  
The rifle features a 20" / 20" / 510 mm barrel, two-stage match trigger, and folding stock. Weight in combat order is around 15.4 lb / 7 kg