Diana is a name inextricably linked to air rifles, with which many shooters fired the first shot of their life. But don't think of Diana as a static brand resting on its laurels: the technological and stylistic evolution of its models is continuous, and new models are offered every year. The carbine we are dealing with today belongs to the PCP category and is therefore powered by compressed air contained in a tubular tank under the barrel.
The Diana Stormrider carbine: two calibers and two operation modes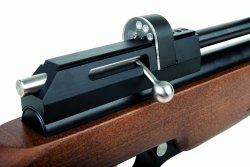 The Diana Stormrider carbine is available in both .177/4.5mm and .22/5.5 mm and can be used single shot or fed from a drum magazine. The magazine capacity is 9 rounds for the 4.5mm  version and 7 rounds for the 5.5mm version. In both calibers the barrel length is 480 mm, for an overall length of 1100 mm. The weight is 2300 grams for the 4.5 mm version and 2100 grams for the 5.5 mm version.
The stock of the Diana Stormrider is in classic German style, made from varnished beech wood, with Monte Carlo and rubber recoil pad. The tubular tank has a capacity of 100 cc with a working pressure of 200 bar. A practical pressure gauge integrated into the forend allows you to view the tank's charge level.
The Diana Stormrider's sights consist of an adjustable rear sight and a ramped front sight. They are raised so as not to interfere with a drum magazine and a muzzle-mounted suppressor. A classic 11 mm rail allows for the mounting of dedicated optics. The DIT (Diana Improved Trigger) is double-stage and adjustable.
The Diana Stormrider rifle provides considerable pellet energy: 27 joules in 4.5 mm caliber and 35 joules in 5.5 mm. Retail price is more than affordable: in both calibers it's 247 euro (it may vary in your country due to VAT and import duties).

Diana Stormrider specs
| | |
| --- | --- |
| Model: | Stormrider |
| System: | PCP |
| Barrel Length: | 18.9"/480 mm |
| Calibers: | .177/ 4.5 mm and .22/5.5 mm |
| Magazine Capacity: | 9/7 shots |
| Weight: | 5 lb/2300 g |
| Overall Length: | 43.4"/1100 mm |
| Energy: | 27/35 Joule |
| Price: | 247 euro (price may vary in your country due to VAT and import duties) |