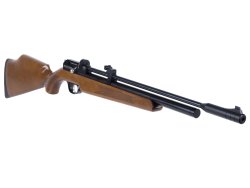 Diana, the famous German manufacturer, is introducing onto the US market the Stormrider, its newest precharged pneumatic rifle. 
Available exclusively through Air Venturi, the importer of leading international airgun, airsoft, and ammunition brands, the Stormrider PCP is an interesting budget-friendly PCP airgun whose retail price is just 199.99 US dollars. Many shooters don't approach PCP airgunning because of the cost. With a price under $200, the Diana Stormrider will make jumping into the precharged pneumatic airgun world more palatable and contribute to create a new generation of PCP airgunners.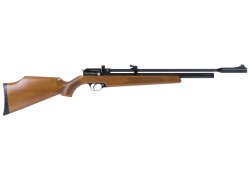 The Stormrider is a bolt action repeater that uses a magnetic rotary magazine, with seven shots in .22 caliber and nine in .177.  With a 200 BAR fill pressure, the Stormrider can send pellets downrange at speeds of 1,050 fps in .177 caliber with lead pellets.  Airgunners can choose to shoot using the open sights or mount a scope to the 11mm dovetail rail.  Each rifle includes a fill-probe with male quick disconnect fitting, and a single shot tray for placing precision shots.  Backed by the Diana name, the rifle includes features that are normally found on higher-end rifles.  
Among the other features of the Diana Stormrider:
Up to 26 FPE in .22 / 20 FPE in .177 with lead pellets
Up to 900 fps in .22 / 1050 fps in .177 with lead pellets
Manual safety
Single-stage, non-adjustable trigger breaks at ~3 lbs
Checkered beech stock
Raised cheek piece for right-handed shooters (stock still usable for left-handed shooters)
Fully adjustable rear sight
Integrated manometer (pressure gauge)
200 BAR/2900 psi fill pressure
9 shot magazine in .177 / 7 in .22