The Diana Skyhawk belongs to the PCP – Pre-Charged Pneumatic – airguns family, which means it has a pre-filled reservoir of pre-compressed air. It is therefore not necessary to reload the gun between shots by acting on the barrel or the loading lever as is the case with springer type rifles.

Diana Skyhawk PCP air rifle - Details

The Diana Skyhawk has a bullpup construction, i.e. with the action behind the trigger, a design that allows the overall length of the rifle to be considerably reduced. Finally, the stock is a thumbhole type, featuring an opening behind the pistol grip that allows for a firmer and more natural grip and greatly facilitates swinging and aiming.
That's why the Diana Skyhawk has a barrel length of 22.4"/ 570 mm and an overall length of just 29.1"/740 mm.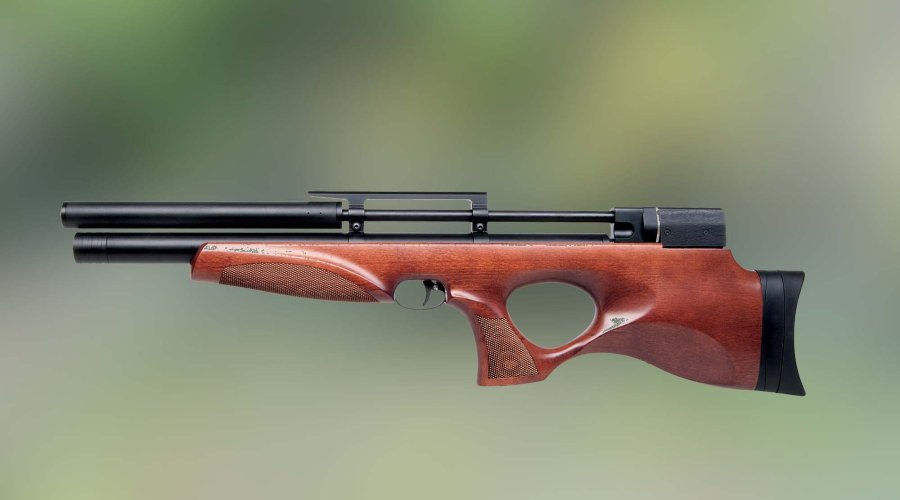 The Diana Skyhawk PCP air rifle is available in three calibers: .177/4.5mm, .22/5.5mm and .25/6.35mm. In the first two calibers the weight is the same, 5.9 lb/2700 g, while for the 6.35mm version it's 6.4 lb/2900 g.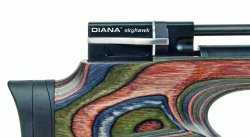 In the Skyhawk rifle there is a lot of German technology but also quite a bit of Italian creativity, since the stock is manufactured in Italy by Minelli, a company that can boast more than seventy years of experience. At the buttstock end is a rubber recoil pad that can be adjusted along two axes for maximum comfort when shooting. The Skyhawk is available with a multi-colored laminated wood stock, or a beech stock with a black, mahogany or walnut finish.
The Diana Skyhawk's tubular tank has an operating pressure of 250 bar and is equipped with a pressure gauge and pressure regulator. The magazine is a rotary type, with a capacity of 11 shots in 4.5 mm caliber, 9 in 5.5 mm  and 8 in 6.35 caliber. Lading is done by a side lever. The trigger assembly is the usual double-stage and adjustable DIT (Diana Improved Trigger). The basic version has no iron sights, but a standard 0.4"/11 mm rail allows any type of optics to be mounted.
In the three different calibers it achieves a muzzle energy of 26, 44 and 52 joules respectively.