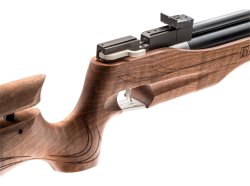 The new AR611 air rifle was developed in cooperation with the historic company "Domino" based in Milan, today headed by Raffaele Mencarelli, head designer (he is the son of Massimo Mencarelli,  and heir of the FAS brand.
AR611 air rifle is now available with a new edition and improved in design.
The new AR611 receiver is machined from a solid block of aluminum, every mechanical component has been verified to ensure effectiveness and great performances.
The pressure regulator allows for an effective use of the air in the tank and allows for
more than 180 shots at constant speed (power <7.5 Joule – 170 m/s).
Loading is very easy and it is made through a smoth lever located on one right side of the receiver, next to the line of sight. The trigger system is fully adjustable.
The barrel is a real point of interest: AR611 is the only sporting carbine with a 19.6″
barrel (600mm) with floating system. It includes an ending that can be rotated 180
degrees to perfectly match the point of impact on the target. AR611 features a two piece 9-11 slide for open or optical sights. Stock is matte finish walnut with adjustable butt plate and cheeckpiece. It is available in 4,5 (.177) or 5,5 (.22) caliber.