The comparatively young US optics manufacturer Vortex Optics from Barneveld, Wisconsin, has been selected to participate in the US Army's Next Generation Squad Weapon - Fire Control (NGSW-FC) prototype project. This project involves optics/fire control systems for the future assault rifles. As a reminder: General Dynamics Ordnance and Tactical Systems, AAI Corporation Textron Systems and SIG Sauer are also participating in the tender. The goal is to gradually replace the M4A1 carbines and M249 light machine guns in 5.56x45mm with more powerful weapon systems from 2023 onwards. The medium caliber 6.8 mm with a "General-Purpose Projectile" is ballistically between 5.56x45 and 7.62x51, but is said to have little in common with the already known Remington's 6.8 SPC (Special Purpose Cartridge) from 2002, although the bullet weight should also be between 85 and 120 grains.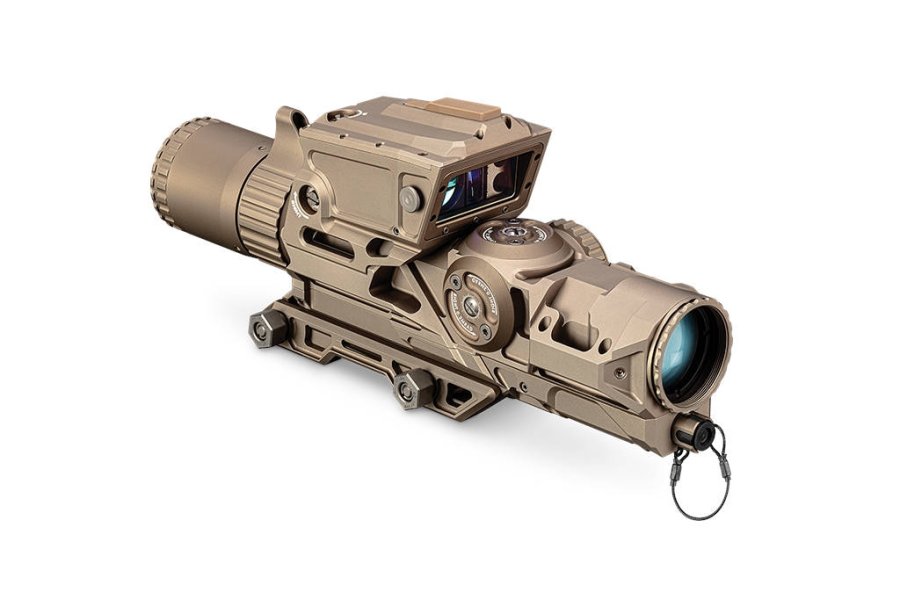 The active reticle of the Vortex fire control system

The optical system called "1-8x30 Active Reticle Fire Control" from Vortex Optics consists of a variable 1-8x30 riflescope featuring an active reticle in the first image plane with a ballistics computer and a digital display above it. The built-in 1000 m laser rangefinder and sensors that process environmental data immediately calculate the aiming point and point of impact when a target is acquired and both are automatically displayed in the reticle. Since the soldier in the battlefield no longer has to take his eyes off the optics to operate separate tools such as a laser range finder and ballistics computer, the situation-dependent reaction is accelerated and the probability of a first shot hit and hit rate are increased. Should a battery or electronics failure occur, the 1-8x30 riflescope of the fire control system can still be used conventionally. It is reported that Vortex Optics 1-8x30 Active Reticle Fire Control prototypes have already been tested in troop trials (Soldier TouchPoint – STP – Evaluations) for 2 years.
As recently announced, the US companies Leupold & Stevens and L3Harris (EOTech) are now also participating in the NGSW project for an adequate fire control system for the future 6.8 mm assault rifles. They will deliver 115 Next Generation Squad Weapon Fire Control (NGSW-FC) prototypes to the U.S. Army.