Article also available in other languages
Headquartered in the Brazilian city of Porto Alegre, the Forjas Taurus S.A. group is the biggest firearms manufacturer of South America, and one of the world's most known. Its fame is mostly due to a wide range of semi-automatic pistols, revolvers, hunting and sports shooting carbines, sold worldwide to civilian customers. Taurus, however, also offers a specialized product line for governmental entities: most of the Brazilian Armed Forces and Police departments today use Taurus firearms, and so do countless military and law enforcement agencies in the rest of South America, in the United States, and in the rest of the world.
In the past two or three years, the Taurus company decided to "upgrade" its specialized product line for military and law enforcement units and started the development of several novel firearms, whose prototypes were showcased at several trade expos ever since the year 2011. Now, everything seems ready for the global launch of many of them.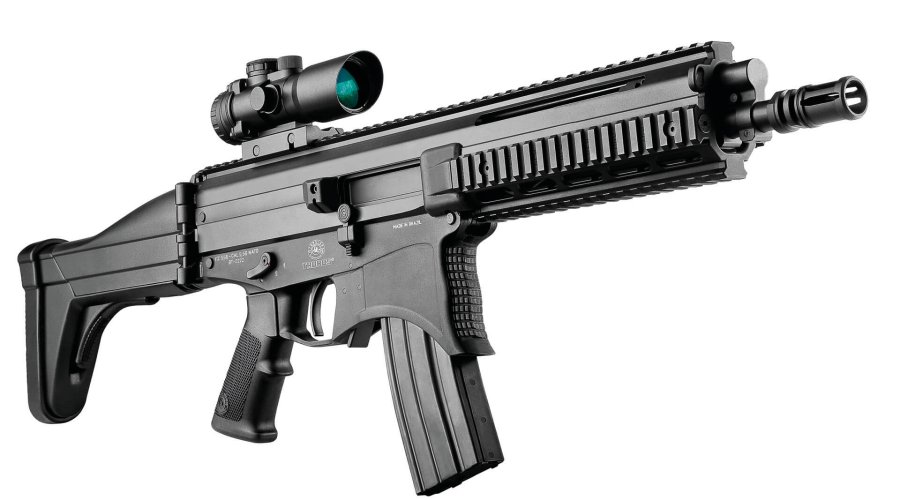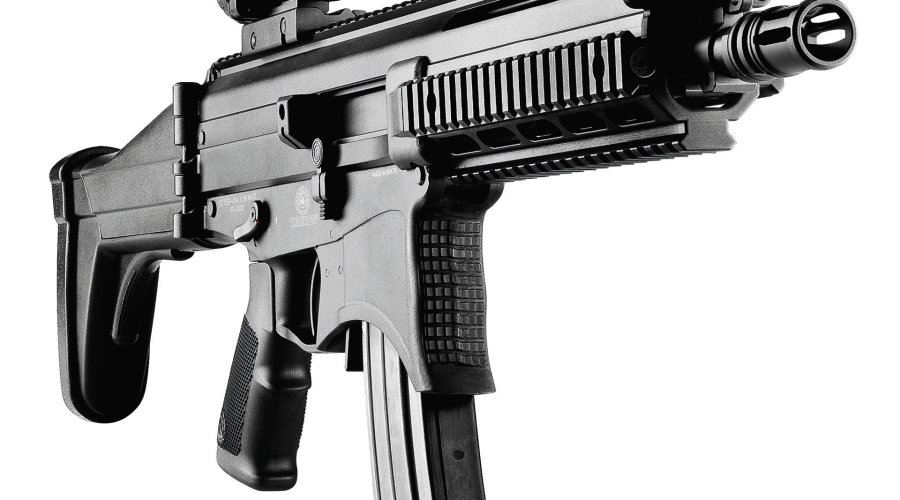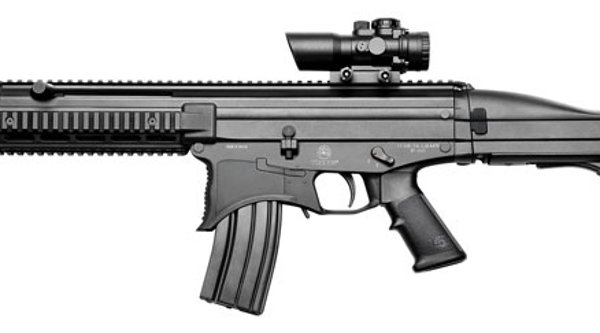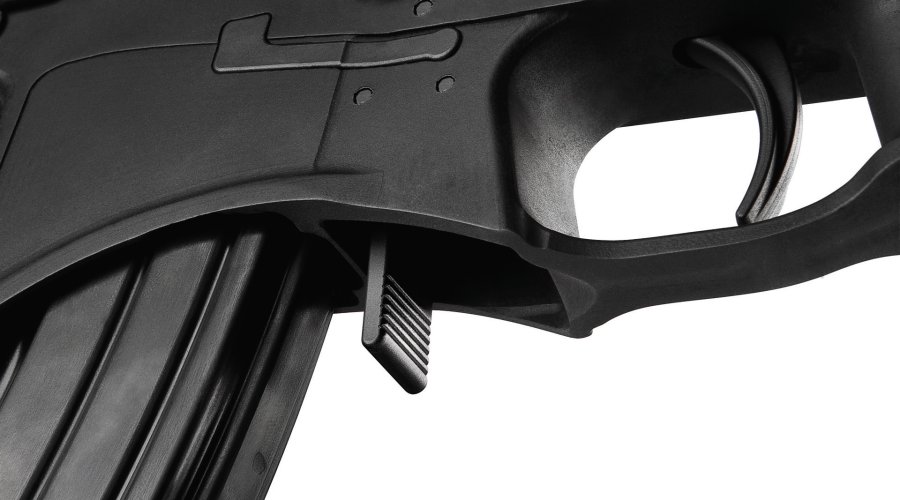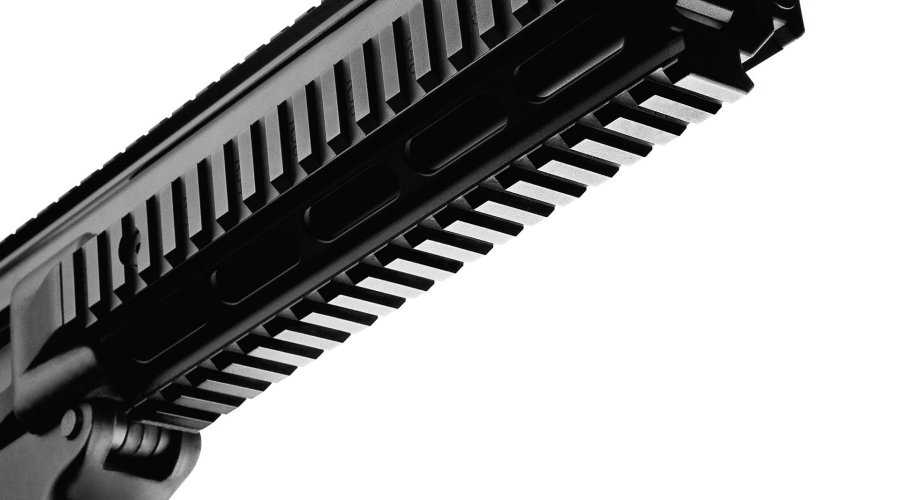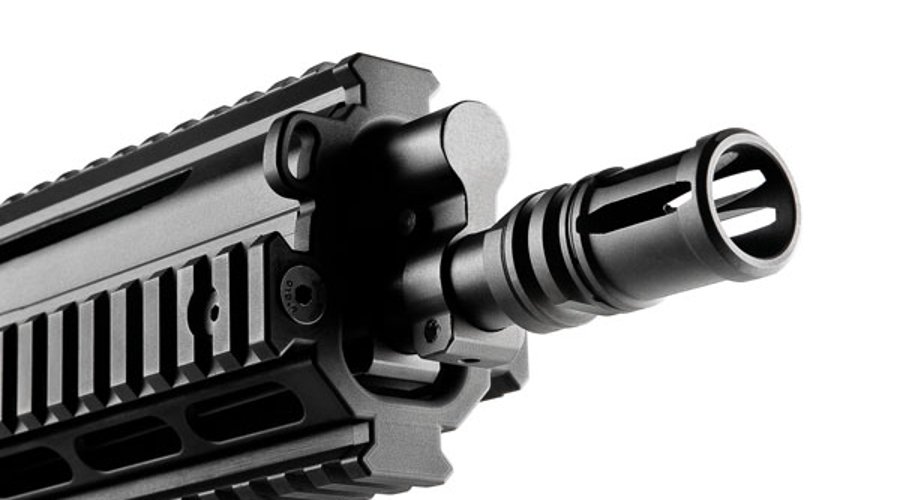 Most interesting of all is the Taurus 5.56x45mm caliber rifle platform, which unfortunately is also the one whose development appears to be moving slower.

The rifle was originally conceived for the Brazilian military trials, which however led to the adoption of the IA2 modular assault rifle system − manufactured by the State-owned IMBEL factory − as a replacement of currently issued 7.62x51mm and 5.56x45mm local clones of the belgian FN FAL rifle as well as of several imported designs (ranging from the US-made M-16 to the German HK-33) within a broader project of modernization of the Brazilian Armed Forces. However, the Taurus rifle appears to have been well accepted, and some orders have indeed been placed by élite units of the Brazilian military.
Taurus' 5.56mm rifle design is sleek and futuristic, and will be available in two variants: the select-fire model dubbed the FAZ-556, firing at a cyclic rate that ranges between 650 and 800 rounds-per-minute in full-automatic, will be strictly reserved to military and law enforcement customers, while the semi-automatic CT-556 version − conceived as a Police patrol rifle for those agencies that deploy select-fire weapons only within SWAT teams and other specialized operators − may have a chance to see, one day or another, some level of commercial distribution.
The Taurus 5.56x45mm assault rifle sports a fully machined lightweight aircraft-grade aluminium upper receiver − hard-anodized to military specifics − and a fibreglass-reinforced polymer lower receiver featuring steel inserts in stress-prone areas. It also integrates a forward hand-grip integrated in the front part of the magazine well and an AR-15 type pistol grip which may be removed and replaced with any other AR-15/M16/M4 grip, paving the way for the installation of a plethora of different aftermarket grip designs.

The controls configuration − position and shape of the hold-open release catch, safety/fire selector switch and magazine release catch − reminds the one found on M16/M4-type rifles and carbines, so that operators who are already fond with said platform may easily get accustomed to the Taurus rifle with little additional training by exploiting muscle memory.
There are, however, a few differences: the hold-open release button and the fire selector switch are ambidextrous, while the cocking lever is located right over the barrel and can be reversed for right-handed or left-handed operation. Last, the magazine can be released either through a free-fall push-button or through a flat lever located right behind the magwell, which can be operated with a thumb while holding the magazine itself; this allows both ambidextrous operation and a more convenient recovery of the empty magazine for subsequent refill.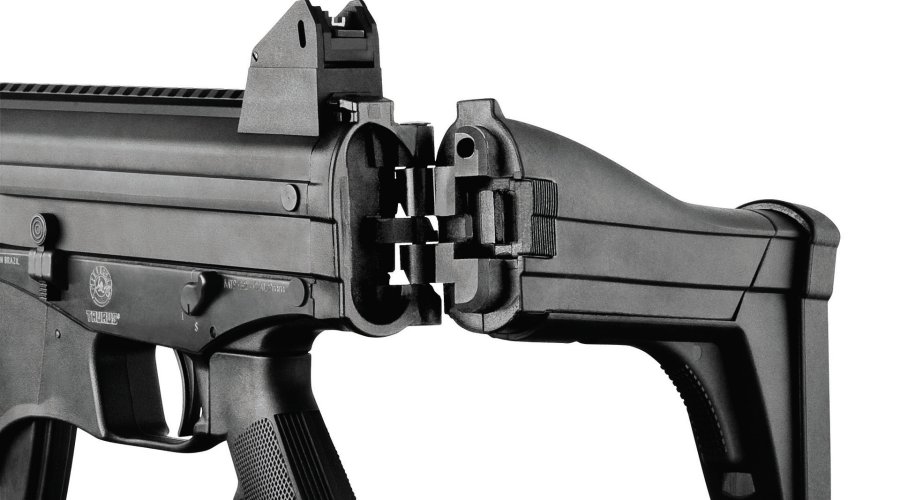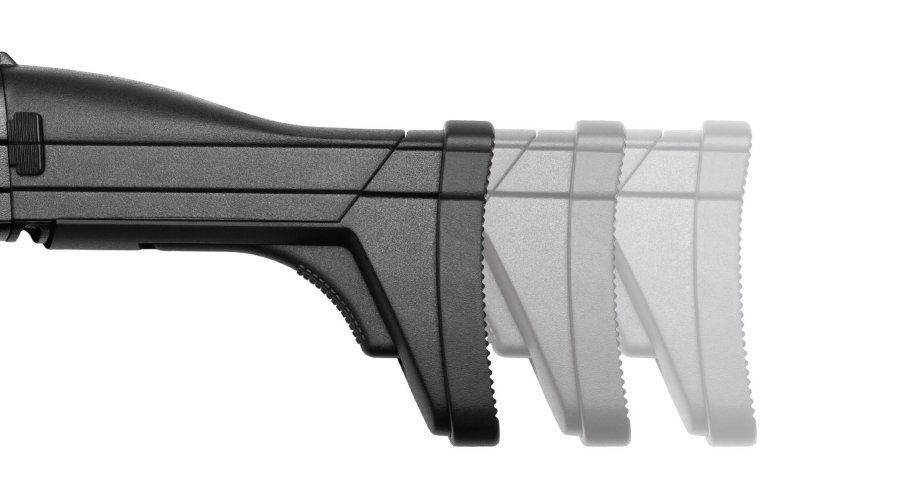 This video has been hidden because of an external service (YouTube) that could potentially collect personal data.Allow video services for the duration of the visitAllow video servicesStop allowing video services
The new Taurus 5.56x45mm rifle is based upon an indirect gas-impingment, short-strike piston-driven system and sports a 16-inches barrel with a birdcage-type flash hider with only five venting holes on the top, which is meant to prevent dust from lifting up from the ground when the gun is fired from prone position (particularly in arid environments) and either blinding the operator or ghosting his/her position to the enemy.

Another peculiar feature of the design is a sidefolding/telescoping buttstock cosmetically patterned after (or at least resembling) the design that became popular with the Belgian-made FN SCAR rifle. The stock is unlocked through a button located on the left side, and folds to the right; the buttpiece can be extended or retracted in three different positions to better suit each operator's individual height, build, and equipment. When the stock is folded, the rifle turns into a more practical package for paratroopers, airborne, or APC troops, and the controls configuration is such that the folded stock is of no hindrance to the normal operation of the gun.
The Taurus rifle is STANAG 4179 compliant, and will thus fit any NATO-standard magazine. It comes without any kind of iron sight, featuring instead a full-lenght top MIL-STD-1913 "Picatinny" rail for aftermarket optical sights, electronic gunsights, or flip-up iron sights. A machined aluminium quad-rail handguard also makes the rifle compatible with a plethora of tactical accessories and with underslung grenade launchers alike.
The same design outlines found on the Taurus rifle are used on the new Taurus sub-machine guns series, developed under direct request from élite Brazilian Police troops (most famous of them all being the BOPE batallion of the Rio de Janeiro State Military Police, or PMERJ) for close-combat operations: the Brazilian Police engages fierce gunfights with drug traffickers and street gangs almost daily for the control of the Favelas − the immense slums at the outskirts of all major Brazilian cities − and they need more modern, effective and versatile tools of the trade to get the edge.
The new common platform of Taurus sub-machine guns includes two models, respectively named SMT-9 and SMT-40. The only differences are in caliber and feeding: the SMT-9 is chambered for the 9x19mm caliber (also known as 9mm "Parabellum", 9mm "Luger" or 9mm NATO) and feeds through 30-rounds curved magazines, while the SMT-40 feeds .40 Smith & Wesson caliber ammunition from 15-rounds or 30-rounds straight mags.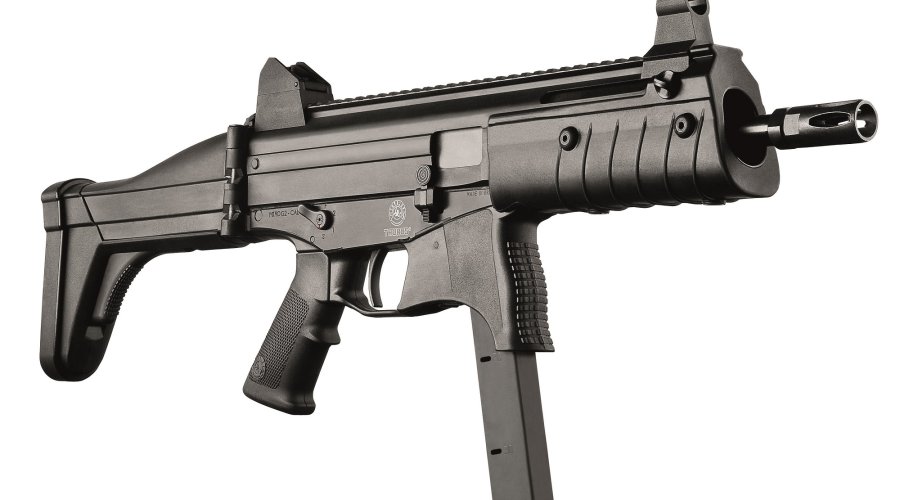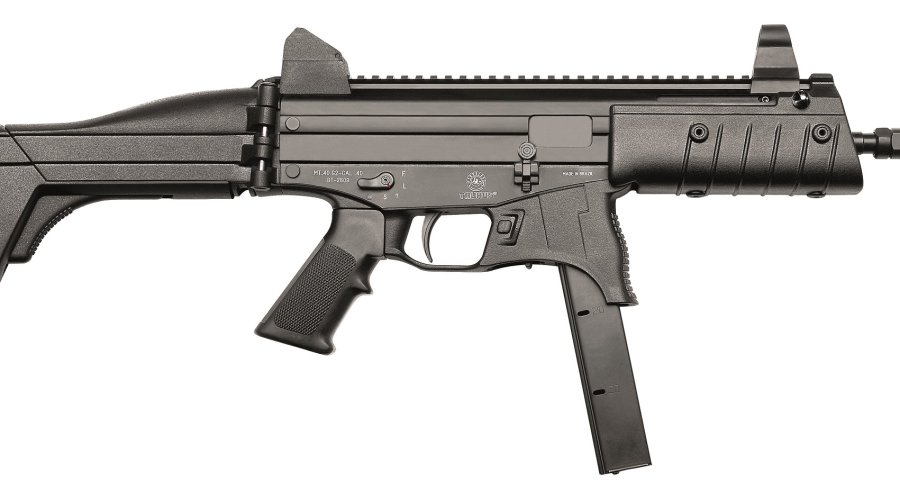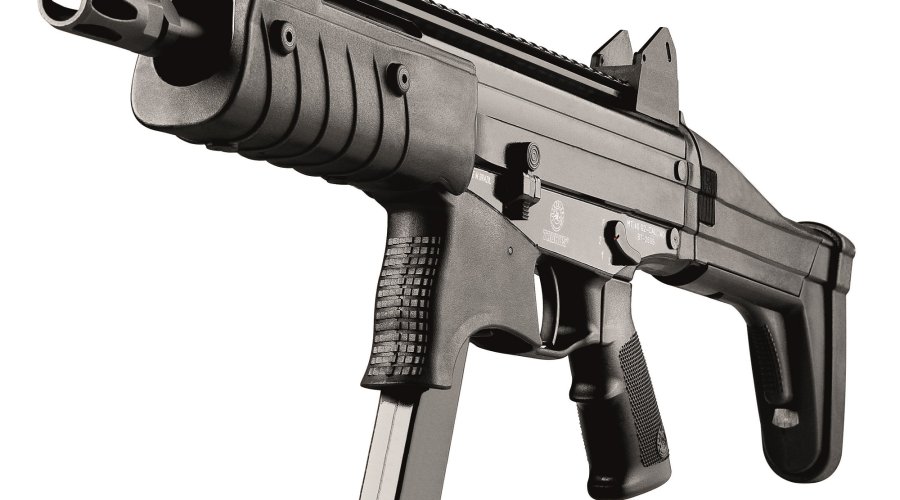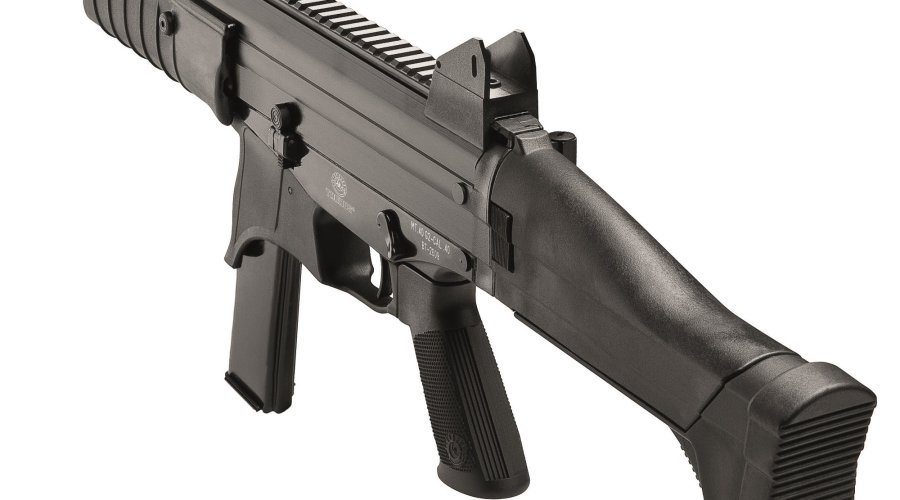 This video has been hidden because of an external service (YouTube) that could potentially collect personal data.Allow video services for the duration of the visitAllow video servicesStop allowing video services
The two sub-machineguns have most features in common: both work through a simple blowback-operated system and fire from the closed bolt at a cyclic rate of fire that may range anywhere from 700 to 800 rounds per minute; they may fire single shots, two-rounds controlled bursts, or in full-automatic mode; they both feature a cold-hammer forged steel 20cm-long barrel with a screw-on flash hider, and their overall lenght can range from a minimum to 460mm. to a maximum of 750mm. (approximately) depending from whether the stock is folded or unfolded, and if the buttpiece is extended or not.

Unlike the Taurus 5.56mm rifle, the SMT-line sub-machine guns feature front post and adjustable rear sights, mounted on a full-lenght top Picatinny rail which allows to supplement or replace them with optical or electronic gunsights. The polymer handguard comes from factory with no rail interface, but it's drilled and tapped at 3-o'clock, 6-o'clock and 9-o'clock positions for aftermarket rail segments should the need arise to attach tactical accessories.
Shorter versions of the SMT-9 and SMT-40 sub-machineguns are also available from Taurus, featuring 165mm barrels without a flash hider and either featuring the standard side-folding stock or not coming with a stock at all. Such a version of the SMT-9 − featuring a side-folding stock, a 165mm-long barrel and an AR-15 type removable carrying handle with integrated peephole adjustable sight mounted on the top Picatinny rail in lieu of the standard rear sight − has been provided in April 2014 by Taurus to the government of Bangladesh, and trial tests for mass adoption are currently undergoing in the small but troubled Asian Country.
This video has been hidden because of an external service (YouTube) that could potentially collect personal data.Allow video services for the duration of the visitAllow video servicesStop allowing video services
In the two boxes above, respectively, 3D CAD short presentation films of the Taurus SMT-9 and SMT-40 sub-machine guns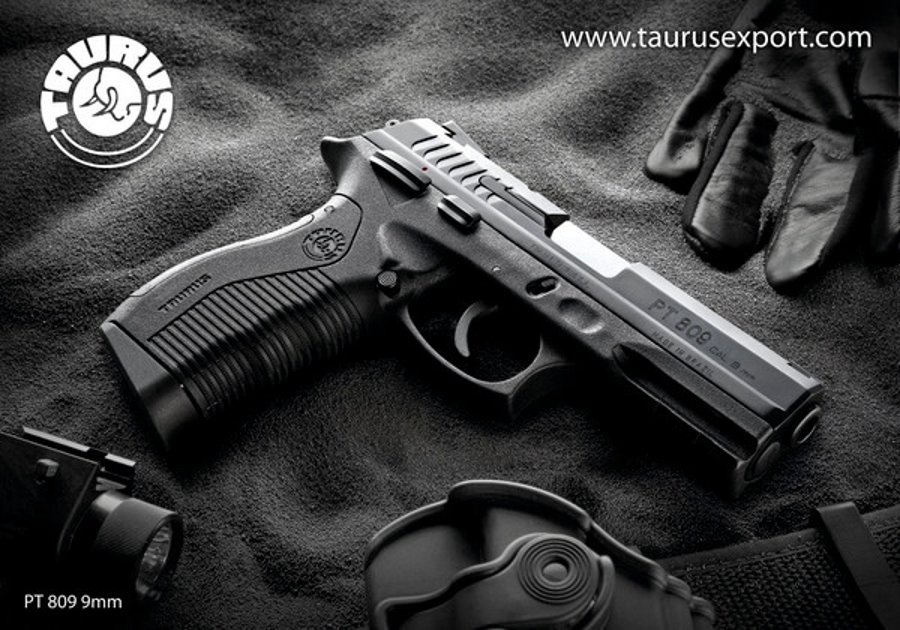 With the 2014 Soccer World Cup getting closer and closer − and with the memories of protests and clashes that took place all around the Country last year concerning the high expenditures for their organization − crowd control capabilities are a hot topic in Brazil, hence why Taurus also boosted its offer in the field of indirect-fire systems.

In collaboration with the controlled Amadeo Rossi Metalurgica S.A. company − mostly known to the general public for their line of sporting revolvers, lever-action carbines, single-shot and revolving-cylinder long guns − Taurus developed the LT-38, a 37mm/38mm less-lethal single-shot crowd control launcher conceived to be simple and cheap to manufacture (and acquire) by the numbers, and utterly easy to operate proficiently with minimal training.
The LT-38 can be considered a "Retro" gun in terms of configurations: a top-break opening 304mm-long smoothbore barrel is attached to a simple polymer handguard and to a standard rifle-style synthetic stock with a raised cheekpiece. The Taurus LT-38 launcher sports a flip-up sight, and a single-action trigger that requires the external hammer to be manually cocked before each single shot is fired. A push-button type safety switch is also located behind the trigger for further operational safety.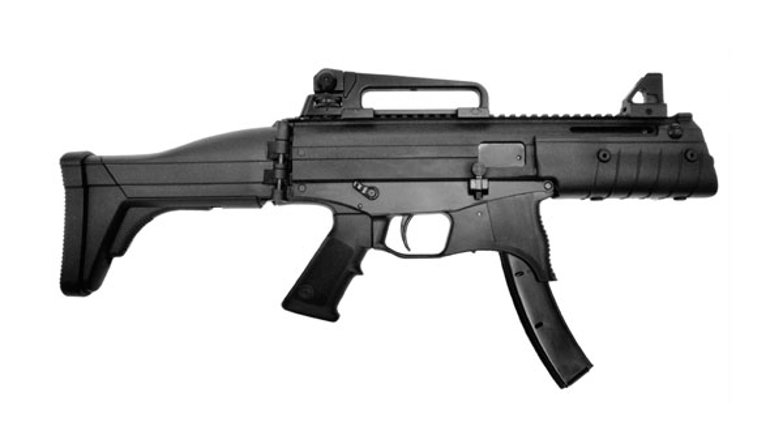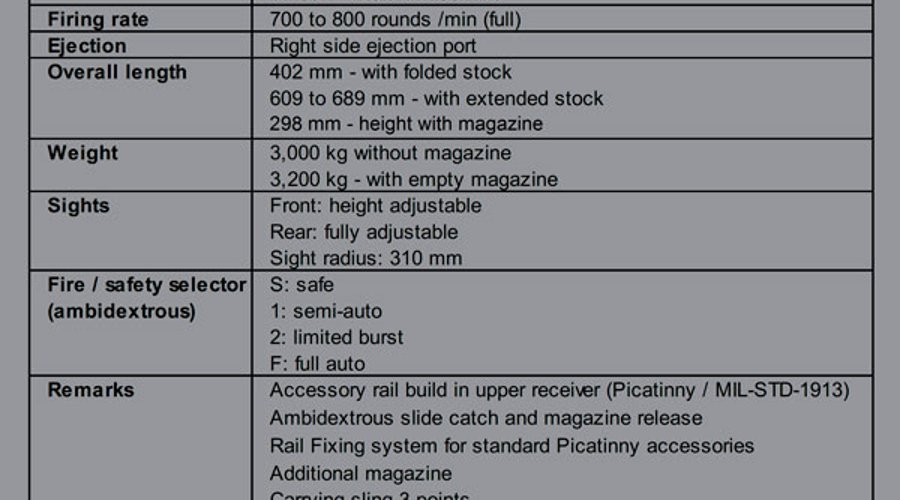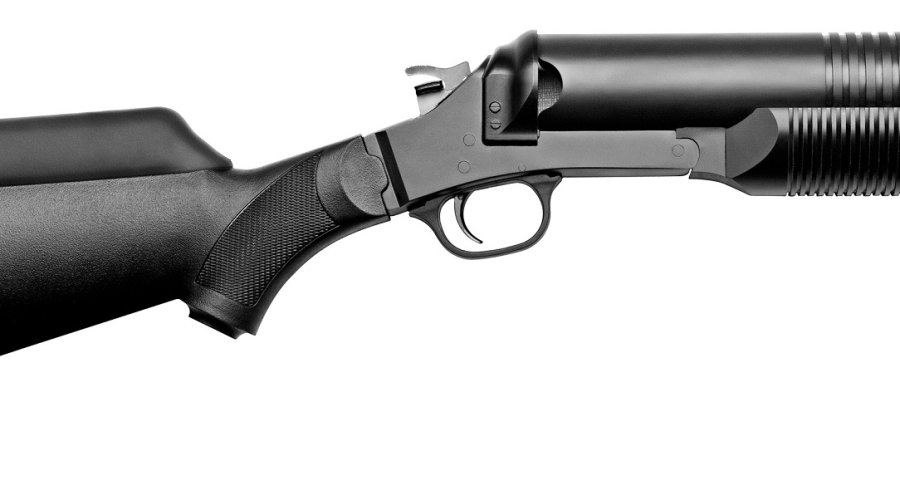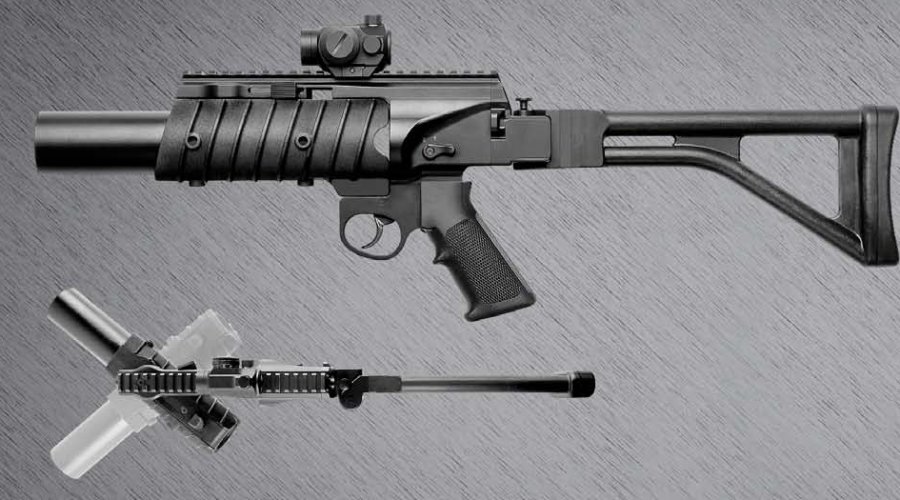 A more technically modern design is the LT-40 grenade launcher, conceived to accept any NATO-standard low-velocity payload; while the LT-38 may only employ less-lethal loads, the LT-40 will operate with any kind of 40x46mm-SR grenade.
The Taurus LT-40 grenade launcher opens sideways for loading, either to the left or to the right, so that it may accept shells of any lenght − allowing scalar use of force, since less-lethal 40mm grenades are often longer than standard military loads − and is fired by a double-action trigger, similarly to what happens with the German Heckler & Koch AG-36 and all its evolutions and incarnations.
The Taurus LG-40 grenade launcher is also equipped with an AR-15 style replaceable pistol grip for more convenient and comfortable deployment, and may be mated to any standard assault rifle through a Picatinny interface bracket. Alternatively, it may fit an optical, electronic or iron sighting system and a side-folding FN FAL-style folding stock, and be deployed as a stand-alone single-shot launcher.
Last, but not least, as smooth-bore pump-action long guns are still a mainstay in law enforcement armament all throughout the American continent, Taurus decided to launch its own model, dubbed the ST-12.
The ST-12 represents Taurus' own take of the MagTech 586 (itself a Remington 870 clone that's been manufactured in Brazil and used by local Police and Military units for decades now), although highly specialized. The Taurus ST-12 sports an aluminium alloy and a steel magazine tube that will take up to seven 12-gauge shotshells; an additional shell can be carried in the 3" chamber. All barrels are made out of steel, and available in 18-inch, 20-inch or 22-inch lenght.
The Taurus ST-12 pump-action shotgun is available in three variants: the baseline version can be had with any barrel lenght, with a standard shotgun sighting system and with either wooden or black polymer furniture; a shorter variant is available with a black synthetic handguard and pistol grip only (no buttstock), while the "Tactical" version comes with a black polymer handguard, an AR-15 type pistol grip, an M4-type telescoping buttstock, a barrel shroud, a breacher flash hider, and optionally with a Picatinny rail over the drilled and tapped frame, with LPA "Ghost Ring" sights and/or with a short three-rail accessories interface at the front end of the magazine tube.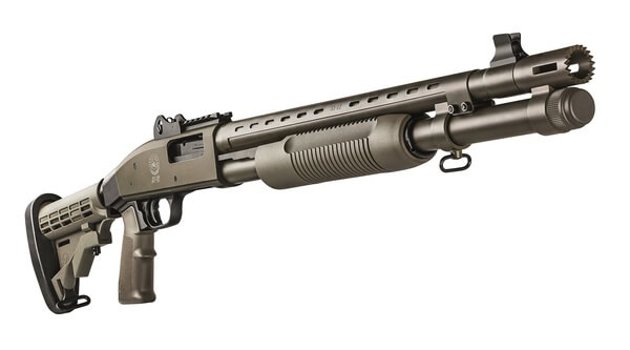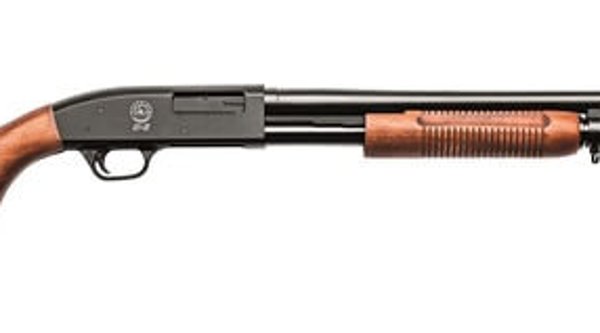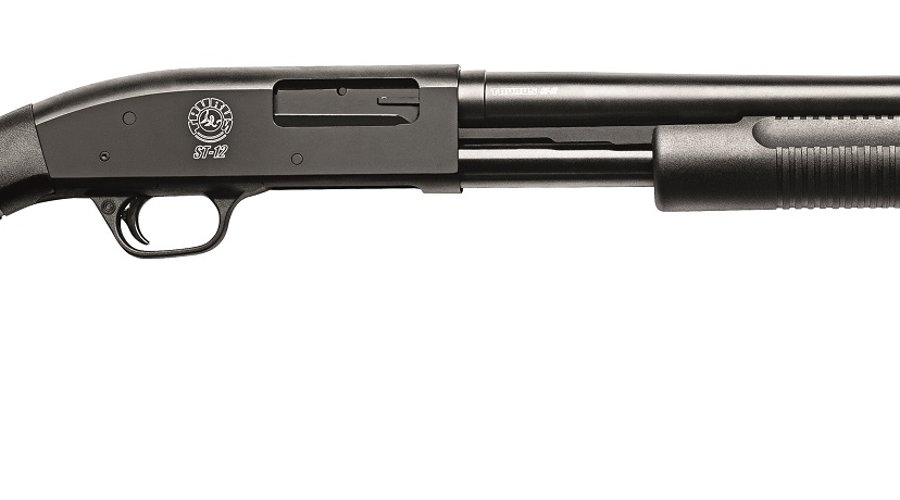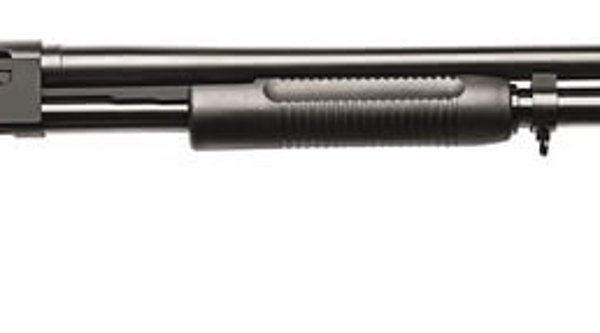 In addition, most of the Taurus full-size, semi-compact and compact medium and high-caliber semi-automatic pistols and revolvers are manufactured to satisfy the needs of military and law enforcement personnel for a modern sidearm or backup gun, and are thus available for purchase by MIL/LE customers.

Most of the new products seen above have so far only been showcased to the public in the course of some international trade shows, and although some purchases were made by Brazilian military and Police units, it's too soon to say whether or not these new Taurus firearms will be successful − even more so that some of them, most notably the 5.56x45mm caliber rifle, seem to be still in the final stages of development rather than in full-fledged mass production.

Many operators of the Brazilian military and Police still have to forget the mistakes made by Taurus in the past, ranging from defective pistols (some lots of PT-24/7 acquired by the Brazilian Military Police were found to be prone to discharge if shaken!) to less-than-astounding quality of some license-manufactured TAURUS-FAMAE sub-machine guns and .30-M1 caliber sub-carbines − not to mention the licensing agreement between Taurus and IWI (Israel Weapon Industries, Ltd.) for the local manufacture of the Tavor bull-pup assault rifle series that was, reportedly, abruptly terminated with no explaination provided to the public opinion.
However, this new and all "indigenous" MIL/LE product line would seem to indicate that the biggest privately-owned firearms manufacturer of Latin America has got back on its tracks, and it's ready to take on the global market to establish itself as a reliable provider of cost-effective armament and equipment to military, law enforcement and governmental entities. We at all4shooters.com are of course very sympathetic and supportive with the efforts of such an important gunmaker, and we sincerely wish Taurus the best luck.