Austrian-based company Ritter & Stark during Enforcetac 2017 exhibition in Nuremberg presented two of their new tactical rifles, which are still in prototype form.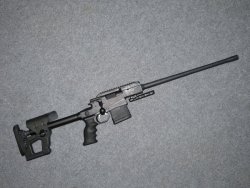 One is R&S SLX bolt action rifle – a fully modular design, based on the MTR SX-1 rifle from same company but scaled down to accept cartridges not bigger than ubiquitous .308 Winchester.
Featuring aluminum receiver with quick-removable barrel system and magazine well adapted to accept Magpul P-Mag 308 magazines, this rifle offers an easily customizable and highly accurate target / sniping solution for ranges up to 800 meters.

Like its bigger brother, the SLX rifle features highly accurate barrels, produced in-house using unique ECM process, with scope mount integral to the barrel. This ensures sub-MOA accuracy and POI/POA retention after each disassembly, as the scope stays with the barrel at all times.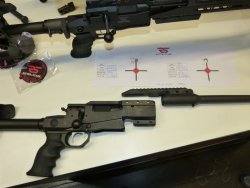 The direct bolt / barrel locking, specific for  Ritter&Stark rifles, permits an even lighter design, which is still in the works.
This year R&S shown its first .308win-class sniper rifle that features polymer receiver instead of the typical aluminum alloy or steel, normally found in rifles of its class. 
According to the company representatives, the prototype polymer receiver already withstood hundreds of shots without any damage or loss of accuracy.
There's still a lot of development to do, but as a proof of the concept it's very interesting, as this would allow to make really lightweight tactical or hunting rifles with quick-detachable barrels and high degree of accuracy. The first prototype, already shot some impressive, sub-0.5 MOA groups, which are typical for all rifles bearing Ritter&Stark logo.