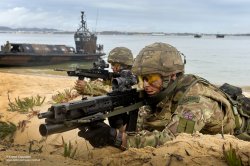 The "Brexit" madness in the news around the clock is simply annoying, yet economic cooperation beyond the borders of the United Kingdom also seems to continue to work in the field of armaments and national defense. Through its UK subsidiary NSAF Limited, Heckler & Koch has entered a contractual arrangement with the British Ministry of Defence and will carry out the 3rd upgrade of the British SA80 standard assault rifle . As part of the British Army's "Equip to Fight" programme, the weapon system will be upgraded to the SA80A3 variant.

British Bullpup rifles under criticism
Let's remember: introduced in the early 1980s, the standard British Army assault rifle is a compact 5.56x45mm NATO gas-operated, rotating bolt bullpup weapon developed and manufactured by Royal Small Arms Factory and BAE Systems. The complete series consists of 4 models : L85 IW (Individual Weapon = standard service rifle), L86 LSW (Light Support Weapon = light machine gun), L22A1 Carbine (short carbine version) and L98A1 CGP (Cadet General Purpose = small caliber version for training). Due to numerous functional problems in tough foreign missions, Heckler & Koch was involved in the conversion/modernization of the SA80 as early as 2001.

Enhancements incorporated in the  SA80 upgrade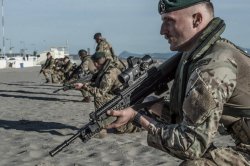 The upgrade includes a new foregrip, an improved upper receiver, additional safety features and enhancements to reduce the weight of the assault rifle. Heckler & Koch will carry out the modifications at its plant in Oberndorf am Neckar, Germany , while the system will be assembled in Great Britain. The foundation stone for this is laid by the now concluded 3-year contract with a total volume of over £15 million. The contract also includes the option for upgrading additional SA80 assault rifles and a 2-year contract extension at a cost of approximately £50 million. As expressed in Heckler & Koch's press release, " the commitment between the Ministry of Defence and Heckler and Koch in entering the SA80 Upgrade programme embraces the confidence both parties have in the weapon, and each other ."