Chris Cole, Vice President of Sales for FN America, LLC, sums up the philosophy behind the all-new FN 15 TAC3 line of carbines in 5.56x45mm caliber: "If you're in the market for an MSR that is easily configurable to your needs, delivers superior accuracy, and is highly reliable, then the FN 15 TAC3 is for you." The new modern sporting rifles from FN are available in different configurations with new colors, finishes, and features and are designed for shooting sports, hunting, home defense, and general use on the range. Common features include an ambidextrous charging handle and selector, and FN's new custom furniture.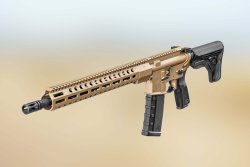 Two main models are offered, the FN 15 TAC3 and the TAC3 Duty. Both are direct-impingement guns built from a true MIL-SPEC foundation; high-pressure-tested, magnetic particle-inspected bolt, M16-style MIL-SPEC bolt carrier group, mid-length gas system, and H-buffer to ensure reliable function.
The TAC3 series rifles feature FN's proprietary chrome-moly vanadium steel 16"/406 mm barrel. The latter is cold-hammer-forged, with a government-profile barrel and chrome-lined. It is fully free floated within an extended handguard for superior accuracy. Among the other shared specs: HPT/MPI-tested bolt made from Carpenter 158, a MIL-SPEC forged aluminum receiver; gas keys properly sealed, torqued and staked according to MIL-SPEC;
MIL-SPEC trigger; fully ambidextrous Radian Raptor-LT charging handle; fully ambidextrous Radian Talon long and short modular safety selector; MIL-SPEC-style magazine and bolt release. Furniture is composed of a 6-position, snag-free buttstock with rubber butt pad and integrated QD attachment point, and a pistol at 19.5-degree grip angle and aggressive texturing.
But let's take a closer look at the FN 15 TAC3 and FN 15 TAC3 Duty specific features.
FN 15 TAC3 - AR-style rifle: streamlined and rugged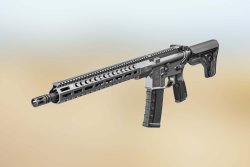 The FN 15 TAC3 has an extremely rigid 14 5/8" Hodge Defense-designed wedge lock handguard made of 6061 aluminum with proprietary barrel nut and anti-rotation technology resulting in minimal deflection. 
The TAC3 version offers a continuous 12 o'clock Picatinny rail space, 5 integrated QD attachment points and multiple M-LOK slots at 3, 6 and 9 o'clock for the mounting of accessories. 
The FN 15 TAC3 is available in black anodize or factory Cerakote finish in flat dark earth or tungsten gray colors. Weight is 7 lb/3175 g approx.
The FN 15 TAC3 comes with a 30-round FN polymer magazine at an MSRP of $1729.
FN 15 TAC3 Duty - the lightweight version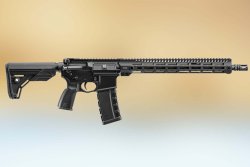 The FN 15 TAC3 Duty is available in black anodize only and is a lightweight carbine weighing just 6.5 lb/2948 g approx. 
It features a 15" Midwest Industries rail system with full-length Picatinny rail at 12 o'clock, five integrated QD mounts, and multiple M-LOK attachment points at 3, 6 and 9 o'clock.
Shipped with a 30-round FN polymer magazine, the FN 15 TAC3 Duty is a tad bit lighter in the price too, at $1599 (MSRP). Closing on a sad note, it seems that the new FN 15 TAC3 rifles will be available in the US only and  won't be imported to Europe.
More info and detailled technical data is provided on the website of FN USA.