all4shooters.com: Ms. Teufert, you are the exhibition director of Enforce Tac and studied at the University of the German Federal Armed Forces in Munich. You were subsequently employed by the armed forces in various positions, including, for example, as deputy head of a military staff department and head of the Print and Social Media Operations Squadron. Did this give you a deeper insight into the world of government security organizations and the defense industry? And how does that affect your cooperation with the exhibitors at Enforce TAC?
Teufert: There are, of course, posts where you are directly involved in the procurement process and can work with industry while still in service. Unfortunately, I didn't have that advantage. Thanks to my long service with the Bundeswehr, I am of course familiar with the working methods and equipment of the Bundeswehr as well as those of other armed forces. All in all, my time with the Bundeswehr has had a great impact on me, and the possible applications and operational advantages of our exhibitors' products naturally become clear to me more quickly. I don't have to learn any special terminology or tactical procedures. Many of our exhibitors have a military past themselves. This immediately creates a feeling of solidarity and mutual understanding. Camaraderie goes beyond active duty. In my current position, I meet people who are like me.
all4shooters.com: The security situation in Europe has changed massively since the Russian invasion of Ukraine. Unfortunately, this conflict has been going on for more than nine months now and there is no end in sight. What impact do these developments have directly on the European security trade fair Enforce Tac 2023?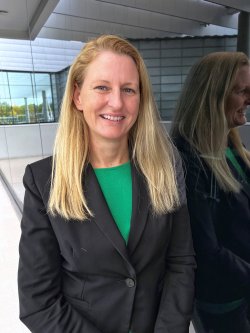 Teufert: I think one of the lessons of the Ukraine war for our society is that economic interdependencies can't guarantee security. It is a pity that it took a war to achieve this, but this realization is more than overdue. Well-equipped armed forces are a guarantee for a secure, peaceful and prosperous Germany and Europe. Until now, this has not been a very popular opinion, but we are experiencing a social change, especially in Germany, which I can only welcome. With our Enforce Tac trade fair, we naturally also want to do our part and offer authorities with security tasks and the armed forces a platform for the necessary exchange, product developments and, of course, extensive networking. The fact that the industry can present its products and that procurers and users can experience them is indispensable for sensible procurement. Therefore, Enforce Tac 2023 will also focus more on the topic of external security.
all4shooters.com: Critics fear that a large part of the 100 billion euros in special funds for the Bundeswehr will be swallowed up by bureaucracy. In general, the armed forces are said to have encrusted structures and long procurement processes and times. In your opinion, is there a rethinking taking place here toward more dynamism and practicality, and what does that mean for Enforce Tac?
Teufert: I myself have experienced both in the Bundeswehr, encrusted structures as well as a turn toward a very modern orientation. The procurement process to date has been long and very complicated. In addition to the lack of financial investment to date, the Bundeswehr would certainly not have this glaring lack of equipment if things were different. German soldiers are often admired by foreign armed forces for performing so well despite their equipment. I think that says a lot about the state of our armed forces. The special fund was intended to show the political will to finally change this. However, I too have not heard that much of the assets have reached industry and then the soldiers. The fact that the procurement process must become more flexible and faster has been demanded for so many years that I am honestly curious to see whether this will actually happen in this legislative period. Such a change would certainly have a positive impact on Enforce Tac.
all4shooters.com: The dramatic shortage of personnel in the German armed forces is also an open secret. At the end of 2020, more than 20,000 military posts in the higher ranks were unfilled, one in five forces was missing, and the pandemic has exacerbated this development. What do you think the solution to this problem or a modern recruitment drive could look like?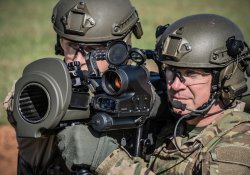 Teufert: I am following this development with great concern. The number of conscientious objection applications from members of the Bundeswehr has also increased significantly since the war in Ukraine. In my opinion, however, the problem is not due to poor recruitment. In fact, I think some of it is really good. The Bundeswehr's personnel problem is very complex. In the past, the Bundeswehr recruited a lot of personnel through conscription and had a certain social connection. This has deteriorated further in recent years. In my opinion, the profession of soldier has not been particularly well recognized up to now. I could also imagine that many newcomers to the profession have a different idea of how much space the profession is allowed to have in their lives – especially in terms of work-life balance. The 41 hours/week has only been in place since 2016. Before that, it was hours/week in basic operations. As an officer, you change locations almost every two years. Especially when both are working in a partnership, that's a big burden.
all4shooters.com: We have personally witnessed the continuous growth of the Nuremberg security trade fair since its launch. What once began as a day for government security professionals one day before the opening of IWA with a few exhibitor tables has developed since 2012 as Enforce Tac into a leading trade fair with a radiant effect for the industry. Enforce Tac 2023 will also be larger than last year's event. Can this course of expansion be continued unabated or are there also limits here for reasons of exclusivity and access restrictions?
Teufert: When the fairgrounds are full, we stop (laughs). In fact, we are in a dichotomy here. Enforce Tac is also known and loved for its family atmosphere. Visitors find a limited exhibition and have plenty of time to talk shop and also have a conversation or two among colleagues and comrades. We want to maintain this despite our growth and will continue to maintain our special character. In doing so, we want to become more diverse, for example in our range of workshops and practical applications, in addition to the growth in space. In this respect, we are aligning ourselves with our exhibitors and visitors. There are still many possibilities and ideas here before we even think about limits, despite our strict legitimacy. Now that we also want to cover the defense sector more, I still see a great deal of development potential.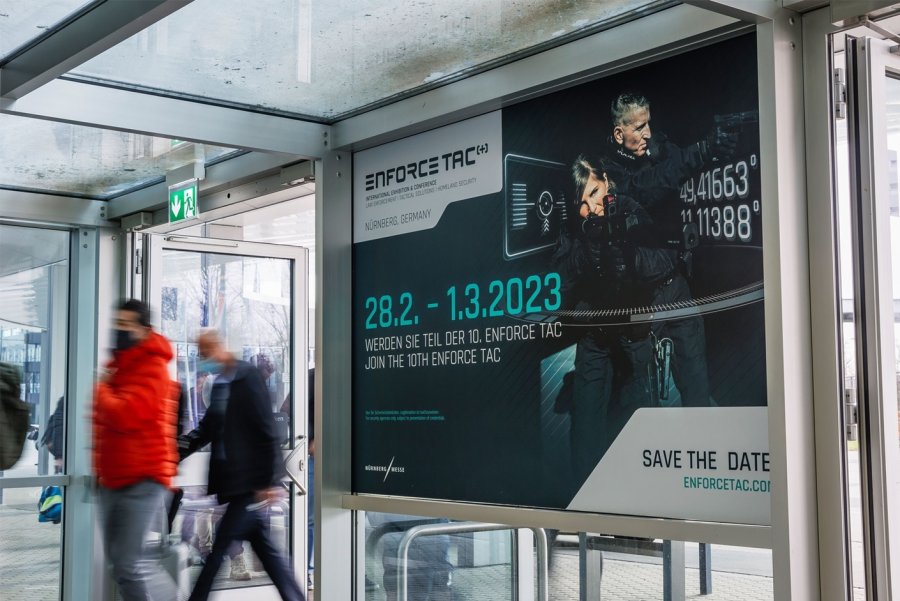 all4shooters.com: In addition to the big players in the industry such as Rheinmetall, Thales, Heckler & Koch, Beretta Defence Technologies and FN, there are also many small but innovative start-up companies. Wouldn't it make sense to establish a special Enforce Tac support program for such start-ups?
Teufert: In fact, the subsidized joint stand "Innovation made in Germany" has existed at Enforce Tac for years. This is organized by NürnbergMesse and the German Federal Office for Economic Affairs and Export Control (BAFA) reimburses up to 60 % of the stand costs. Startups and young companies also receive free export advice from AUMA, the Association of the German Trade Fair Industry. (For more information: https://www.enforcetac.com/en/exhibit)
all4shooters.com: The classic repertoire of the trade fair includes the European Police Trainers Conference (EPTK) of the PiD (the German police trainers organization) with practice-oriented workshops and current specialist conference topics. What new elements can visitors to Enforce Tac 2023 look forward to?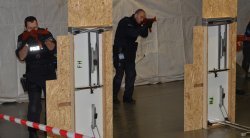 Teufert: New is precisely our keyword here. For the first time, we will be dispensing with the PiD's European Police Trainers Conference (EPTK) in 2023. It's always a bit of a strange feeling when you say goodbye to habits. However, it feels right for us under current developments. For 2023, we are resurrecting the Demonstration Area – but with an even greater focus on hands-on demonstration opportunities. To that end, we asked our exhibitors directly what you need to best showcase your products. The nice thing about this is that I then also get an advance look at the possible applications myself. That is always very exciting. In addition, this year we will have the opportunity to present thermal imaging equipment, residual light amplifiers, flashlights, optronics, laser sights and other appropriate products to a small, confidential group of interested parties in a darkened room. Our current plan is to place a 20-foot rental container (LxWxH: 6.055x2.435x2.890 m) in one of the halls. Since we get to host the 10th Enforce Tac in 2023, there will also be a big anniversary party. A new feature is that our exhibitors will also be able to invite some visitors. We have come up with a fun supporting program for the party too.
all4shooters.com: Federal and state police, judiciary, border guards, customs, military police and armed forces face very special challenges. The range of products offered by the security industry is growing all the time and, in addition to personal equipment with weapons, optics, ammunition, operational clothing and ballistic protection, also includes specialized vehicles, shooting ranges and training equipment, drones, traffic technology and mission-related electronics. Access protection and counter-terrorism barriers, for example, have also been a hot topic since the Breitscheidplatz square attack in Berlin in 2016. Does it make sense to select exhibitors for the sake of clarity, or do you want to completely cover every possible area of the security industry?
Teufert: We already set priorities and will continue to do so. In fact, we also select our exhibitors. Every new exhibitor is checked and approved by us individually. Before that, it is not even possible to book a stand. And yes, of course we also select according to the appropriate product range. That's why I don't necessarily see access protection and anti-terror barriers, for example, at an Enforce Tac. It's not our goal to offer something from every security-related product. Then we lose our focus.
all4shooters.com: In Europe, for example, there are competing security trade fairs with DSEI in London or MILIPOL and Eurosatory in Paris. In your opinion, what distinguishes Enforce Tac in Nuremberg from these events and how do you intend to develop the Enforce Tac brand further?
Teufert: I have already been able to visit MiliPol and Eurosatory. Both trade fairs differ considerably in terms of their product range, their target group and the size of the event. I was very impressed by both events. For Enforce Tac, I would like to continue to have a clear focus on special forces. In the future, I would like to focus more on defense, combining internal and external security in one exhibition format. I find everything around the topic of autonomous (weapons) systems, special armored vehicles and of course training and education systems very interesting. But we are always open to new products and get excited here. The important thing is that our target group finds what they need.
all4shooters.com: What are NürnbergMesse's visions for the future of Enforce Tac after 2023 – or what would you like to see?
Teufert: Overall, I would like to see more social acceptance for this area and, in this sense, for the exchange between industry and users. For Enforce Tac 2023, I personally would like to see more visitors in uniform.
---