Article also available in other languages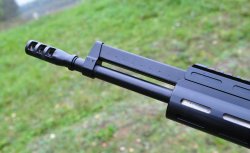 OAO "Concern Kalashnikov"
The year 2013 has been a true milestone for Russian gunmakers.
After years of dire economic straits, due to a lack of ability to compete on a market that's both crowded with players from all around the world and constrained by the global economic crisis, three major manufacturers of civilian and military firearms from all over Russia − more specifically IZHMASH, Baikal and MOLOT − merged their activities under the "Concern Kalashnikov" brand.

The Concern was founded under supervision from the State-owned ROSTEC non-profit corporation, and was supported by important Russian political and military figures, as well as by the late Lieutenant-General Mikhail Timofe'evič Kalashnikov, who granted the free use of his name for the brand, hoping that it would boost global sales, just a few weeks before his death (December 23rd, 2013).

OAO "Concern Kalashnikov"
Currently, the "Kalashnikov Concern" is working on a line of new military, law enforcement and civilian products that may hit the markets later in 2014 or around 2015.
One of these is the SAIGA Mk-107 semi-automatic rifle, slated to be available in three different calibers (.223 Remington, 7.62x39mm and 5.45x39mm, using either AK/AKM or proprietary detachable magazines) and to be marketed to civilian users and to Law Enforcement agencies as well.
That's why the "Kalashnikov Concern" showcased the SAIGA Mk-107 at the 2014 edition of the EUROSATORY defense expo, which took place at the nord-Villepinte exhibitions and convention center, at the outskirts of Paris, on June 16th thru 20th.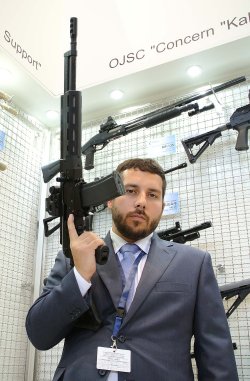 Particularly in the United States − and all throughout the world in general − Police forces are following a trend that would seem to confine full-automatic or otherwise select-fire guns (sub-machine guns, assault rifles and carbines) to SWAT and other special interventions units, while at the same time providing standard Police patrols with semi-automatic rifles and carbines that would provide superior accuracy and firepower if compared to the currently-issued shotguns or SMGs.
As a matter of fact, a Police operator armed with a semi-automatic rifle will be less likely to involve innocent bystanders in a possible shootout, as modern rifle rounds are less likely to ricochet in an urban environment − or even to overpenetrate, if the right ammunition is used − while at the same time retaining a superior capability to stop a runaway car or an attacker that may wear a body armor; this is a key factor in possible Police emergencies, as the world tragically came to know after the 2008 Mumbai attacks and the 2013 Westgate shopping mall attack in Nairobi (Kenya).
Under this point of view, the SAIGA Mk-107 will be a direct competitor to AR-15 based designs and to other Police patrol rifles, including bull-pup designs such as the Tavor SAR and the Steyr AUG A3-SA. Of course the SAIGA Mk-107 will have a lot going for it, particularly the reknown Kalashnikov ruggedness and reliability along with a plethora of modifications − repositioned safety switch, quick-change-friendly magazine well, ambidextrous cocking handle, MIL-STD-1913 "Picatinny" rail for optical sights and tactical accessories, CAA Tactical M4-type furniture − conceived to make the platform even more user-friendly.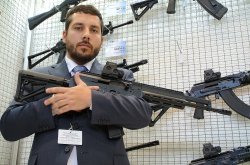 The SAIGA Mk-107 is however an AK/AKM derivative of a whole another class. As a matter of fact, it is not based upon Kalashnikov's quintessential long stroke piston, opting instead for the "Balanced Automatic Recoil System" (BARS) found on the AK-107 and AK-108 assault rifles: two twin pistons move in the opposite directions when the gun is fired (one goes backwards to cycle the bolt, the other is pushed frontwards by gas pressure) to counterbalance moving masses and recoil energies and make the gun more stable and controllable in rapid-fire.
Furthermore, the SAIGA Mk-107 as showcased at the EUROSATORY expo featured a redesigned machined, vented handguard, conceived in collaboration with Russian IPSC and 3-Gun shooters, that would provide superior heat protection to the shooter's weak hand during rapid fire sequences, while at the same time remaining Picatinny rails-friendly.
The SAIGA Mk-107 semi-automatic rifle is one of the products that are slated to fully launch the name of the "Kalashnikov Concern" in the commercial markets Pantheon. Despite having been first showcased at the 2013 edition of the IWA expo in Nuremberg (Germany), however, it is still not in mass distribution, and the Company still refuses to provide informations concerning a release date or a manufacturer's suggested retail price.

At the same time, the "Kalashnikov Concern" is looking ahead for the launch, and establishing a brand new international marketing network accordingly: distribution agreements for north America have been struck with RWC Group LLC., headquartered in Tullytown (Pennsylvania, U.S.A.), while European distributors include Waffen Schumacher GmbH (Germany) and DTG - Defense Technology Group S.r.l. (Italy).
This video has been hidden because of an external service (YouTube) that could potentially collect personal data.Allow video services for the duration of the visitAllow video servicesStop allowing video services