IZHMASH, Russia's biggest name in small arms for both military and civilian purposes, is not doing well on the international markets, and its economic situation has been dire for a couple of years now, prompting the management to declare it bankrupt and have its operations handled by a commissioner. Reasons are very simple: with the Cold War been over, many former Russian allies can now cheaply access advanced weaponry and equipment made in the United States, in western Europe or elsewhere in the former "enemy" bloc, or they can otherwise now access the necessary technology to manufacture them locally. Likewise, many Countries, units, groups etc. that still equip IZHMASH's flagship gun, the Kalashnikov series of assault rifles and carbines, either make them locally or purchase non-Russian manufacture models. Civilian exports have also been going down, with only the Saiga shotguns and rifles helping a little, although sports shooters worldwide still rely mostly on competitors when it comes to acquire a true "military-style" AK civilian variant − given the fact that most semi-automatic centerfire rifles offered by IZHMASH to civilian shooters, although mechanically based on Kalashnikov's signature long-stroke piston, are "watered down" hunting and competition versions, while the most faithful, "military-lookalike" variants are either exported in small quantities or sold only in Russia.
Now, IZHMASH tries a new approach to the international civilian shooters' community by offering a new, aggressive AK-based military-style semi-automatic rifle that was first showcased at the 2013 IWA expo in Nuremberg (Germany). Dubbed the "Saiga" Mk.107, it is based upon the AK-107 and AK-108 assault rifles, which − although still officially named after the retired Red Army general Mikhail Timofe'evič Kalashnikov − are based upon the BORS ("Balanced-Operation Recoil System") double-piston system conceived by Yuriy Alexandrov. The BORS system is basically the same as the Kalashnikov's long-stroke piston, only it employs two twin pistons, running side-by-side in their seat right over the barrel. As the weapon is fired, each piston moves in the opposite direction: while one moves rearwards to cycle the weapon, the other ones pushes to the other way, so to move a considerable mass forward and thus to "balance" the overal sum of moving masses. As one can easily see, this turns out in a dramatic reduction of both felt recoil and muzzle climb. In a select-fire assault rifle, this turns handy as it makes the gun easier to control when fired in full-automatic; in a semi-automatic, civilian-grade gun like the "Saiga" Mk.107, it makes the rifle more accurate and controllable during rapid-fire session: truly a must-have for 3-Gun shooters and others who favor military-style rifles or carbines for their shooting competitions.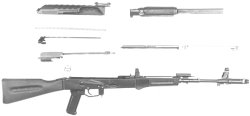 The IZHMASH "Saiga" Mk.107 also sports many improvement over other civilian versions of the AK platform. First of all, it comes with no standard AK-style iron sights, offering instead a long MIL-STD-1913 "Picatinny" rail for back-up iron sights or optical devices. A shorter bottom rail is also featured on the black polymer handguard. The IZHMASH "Saiga" Mk.107 also comes with an enhanced magazine well for easier reload and with an ergonomic pistol grip and 4-positions, "M4-style" tactical stock manufactured in Israel and supplied by CAA TACTICAL - Command Arms Accessories. The "Saiga" Mk.107 semi-automatic rifle will be available in three different chamberings: 7.62x39mm, 5.45x39mm and .223-Remington, all feeding through AK-style magazines for each specific caliber. Commercial availability worldwide is expected later during 2013, or by the beginning of 2014 at the latest. No informations have been given so far concerning a specific date when the distribution will begin, nor about a manufacturer's suggested retail price, although IZHMASH stated that it will be "competitive" for its market segment.