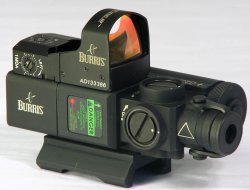 Burris Sport Optics, Inc.
Headquartered in Greeley (Colorado), the Burris Sport Optics company − now owned by the Beretta Holding − has longtime established itself as a leader company in the field of sports, observation, shooting, hunting, and defensive/tactical/military optics and accessories thereof. More specifically, most of its market and technical efforts in the past couple of years have been focused upon developing a new range of products that would appeal a wider number of customers specifically in the professional tactical applications sector (Police officers, military operators), ranging from AR-15 oriented tactical optics to laser aiming devices. This year particularly, Burris bolstered its Military/LE products line by adding up a broader range of models to its catalogue − the latest being the AR-FFL, a hybrid/combination aiming module conceived to provide greater CQB/CQC capabilities to tactical rifles and carbines in Police and military service, as well as to MSRs (modern sporting rifles, a.k.a. "military-style semi-automatic rifles" or "assault rifles" in anti-gun jargon!) for personal/property defence, private security purpose, and sports shooting.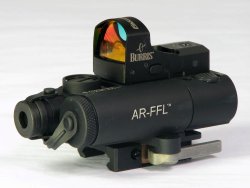 Burris Sport Optics, Inc.
Technically speaking, the AR-FFL consists in a standard Burris FastFire III small-sized reflex/red-dot gunsight attached to a last generation, micronized laser emitter. The FastFire III is one of the mainstays of the Burris product line, compatible with handguns, shotguns and rifles alike, compact and lightweight so not to affect the balance or handling, and offering unlimited eye relief, parallax-free 1x magnification and simple operation. The FastFire III offers 3 MOA or 8 MOA dots and upgraded features such as windage and elevation adjustments that don't require a special tool; a convenient power button with three levels of brightness and an automatic brightness setting and battery access on the top of the sight making it easier to change batteries. We've also added a low battery warning indicator and see-through protective cap. Ruggedly designed, impervious to the elements and capable to hold up to years of punishing recoil, the FastFire III attached to the Burris AR-FFL hybrid sight can be detached and used as a stand-alone optic if required.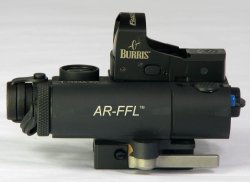 Burris Sport Optics, Inc.
The AR-FFL combination is the ideal configuration for AR-15-style tactical carbines, allowing the FastFire III red dot reflex sight to co-witness with A-Frame and flip-up iron sights for highly versatile use. The eye-safe laser offers options as well, letting you choose from models with Infrared (IR) or Visible Red laser beams that are either Inline (directly above center of bore – perfect for flattop rifles) or Offset (projects to the side of a front sight – ideal for M4-style rifles). Additional features of the laser include High and Low intensity settings; activation/low battery indicator light; adjustable windage and elevation for exact aiming; 7" remote cable pressure pad switch with integrated momentary activation (single tap for momentary activation/double tap for continuous ON mode), as well as integrated momentary activation on the unit "Fire" switch. The device comes factory-equipped with a Return-To-Zero quick-detach Picatinny mount/bracket, featuring a "Throw-Lever" quick-release mount and a non-destructive automatic adjustment sustem for oversized or undersized rail that will retain the point of aiming upon installation and removal.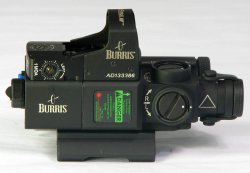 Burris Sport Optics, Inc.
The FastFire III sight is parallax free, features three brightness settings plus an automatic brightness mode, a top-access battery compartment, and a see-through protective lens hood. The AR-FFL adjustable focus infrared laser is Eye-Safe and gives the operator options depending on mission requirements. When focused, the laser provides a continuous beam along the weapon's line of fire for precise aiming. When de-focused, the beam spreads to provide improved illumination and situational awareness. High and low intensity settings are available, as well as electronic single- and double-tap activation. Single-tap activation enables momentary activation, while double-tap activation provides continuous activation for five minutes. Built to last, the laser meets MIL-STD-810G requirements for reliability in desert heat or arctic cold, and is waterproof up to 66 feet. Available in black color only, in in-line and offset variants, and with either visible red or IR lasers, the Burris AR-FFL hybrid sighting module is merely 3.8 inches long, 1.75 inches wide and high, and weighs 7.5 oz. without battery. The laser emitter is powered through a single CR123A commercial battery, has a battery life of over 20 hours in continuous "On" mode, and waterproof up to a depth of 66 feet. 
The Burris AR-FFL is sold in the United States at a MSRP of around 725.00US$ for the visible red laser version or 749.00US$ for the Mil/LE/Govt. only IR laser version. This is an ITAR restricted item, this meaning that U.S.-based retailers can not ship it abroad nor can they sell it physically to non-US citizens. Perspective non-US buyers should inquire for availability and pricing of the Burris AR-FFL with their national authorized Burris distributor, keeping in mind that, in certain jurisdictions, visible and (most notably) infrared lasers could be restricted or outright banned from civilian ownership.