The Italian Air Force will be celebrating one century of history next year. And Beretta – always at the side of the Italian armed forces – just couldn't miss the 40th anniversary of the first Tornado fighter flight, that was celebrated at the "Luigi Olivari" military air base in Ghedi, home of the glorious 6° Stormo  (6th Wing, whose nickname is "Diavoli Rossi", "Red Devils"). 
A special livery for the Tornado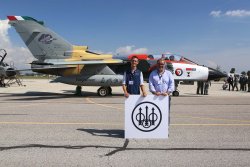 "We proudly supported the realisation of the Tornado fighter colour scheme," they say at Beretta. "The new livery pays homage to all the previous ones and simulates fresh paint dripping off and revealing all the previous colorations, starting from the white and red coloration of the prototype to the current low-visibility gray."
The color scheme comes from a collaboration with Mirco Pecorari of AircraftStudioDesign and Ugo Crisponi of AviationGraphics who reconstructed the original colorations. 
Beretta President Franco Gussalli Beretta and General Director Carlo Ferlito took part in the event, as they meet with Chief of the General Staff Luca Goretti and 6° Stormo Captain Giacomo Lacaita. Beretta was there with a booth, where the military soul of the company was on display through the Beretta Defense Technologies alliance.
---