When it comes to importing innovative pistols and carbines from the USA, Waffen Ferkinghoff is the most important contact for many Eurpean shooters, especially in Germany. At the IWA 2019, the German trader showcased some interesting new products.

New from FMK Firearms: FMK 9C1 G2 and FMK Elite

From FMK Firearms, Ferkinghoff presents two new pistol models: the FMK Elite and the FMK 9C1 G2. The FMK Elite is designed to offer the shooter comfortable handling. The barrel is is engineered to sit low and the gun also features a low overall sightline. Add to this an individually designed slide, a shock-absorbing backstrap, the Elite trigger for a quick and short trigger, a loaded chamber indicator that can be felt even in the dark, a Picatinny rail for additional equipment and a GLOCK compatible sight system.

Franco Palamaro, © F.PALAMARO
The FMK Elite is available in caliber 9 mm Para (9 Luger). It weighs 666 g and can be equipped with 10 + 1 or 14 + 1 magazines. It's priced at 699 euro, including a FMK Elite pistol case, two magazines, a user manual and a security lock. Various color options are also available.
The FMK 9C1 G2 models also come in a wide range of colors in 9 mm caliber. The trigger of this is FMK version interchangeable. Dimensions and other details are similar to the FMK Elite, too, including the loaded chamber indicator and the shock-absorbing baskstrap. The price tag is 689 euro.

Just Right Carbines JRC9 Gen3 Sporter Short: a pistol-caliber carbine in short version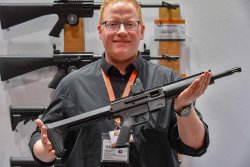 Franco Palamaro, © F.PALAMARO
Just one year ago, the importer Waffen Ferkinghoff launched the 9mm Luger Just Right Carbines JRC pistol-caliber carbine in Germany and Europe. In 2019 Ferkinghoff introduces a new model at the IWA: the JRC9 Gen 3 Sporter Short. The JRC Short features a new stock. Almost 9" / 23 cm long, it brings a number of interesting features with it. Equipped with an ergonomical cheek rest and a steel reinforced rubber overmolded stock it offers the shooter a comfortable handling. 
The 7" / 17,5 cm short forend is also new and designed for ergonomics. Made from black anodized 6061-T6 aluminum and triangular in shape with neatly crafted curves, the forend fits perfectly to the palm while providing a secure and comfortable grip The milled Picatinny rail offers the possibility to mount different target optics, such as a Trijicon RMR reflex sight. Altogether, the JRC Short with its 28.1" / 71.5 cm overall length (20.5" / 75 cm with muzzle brake) is an attractive variant to the standard Sporter long version.

---
Here you go directly to the Waffen Ferkinghoff website.
Find all the IWA 2019 news here at all4shooters.com