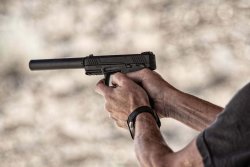 The recent introduction of the GLOCK 44 semi-automatic pistol in .22 Long Rifle caliber has aroused great interest and even a few smiles from the usual pundits, but for those companies who want to expand their role in the vast US market, a pistol in that caliber is essential. In 2019 the best-selling guns in the USA were the 9mm models (37.5%), followed by .22 Long Rifle pistols, with 12.5% of sales.
In the US, therefore, the market for .22 LR caliber semi-automatic pistols is huge in terms of numbers and very attractive for manufacturers, also because they are the firearms with which young Americans usually start shooting.
It should come as no surprise, therefore, that the editors of the glorious "Guns & Ammo" magazine have chosen the Taurus TX22, a .22 Long Rifle caliber pistol produced in the Brazilian company's Miami facilities, as Handgun of the Year. 

The Taurus TX22 in detail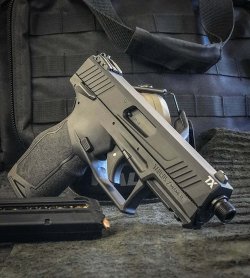 The Taurus TX22 is a semi-automatic handgun featuring a full-size polymer frame and 7075 aluminum slide with anodized finish and rear and front cocking serrations. The gun is striker-fired with a single-action trigger called Performance Trigger System (PTS).

The barrel is 4.1"/ 104 mm long, for an overall length of 7"/180 mm and a weight of 17.28 oz /490 grams. The double-stack magazine has a capacity of 16 .22LR caliber cartridges.
The Taurus TX22 boasts an automatic trigger safety and automatic firing pin lock, but is also available in a version with a manual safety lever on the frame.
The manual safety (if present) is on both sides of the gun, while the magazine release button is reversible.

The sights consist of a fixed front sight and a laterally adjustable rear sight, both with white dots. The front frame features the now inevitable Picatinny rail for the mounting of accessories.
The Taurus TX22 is available with a black, Olive Drab and Flat Dark Earth polymer frame.

The retail price of the Taurus TX22 is 349 USD, which is certainly interesting and in line with its competitors. Hopefully we'll soon be able to get our hands on this gun, so that we can test the accuracy and reliability that made this gun so appreciated by "Guns And Ammo" colleagues. Stay tuned.