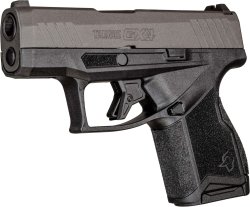 "Two-tone" guns are a trend nowadays: the Taurus GX4 micro-compact 9mm pistol is now available in new slide colors. The manufacturer just added two options, namely a Tungsten Cerakote finish and a Troy Coyote Tan Cerakote finish. 
The colored slides offers an aggressive contrast to the black polymer frame. Both the Tungsten and the Troy Coyote Tan Cerakote slide models come with two 11-round magazines and carry an MSRP of $410.61 – a few bucks more than the all-black version.
Taurus GX4, tiny and powerful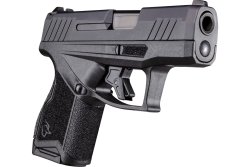 We introduced the all-new Taurus GX4 – Taurus' first-ever micro-compact in 9mm – a few weeks ago. To summarize its most interesting features, it is a striker-fired, polymer-framed semi-auto pistol featuring a flat face, serrated trigger with a GLOCK-style safety blade (no manual safety lever is provided), with a magazine capacity of 11 9mm rounds, and up to 13 with optionally available extended magazines. 
The gun comes with two backstraps (small and large) to better fit any hand size, and an indexing and Recoil Management Pad (RMP) on the sides, above the trigger guard, for better control when firing. According to the manufacturer's claim, the GX4"boldly outclasses anything else in its class—reaching unprecedented new heights in concealed carry firearm engineering, ergonomics and innovation." 
The Taurus GX4 originally had a durable black gas nitride finish on the slide. The new "two tone" models now adds interesting and aesthetically pleasant options for this tiny EDC pistol.