Taurus G series of pistols welcomes a new member, the G3c. The newcomer in the crowded market of striker-fired, polymer-framed compact pistols builds on the "proven foundation that has made the Taurus G-series among the most popular personal defense/EDC pistols ever", according to the manufacturer.
The full-size G3 – an evolution of the G2 – was introduced by Taurus in 2019. Intended for concealed carry, the new 9mm G3c advances function, reliability, and durability to the next level, starting with the ergonomic frame. Among the features, a contoured palm swell, highly textured grip panels, memory pads for precise and repeatable finger/hand placement, as well as a sculpted, extended magazine base plate. To assist in tactical mag changes, the G3c mag extension also includes easy-grip bevel cuts.
Taurus G3c - Family traits
In common with the rest of the G3 family, the G3c comes with the same 3rd generation trigger system: its flat trigger face allows to concentrate finger pressure on the front of the shoe for a straighter pull, offering a shorter reset as well and promoting the delivery of quicker follow-up shots while minimizing trigger jerk.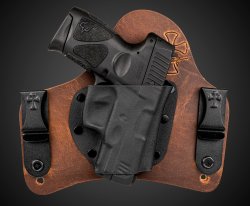 The upgraded slide design includes front and rear serrations. As for safety, a visual chamber indicator replaces the mechanical indicator. A Tenifer finish minimizes slide scuffing and maximize corrosion resistance, ultimately reducing friction for smoother operation.
Front and rear sights are all-steel, with a serrated drift-adjustable rear sight. The G3c is also upgrade-compatible: the rear dovetail can accept common aftermarket sights.
The G3c comes from the factory in 10- or 12-round capacities with three magazines included. Fifteen- and 17-round factory magazines are available separately from Taurus.
Taurus G3 series is known for its favorable price point. With an MSRP of 305.74 USD the G3c confirms the tradition of these affordable guns.
New compact pistol Taurus G3c - technical specifications and price
| | |
| --- | --- |
| Caliber: | 9 mm Luger |
| Magazine Capacity:  | 10- or 12-round |
| Slide Finish:  | Tenifer matte black  |
| Grip/Frame:  | Polymer |
| Action type:  | Striker-fired, single action with restrike capability |
| Safety: | Manual, trigger safety, striker block  |
| Front Sight:  | Fixed (white dot) |
| Rear Sight: | Drift adjustable  |
| Slide Material:  | Alloy steel |
| Overall Length: | 6.3"/160 mm |
| Width: | 1.2"/30 mm |
| Height: | 5.1"/129 mm |
| Barrel Length:  | 3.2"/81 mm (stainless steel) |
| Weight: | 22 oz./623 g (unloaded with magazine) |
| MSRP: | 305.- USD (price may vary in your country) |