Taurus adds a touch of color to the SHOT Show, expanding its 856 Ultralight revolver lineup with four optional anodized coatings. Available options are Azure, Bronze, Burnt Orange, or Rouge aluminum frames, offering "a custom flair for those looking for a discrete carry or home defense handgun."
Taurus 856 Ultralight,  .38 Special +P rated revolver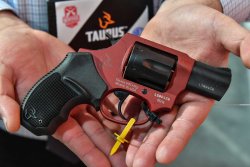 Franco Palamaro, © F.PALAMARO
The recently released Taurus 856 Ultralight is a .38 Special, +P rated double/single action revolver with a 6-shot capacity. As explained in the manufacturer's press release, "it is based on the standard 856 revolver but features an aluminum frame for reduced carry weight (15.7 ounces unloaded), making it an ideal handgun for easy, all-day carry on the body or off. Chambered in .38 Special with a 6-shot capacity, the 856 is designed with an ergonomic, soft-rubber grip that ensures positive retention while mitigating recoil for comfortable shooting and quick target reacquisition. Further promoting reliable function and fast follow-up shots is the double/single action type featuring a spurred hammer firing system."
Designed both for self-defense and target shooting, trigger pull is 10-12 lbs. in double action and 4-6 lbs. in single action. To accommodate self-defense or target shooting, the Taurus 856 can be used with ammunition ranging from light target loads to self-defense rounds, depending on purpose.
The custom colored frame of the Taurus 856 Ultralight produces a nice contrasting effect with the anodized aluminum finish of the cylinder, barrel, trigger, and hammer. Consumers can choose between matte black carbon steel or matte stainless steel for additional customizing options. Barrel is 2-in long and ergonomic grip is soft rubber for better recoil control. MSRP is 359 USD  for the color + black version and 379 USD for the color + stainless steel one.

Our first impression:
We had the opportunity to hold it in our hands at SHOT Show 2019 at the Taurus booth. We would say: yes - it's lighter and the look is really stylish. Compared to the standard model the additional charge is fair and resonable.