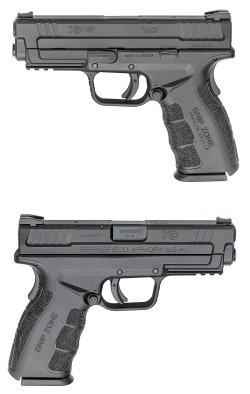 Ever since its introduction on the north American market in 2002, Springfield Armory XD series of semi-automatic pistols − manufactured by HS Produkt D.O.O. in Karlovac, Croatia − has been a top seller both in the United States and abroad, winning the "hearts and minds" of average civilian gun owners, top-level sport shooters, military operators, police officers and private security professionals alike worldwide.

The baseline Springfield Armory XD-45 pistol was awarded the "Handgun of the Year" title in 2006 by both the American Rifleman magazine and by the Shooting Industry Academy of Excellence, and the upgraded XD(m) series won once again the "Handgun of the Year" award three years later, in 2009.
Back in January, at the 2015 SHOT Show, Springfield Armory introduced an upgraded variant of the baseline XD series: dubbed the XD Mod.2, it was originally introduced only in a subcompact, concealed carry-oriented variant in three calibers: 9mm (9x19mm, a.k.a. 9mm Luger, 9mm "Parabellum", 9mm "NATO"), .40 Smith & Wesson and .45 ACP.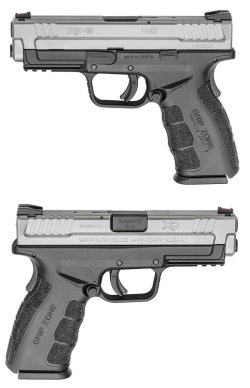 At the beginning of September, the Company also announced the imminent launch of a new version of the design: the Springfield Armory XD Mod.2 4" Service Model semi-automatic pistol is a full-sized, 4"-BBL variant of the above, conceived not only for civilian sport shooting and defensive uses but also for open carry, as well as a more suitable service issue sidearm for private security, law enforcement, and military personnel.
A good "all-rounder", Springfield Armory XD-9 Mod.2 (as of today, 9x19mm is the only planned caliber) is a semi-automatic, locked-breech, short-recoil operated, striker-fired design with a captive recoil spring and a full-lenght guide rod.

When the gun is cocked, the rear portion of the pre-armed striker protrudes slightly from a slot in the backend of the slide, dubbing as both a tactile and visual cocking status indicator; another indicator is located on top of the slide, right behind the ejection window. Its trigger is technically a single-action only, although offering a 13mm/0.5" travel and being rated between 25 and 30 Newton (5.6 to 6.7lbf) in weight.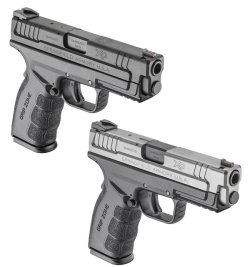 Just like the previous XD, XD(m), XD(s) and XD Mod.2 variants, the new XD-9 Mod.2 4" Service model comes with a "Glock-style" trigger safety and with an M1911-type grip safety. As of today, no provision for a manual safety has been announced.
Both the slide and the frame of the XD-9 Mod.2 have been redesigned from the baseline variants, and not just for looks' sake: all design improvements were conceived make the new gun ever more uncospicuous to carry, easier to use, and faster and trouble-free to draw.

The railed, black reinforced polymer grame now comes with a rounded trigger guard and a redesigned grip texture, dubbed the GripZone: three different checkering patterns adapt to different areas of the shooter's hand, providing a secure grip and a good redistribution of recoil energies − making the gun even more controllable − while at the same time remaining easy and comfortable on the most sensitive areas of the hand.
The slide is machined out of stainless steel, is Melonite-finished in black or stainless, and hosts a front sight with red fibreglass insert and a low-profile combat rear sight − both dovetailed and adjustable for windage. It also sports front and rear serrations for easier handling.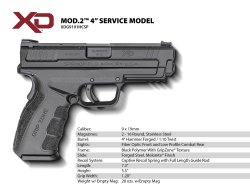 The Springfield Armory XD-9 Mod.2 4" Service Model semi-automatic pistol is 7.3"/18,54cm long overall, 5.5"/13,97cm high and 1.20"/3cm wide; its 4" barrel is cold hammer-forged, Melonite-finished, and sports six right-handed grooves with a 1:10 twist. The overall weight ranges around 28oz/793,7 grams, empty.
Every Springfield Armory XD-9 Mod.2 4" Service Model will be issued with two stainless steel magazines with polymer elevator and buttplate, each holding 16 rounds of 9x19mm ammunition; the magazine release system is fairly conventional, consisting in an ambidextrous push-button.
No information has been provided about slated official availability and pricing so far, but we can assume that the Springfield Armory XD-9 Mod.2 4" Service Model will make its debut next January in Las Vegas, at the 2016 SHOT Show which all4shooters.com will attend and promptly report from.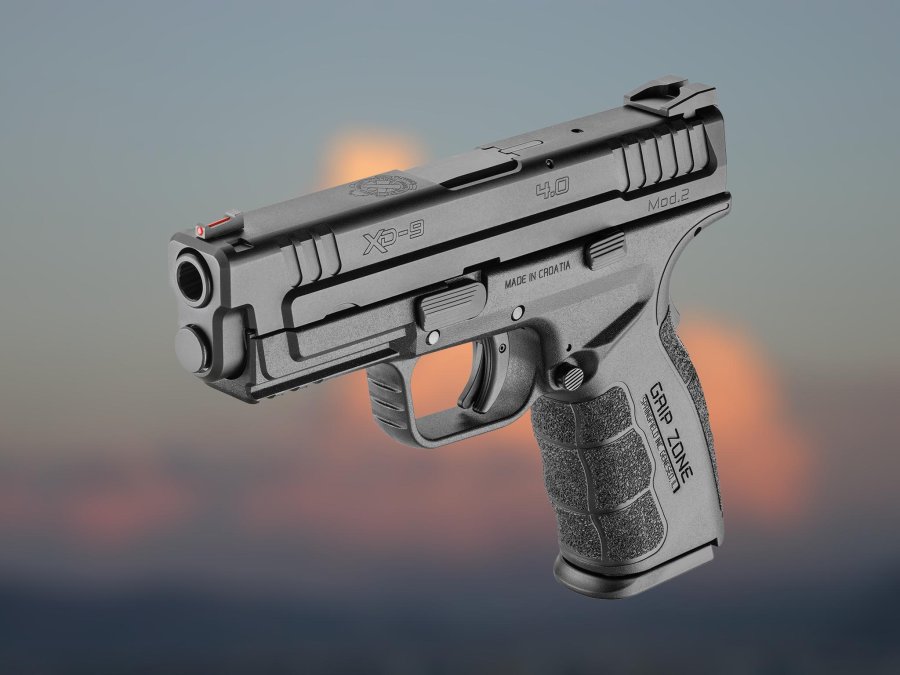 Photo-composition by Franco Palamaro