Embrace the classic scout rifle concept with backcountry hunting in mind; take the action that Springfield Armory used for its first bolt-action rifle series, the 2020 Waypoint; add a minimalist Grayboe Trekker stock; complete the whole with modern materials and cutting-edge design: what you get is the new Springfield Armory Model 2020 Redline, a lightweight and easy to maneuver, custom-grade hunting rifle "ready for hunts where every ounce counts".
Available in .308 and 6.5 Creedmoor, the Model 2020 Redline is offered with a choice of 16"/406 mm or 20"/508 mm carbon fiber-jacketed barrels, is suppressor ready and carries a .75 MOA guarantee. Weight is about 2.7-2.8 kg, depending on barrel length.
Springfield Armory Model 2020 Redline, all the features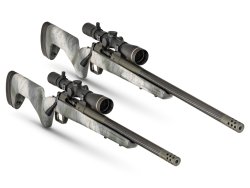 The 2020 Redline rifles use the stainless steel, Mil-Spec Model 2020 action with Green Cerakote H-264 finish. It is characterized by dual locking lugs on a fluted bolt that runs smoothly down EDM raceways for perfect, repeatable engagement. An optimized extraction cam provides positive and reliable operation in any condition.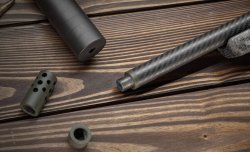 The free-floated BSF barrel is jacketed in a roll-wrapped carbon fiber sleeve and loaded under tension. According to the manufacturer, "this means 95 percent of the carbon fiber sleeve doesn't contact the barrel, providing cooling air gaps and promoting consistent point of impact during shot strings. In addition, fluting under the sleeve reduces weight and increases surface cooling area."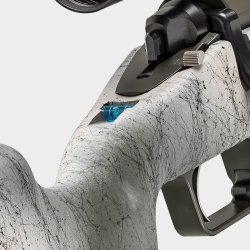 A removable radial brake effectively reduces recoil by directing gasses in an outward direction. The 5/8×24 pattern threading allows for the mounting of other brakes or suppressors (a thread protector is included).
For optics mounting, we find a Rem 700 short-action pattern Picatinny mount.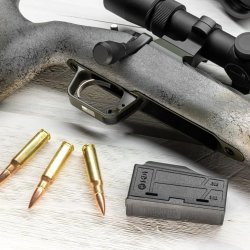 The aforementioned skeletonized Grayboe Trekker stock is olive with black webbing and weights just 794 g. Thanks to a system with 6-mm adjustment increments using removable inserts beneath the recoil pad, length of pull can be adjusted from 336 to 362 mm, and up to 406 mm with additional spacers. 
The stock also features three studs — one in the rear and two in the front — for sling and bipod attachment, as well as lightening cuts in both the forend and the radically relieved buttstock. An integral bubble level/thumb rest at the rear of the action ensures maximum down range performance without breaking cheek weld or losing optic line of sight.
The TriggerTech trigger featuring a low-profile, non-snag safety and employing the Frictionless Release Technology, can be adjusted from 1,134 to 2,268 with a patented, free-floating roller for a crisp, clean and repeatable pull.

The Springfield Armory Model 2020 Redline use 3-Round, AICS short action magazines.
The price of $2,299 (MSRP in the U.S.) is the same for all Model 2020 Redline versions regardless of caliber and/or barrel length.