Although in everybody's mind the Colt name will forever remain linked to the ideal image of the "Wild West", when we talk about sport shooting with muzzle-loading revolvers the Colonel's inventions have to give way to other guns, such as the protagonist of our video, namely Pedersoli's Remington Pattern Custom. This is for a specific reason related to the design of the gun itself. The structure of Colt muzzle-loading revolvers, which involves an open frame to which the barrel is held by means of a wedge, is less solid and less accurate than a closed-frame revolver with a screwed-in barrel. This design became established with the New Model Army revolver, patented in 1858 by engineer Fordyce Beals (1806-1870) and industrially manufactured by Remington & Sons of Ilion beginning in 1861. It must be remembered that at that time the United States was at the early days of the Civil War, which would not be over until 1865, so the need for both long and short guns was considerable on both sides and served as a driving force for a whole series of successful fiream projects. In particular, the New model Army revolver was adopted by the Union Army in both .36 and .44 calibers and was appreciated for its ruggedness and reliability.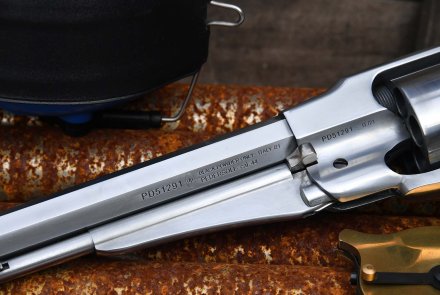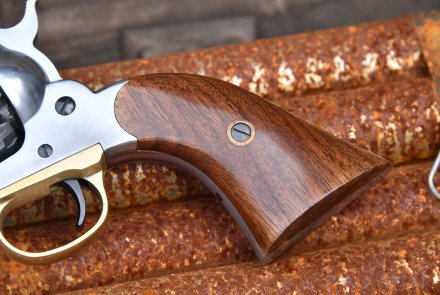 Video: Pedersoli Remington Pattern Custom in .44 caliber

This video has been hidden because of an external service (YouTube) that could potentially collect personal data.Allow video services for the duration of the visitAllow video servicesStop allowing video services
Indeed, Beals's design offered and still offers significant advantages over Colt contemporary models: aside from greater structural strength, it is easier to quickly remove and replace the cylinder without having to disassemble the gun. Even today, this type of cylinder gun enjoys great popularity among muzzle-loading enthusiasts in the MLAIC Mariette discipline.
Pedersoli Remington Pattern Custom, a classic revisited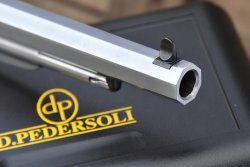 Franco Palamaro, © F.PALAMARO
We made a video to show you the main features of this revolver that represents, as the name suggests, a refinement of the original mechanics, updated through contemporary construction techniques and materials, which ensure high reliability and safety. Pedersoli's version immediately stands out for its beautiful chrome finish, which with its "chiaroscuro" highlights the very sleek lines of this powerful revolver. Being classified as a sport gun and designed for competitions, the trigger, in single action only, is factory-accurized to be light (about 800 grams) and with a crisp release without sacrificing maximum safety. But that's not all: the components of the trigger assembly and the cylinder have been hardened so as to reduce friction and improve smoothness between the parts. The mainspring cone profile increases flexibility, reducing both the force required to cock the hammer and vibration when firing. Pedersoli's Remington features an impeccable timing, that is having the chamber precisely aligned with the barrel when the hammer drops. Finally, the cylinder is fitted with beryllium nipples. Two pairs of walnut grips of different sizes are supplied with the revolver, allowing for an additional level of customization.
Our shooting impressions

Pedersoli's Remington Pattern Target revolver tends to be rather muzzle-heavy, a fact that actually helps a great deal in gun control, even with precision shooting loads that do not take full advantage of the capacity of the chamber using the classic cream of wheat/semolina to compress the black powder. The trigger is excellent, and the revolver's mass (1.75 kilograms of steel...) provides exceptional stability, with enviable gun control. Sights are archaic, but that's the charm of these firearms. The fixed rear notch milled into the frame and the large round blade front sight (adjustable, since it is dovetail-mounted on the barrel) require you get some hang to best use them. Recoil is extremely pleasant, no nervousness, smooth, like a firm thrust, easy to master without any effort. With full loads, the feel of the thrust becomes a little more violent and substantial, but still without the "mule kick" typical of large-caliber smokeless powder guns. The feel when cocking the hammer is essentially crisp, no excessive creeping or gritty "crunchiness" as is often experienced with other black-powder revolvers – you have the impression of using a precision shooting tool. And speaking of accuracy, in our tests carried out in the Pedersoli range, it was excellent, and there was certainly no doubt about that since this is a gun that was born explicitly for competition use.
The price of the Pedersoli Remington Pattern Custom revolver is 1,385 euros (as usual, price may be different in your country due to VAT and import duties).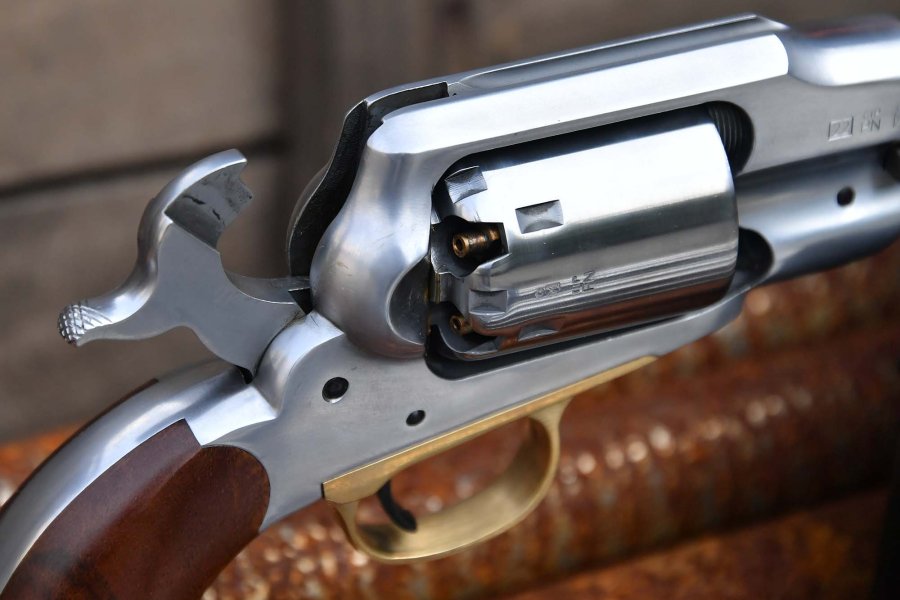 Franco Palamaro, © F.PALAMARO
Pedersoli Remington Pattern Custom specs and price

| | |
| --- | --- |
| Model | Pedersoli Remington Pattern Custom |
| Caliber: | .44  |
| Cylinder Capacity: | 6 rounds |
| Dimensions (WxLxH): | 50x41x135 mm |
| Barrel Lenght: | 203 mm |
| Sight Radius: | 230 mm |
| Rear Notch Width: | 2 mm |
| Front Sight Width: | 1 mm |
| Trigger Pull Weight: | 790 g |
| Overall Weight: | 1,238 g  |
| Price: | 1,385 euro |
To learn more please visit the Pedersoli website.