The 1858 Army revolver model was produced from 1861 by Remington & Sons of Ilion, New York, in the middle of the American Civil War and remained in production, with slight alterations, until 1875. This six-shot, .44 caliber single-action percussion revolver was distinguished by the remarkable robustness of its "topstrap" closed frame, while its main competitor, the Colt Dragoon revolver, featured an open construction and was therefore structurally less solid.
Another distinctive feature of this wheel gun was the large triangular web beneath the barrel, which made it easier to insert the gun into the holster.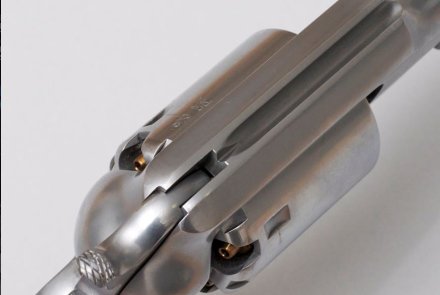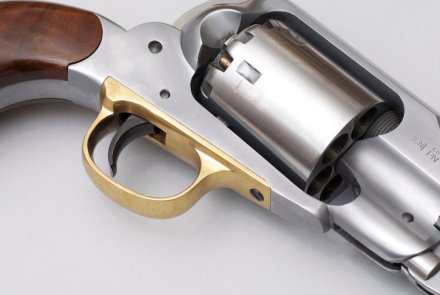 Pedersoli Remington Pattern – Two models, Target and Custom

Davide Pedersoli manufactures two versions of this revolver, the Target model, featuring a blued finish, and the Custom model, which sports an even higher level of mechanical accuracy and is the result of the constant feedback between shooters and manufacturer. The Remington Pattern revolver by Pedersoli is in fact one of the favorite and most used guns in MLAIC (Muzzle Loaderes Association International Confederation) revolver shooting competitions in the Mariette Category, reserved to modern reproductions of muzzle loading wheel guns.
The .44 caliber Remington Pattern Custom  is a revolver with a strong character, featuring a 7.87"/20 cm PMG (Pedersoli Match Grade) high quality barrel with seven-groove rifling and a 1:18 twist. The revolver's overall length is 13.77"/350 millimeters, for a weight of 2.7 lb/1230 grams.
All trigger and cylinder indexing mechanism parts go through special heat and finishing treatments in order to minimize any friction between the moving parts and improve smoothness.
The hammer spring is tapered to increase flexibility, reducing resistance during compression and vibrations when the hammer strikes down. Barrel, frame, hammer and cylinder are finished with fine emery paper and chrome-plated. Grips are walnut wood, while the trigger guard is made from a single brass billet.

The Remington Pattern Custom has a price tag of 1268 euro (as usual, price may vary in your country).