Underhammer pistols were among the first to use the copper percussion caps invented around 1820. In this type of firearm the nipple and the hammer are under the barrel, so when firing this prevents sparks and possible cap splinters from hitting the face of the user. In addition, the hammer does not interfere with the line of sight.
It's a type of gun that is improperly referred to as a "saloon shooting" firearm, since they were actually very popular, especially in America in the first half of the 19th century, for defensive purposes. The particular hammer position in fact made belt-carry easier.
Pedersoli Cook Underhammer, designed for shooting competitions

For Pedersoli it is not the first underhammer replica, since they already have the Carleton model in .36 caliber in their catalog.
The Pedersoli Cook Underhammer is a .36 caliber rifled barrel, muzzle-loading pistol with a percussion firing system. It is an ergonomic gun easy to maintain, thanks to the barrel assembly system, consisting of a cone-shaped pin that keeps all the parts together. The front sight is drift-adjustable while the rear sight is elevation-adjustable. Stock is walnut, lock parts are machined from solid steel blocks, the PMG (Pedersoli Match Grade) quality barrel is broach-rifled with seven grooves and 450 mm twist. Being absolutely identical to an original, the Pedersoli Cook Underhammer can be used in MLAIC shooting competitions. 
Retail price of the Pedersoli Cook Underhammer is 991 euro.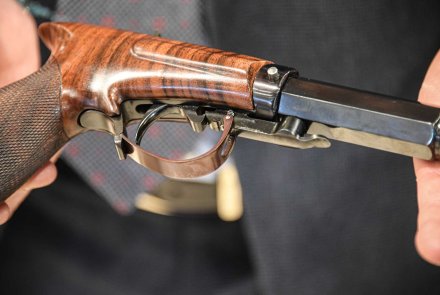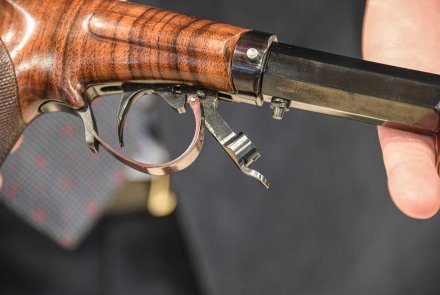 Pedersoli Cook Underhammer specs
| | |
| --- | --- |
| Model: | Cook Underhammer |
| Caliber: | .36 |
| Barrel length:  | 7.87"/ 20 cm |
| Rifling: | 7 grooves, 17.7"/ 450 mm twist |
| Sights: | drift-adjustable front sight, elevation-adjustable rear sight |
| Stock: | walnut wood |
| Overall length: | 14.17"/ 36 cm |
| Weight: | 32.45 oz / 0,92 Kg |
| Price: | 991 euro (price may vary in your country due to VAT and import duties) |