New SIG Sauer P226 X-Five Performance in 9 mm Luger features elaborated laser textures on all possible control elements, be it the slide serrations, the grip or the hold open lever. It is not just a matter of aesthetic: the textures offers the shooter a better grip and control of the gun under all possible conditions.
The biggest advantage lies in the flat trigger itself: no matter where the shooter´s finger is on the trigger, its laser texture allows the finger to stay in exactly this position – even with wet, sweaty hands.
The P226 X-Five Performance Mastershop pistol in detail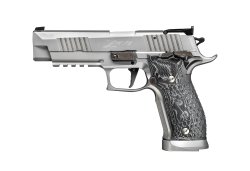 But the no-slip surface of the controls is just one of the many details of this new sport pistol - all4shooters already anticipated them here. The shooter can in fact also rely on all the other renowned features of the legendary X-Series, such as the  polished feed ramp to guarantee zero failures when loading the firearm, an extra thick 5" barrel and G10 two tone black/grey grips. 
A fully adjustable rear sight couples with a dovetailed front sight for a clean target alignment. The dust cover features a Picatinny rail, thus allowing for the use of accessories and flashlights.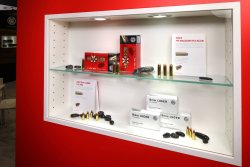 Such a special gun deserves special ammo: that's why SIG Sauer recommends GECO Hexagon 9 mm ammo for the X-Series pistols. GECO Hexagon ammo main features are:
a flat trajectory thanks to unique aerodynamics
a "golf ball" effect thanks to the 6 stabilization grooves on the bullet point
center of gravity moved back for greater accuracy
a cylindrical bullet section for improved barrel guidance
P226 X-Five Performance: availability and price
Delivery of this special model to the EU markets has started in June 2019. Retail price for the P226 X-Five Performance is 3.799.- (reference price incl. VAT from the German market; price in your country may vary due to VAT). What's certain, anyway, is that the new pistol fully embodies SIG Sauer's concept of quality and exclusivity.