A good chance for US collectors and shooters to own an original WW2 Colt 1911 pistol. The United States House of Representatives has passed a new version of the 2018 National Defense Authorization Act (NDAA) with an amendment added by US Rep. Mike Rogers, R-Alabama.
In the act in now included a provision that will mandate the release via the Secretary of the Army of all M1911 handguns currently in US Army inventory to the Civilian Marksmanship Program (CMP) for distribution to eligible US civilians: some 100,000 M1911/M1911A1 handguns, for whose storage the Army (i.e. taxpayers) currently spends 200,000 US dollars a year.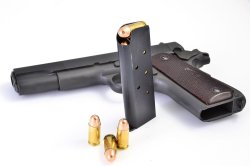 Any US citizen who is not legally prohibited from owning a firearm may purchase a military surplus rifle from the CMP, a US government-chartered program that promotes firearm safety training and rifle practice. 
The new bill would speed up the transfer of potentially the largest remaining stock of military surplus World War II-era handguns in government hands to the public. (The CMP's sales of 1911s would of course be treated as other retail sales under the federal Gun Control Act, including the attendant background checks and point of sale record keeping.)
The 2016 NDAA already allowed for the release of 10,000 M1911 handguns via a pilot program, but its provisions did not mandate their transfer to the CMP, and the Obama administration at the time reportedly blocked their release.  The 2018 NDAA's provisions would terminate the pilot program, and instead mandate the release of all surplus M1911 handguns to the CMP.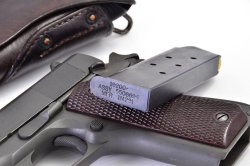 What prevented the transfer till now was a problem of wording, since the text of Section 1064 of 2016 NDAA read "the Secretary may transfer", while the new wording reads "the Secretary shall transfer". According to a statement by Rogers, "This policy has been included in the NDAA since 2015, but the Obama Administration blocked the Army to transfer the 1911s for political reasons. I am hopeful that with the help of the Trump Administration, we can make this provision a reality".

The next road block is that the amended bill must now pass the Senate, but there should be no opposition.