With just a few days to go before the SHOT Show in Las Vegas and in the year the company celebrates the centenary of its establishment, Mossberg introduces a 9mm pistol – the MC1sc Subcompact model. It may sound strange for a brand that's world renowned for its shotguns and rifles. Yet, when Oscar Frederick Mossberg, a Swedish immigrant, founded it the company's first product was actually a four-shot, 22-caliber pistol.
Back to the future, a hundred years later Mossberg's MC1sc pistol is a modern polymer single-stack gun avowedly designed for concealed carry and self-defense thanks to its "slim, dehorned profile". Overall length is 6.25 in  (4.3 in height, 1.03 in width) and weight is only 22 oz fully loaded. 
Mossberg MC1sc, "made to carry"
Some of the MC1sc's most interesting features: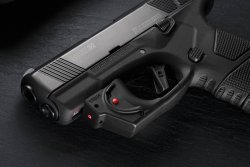 A safe takedown system that requires the user to make the handgun completely safe by removing the striker assembly before removing the slide. (The user is not required to pull the trigger in order to disassemble the handgun for cleaning and maintenance.)
Multi-angle slide serrations for positive slide manipulation.
Standard snag-free dovetail white three-dot sights for easier target acquisition, windage adjustment, and after-market customization.
Stainless steel slide with upgraded Diamond-Like Carbon Coating.
3.4 in barrel with upgraded Diamond-Like Carbon Coating.
Extended trigger guard for easy access.
Flat-profile trigger with integrated blade safety.
Reversible magazine release.
Aggressive grip texturing with integrated grip panels.
Palm swell and grip angle providing superior ergonomics.
The gun ships with a Clear-Count polymer 6-round flush-fit and a 7-round extended magazine. According to Mossberg, trigger pull is approx 6 lb. As for the three-dot sights, they are Sig #8 compatible.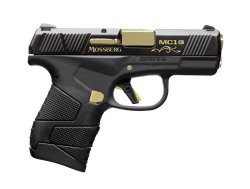 The MC1sc is available in five initial 9mm offerings: the standard MC1sc and an optional cross‐bolt safety version; two standard offerings with sighting systems, choose from TRUGLO Tritium Pro Night Sights or a Viridian ESeries Red Laser; and a Centennial Limited Edition with a production run limited to 1,000 commemorative model with 24 k gold accents engraved on the slide and Titanium Nitride-finished barrel and metal small parts.
MRSPs are 425 USD for the for the standard MC1sc and an for the optional cross‐bolt safety version; 526 USD for the  TRUGLO Tritium Pro Night Sights version; 514 USD for the laser equipped one; and 686 USD for the Centennial Limited Edition.
With the MC1sc Mossberg officially enters the very competitive sub-compact polymer pistol market and will have to face well-established brands like SIG and GLOCK. A rough game today. But as the manufacturer defiantly claims, "The innovative MC1sc was designed to outperform the industry-leading 9mm subcompact while continuing the Mossberg tradition of durability and dependability."