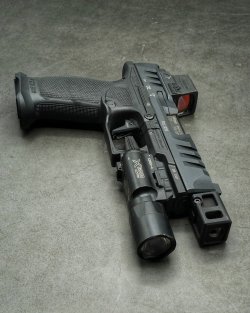 Already expected for quite some time, a modernization of the Bundeswehr's handguns will start in 2023, with a replacement first for the special forces and then probably for the entire force on the agenda. The German Federal Office of Bundeswehr for Equipment, Information Technology and In-Service Support (BAAINBw) on February 1, 2023, published the competitive bidding process for a seven-year framework contract to manufacture and supply the "System Pistole Spezialkräfte," or "Special Forces Pistol System". The future 9mm (9x19) service pistol is to replace the Heckler & Koch P30 and Glock G17 (aka P9A1) pistols currently in use. A full-size service pistol and a compact pistol are to be procured, which in technical jargon is then called the "Basic Weapon (BaWa) and Compact Weapon (KoWa) of the Special Forces Pistol System".
The procurement of up to 3,200 sets of basic weapons including accessories and up to 3,300 sets of compact weapons including accessories is currently envisaged. In addition, up to 820 sets of BaWa training guns including accessories and up to 1,180 sets of KoWa training guns including accessories. The whole is completed by up to 430 so-called "handling trainers" (non-functional dummy guns – "Blue" or "Red Guns" – for example for dry training of handling sequences or for close combat training). In addition, there are supplementary BaWa/KoWa sets, supplementary BaWa/KoWa training gun sets, handling trainers, special tool sets, spare parts packages, services.
Tender 2023: special pistols for Bundeswehr special forces
Before this can happen, however, the companies participating in the tender must first deliver 16 sets of basic weapons and 18 sets of compact weapons together with accessories (transport bag, magazine) for comparative testing and subsequent verification. In addition, there are supplementary sets for BaWas and KoWas. These include 20 silencers, 18 reflex sights, 20 compensators, 30 BaWa/KoWa magazines, 30 interchangeable large BaWa/KoWa magazines, 12 BaWa/KoWa magwells, 12 or 14 BaWa/KoWa cleaning kits, 12 or 14 BaWa/KoWa long slides, 12 or 14 BaWa/KoWa long barrels and spare parts (as required). All figures are non-binding forecasts.
The BAAINBw specifies the following design features in the invitation to tender:
The basic weapon and the compact weapon must be designed to operate in the same way.
The weapons must be suitable for the maritime environment
The weapons must have the same suitable interface for reflex sights
The weapons must have a suitable interface for a laser light module
The weapons must be able to operate with compensator and silencer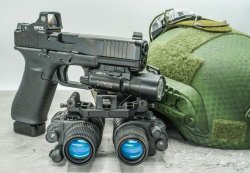 Another requirement is ITAR exemption, which means that the weapons and accessories must not fall under the U.S. export provisions of the International Traffic in Arms Regulations (ITAR). Likewise, the bidder must ensure the supply of spare parts for the next twelve years.
Interested applicants must have submitted their bids by March 6, 2023. The unit numbers allow the conclusion that not only combat swimmers and commando soldiers will be among the users of this system. Analyzing the key data of the tender known so far, it becomes clear that the Bundeswehr is aiming for a modular system concept in order to be able to convert and upgrade the pistols for a wide variety of mission scenarios by means of long slides, barrels as well as additional equipment such as mini red dot sights, laser light modules and silencers. Certainly interesting is also the fact that more compact than full-size service pistols are needed.
Technology trends that bring back memories and the favorites for the 2023 tender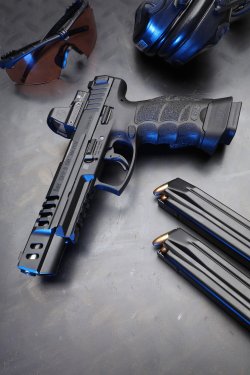 But what is really surprising are the requirements for compatibility with compensators set out in the tender. The author has been associated with IPSC shooting for over 30 years. If you look at the current requests around service pistols for special forces, you feel transported to earlier times, because already from 1995 to 2012, in addition to the Open Division with the "Full House Race Guns", there was a so-called "Modified Division", in which mainly high-bred 2011 High Capacity pistols with red dot sights and compensators were used, which had to fit into a 225x150x45 mm box when empty, cocked, on safe and with magazine inserted. However, the compact pistols were not chambered in 9mm Luger, but mostly also in the more powerful .40 S&W Major caliber. At the time, we were probably ahead of our time, because the red dot sights mounted on the frame and even more so the ones mounted on the slide failed miserably under the rigors of continuous use. There were failed electronic components, snapped cables, and broken lenses. In this regard, technology has advanced tremendously, as today's mini red dot sights from top manufacturers are quite capable of withstanding the ordeals. The Aimpoint ACRO Mini Red Dot Sight with closed housing ("Closed Emitter Mini Red Dot Sight"), for example, will survive more than 20,000 rounds in .40 S&W on a pistol slide without damage, according to the manufacturer. The high-power cartridge releases about 30 percent more energy than a 9mm Luger. During firing, enormous g-forces act on the optical and electronic components.
For each shot, the sights must withstand acceleration forces equivalent to 7,000 times the Earth's gravity for less than one millisecond. The sporting equipment used in the young IPSC Production Optics Light Division is even more closely related to the BW Special Forces service pistols now required. These are the same polymer frame, striker fire action service pistols in 9x19 fitted with mini red dot sight, only the screw-on compensator at the barrel muzzle being missing. To avoid misunderstandings, these are completely different worlds in the dynamic IPSC shooting sport (with emphasis on "sport") and the harsh, military operational reality. 
But if you reduce it exclusively to the pure guns and shooting techniques, in both cases it is about hitting multiple targets at changing ranges as quickly and effectively as possible in a dynamic scenario. Therefore, comparable trends in gun technology and equipment can be identified in both operational fields. Because the BAAINBw tender explicitly defines an ITAR exemption, one may well speculate that SIG Sauer USA with its very versatile P320 (introduced as M17/M18 MHS in the US Army) will stay out and that primarily the manufacturers Glock, Heckler & Koch and Carl Walther are likely to be in the game. Whether other European competitors such as Beretta or CZ will participate in the tender was not clear at the time of writing. 
We will of course stay on the ball with this interesting development and are curious to see how the requirements for a new, standard service pistol will be defined for arming the entire force. Stay tuned!