What is the Kimber Warrior?
To make a long story short, and without going into lengthy and boring details: Kimber made a very limited run of a custom 1911 pistol for the US Marine Special Operations Command Detachment One. Kimber then released a commercial version of this handgun: the Warrior.
The Warrior is a full size .45 ACP 1911 pistol featuring many improvements and custom parts. It features a 16-pound recoil spring with a standard guide rod, all steel frame and slide construction, a five-inch stainless steel Match barrel and bushing, and a match grade trigger, rated at a crisp 4.5 pounds pull – that is about two kilos.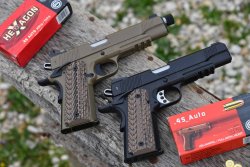 Franco Palamaro, © F.PALAMARO
The single-stack, no-frills, standard steel magazine holds seven rounds.  Other features are a fine checkered front strap and mainspring housing, an ambidextrous thumb safety lever, a 1913 Picatinny rail on the dust cover, skeleton hammer, and Front serrations on the slide.
The Warrior model we received for testing is finished in black and has fixed Tactical Wedge tritium night sights. 

Kimber Desert Warrior pistol: in detail 
Franco Palamaro, © F.PALAMARO
The Kimber Desert Warrior (TFS) is basically the same pistol as the Warrior, with some additional features: first of all, "TFS" stands for "Threaded for Suppression". The longer 5.5 inch barrel has the muzzle threaded for mounting a sound suppressor, obviously in those countries where it is legal to do so.
The sights are suppressor-height tritium night sights with a rear fixed cocking shoulder. Both frame and slide are finished in a KimPro II Desert Tan color finish. Just as the Warrior, the TFS pistol uses Kimber G-10 tactical grips.
Both these Kimber guns are fine match grade pistols that are designed for duty carry or personal defense.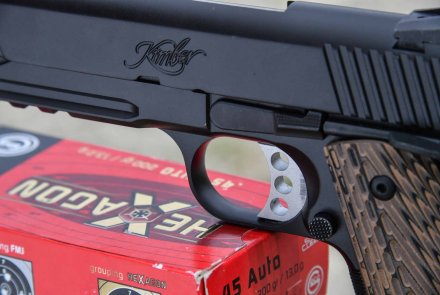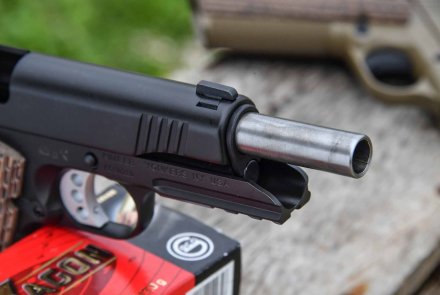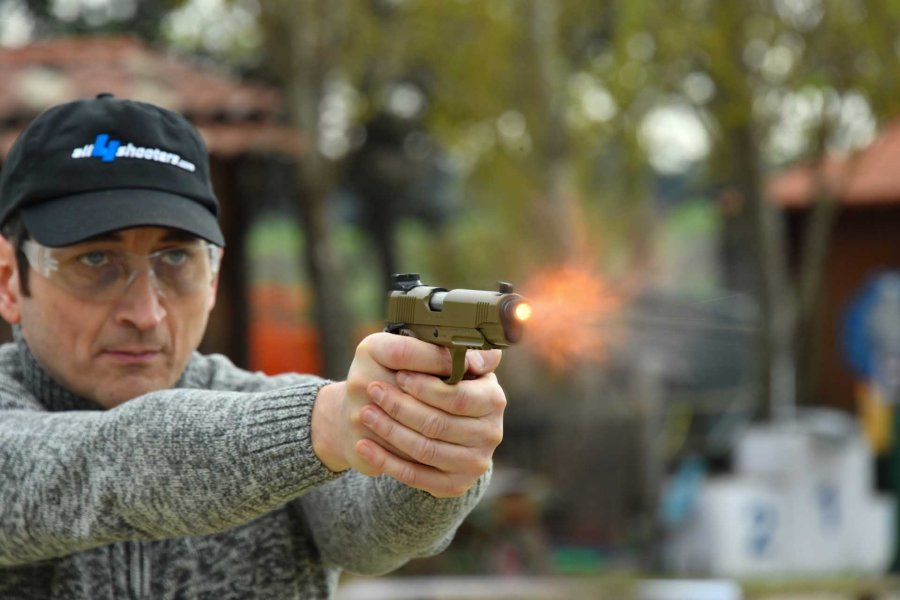 Franco Palamaro, © F.PALAMARO
We are not going to publish groups in this case, as we concentrated on testing feedback and accuracy shooting on steel: needless to say, on ranges that are from seven to 25 meters we never missed our mark, and when we did, it was our mistake, not the gun's.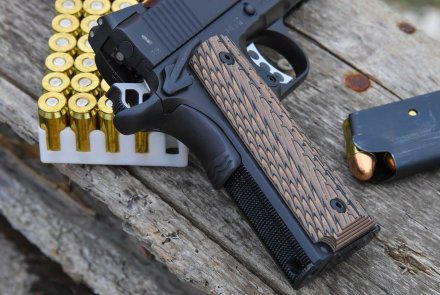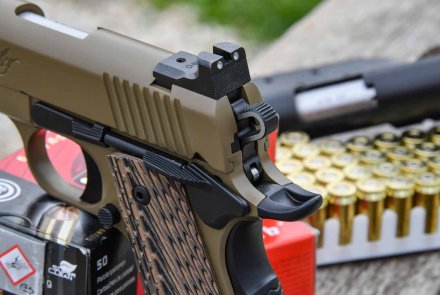 We used GECO 230gr FMJRN and GECO Hexagon JHP Match ammunition for our test. Both Warriors perform flawlessly provided a few boxes of ammo are run to break the guns in. We felt the slide to be really tight in the frame, with excellent fit and finish.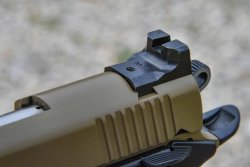 Franco Palamaro, © F.PALAMARO
Recoil is very pleasant, a somewhat firm shove that is extremely consistent in the hand, with a predictable muzzle flip that allows a very high and accurate rate of fire.
Trigger is crisp and breaks like glass. The 4.5 lb pull seems perfect for a defensive gun. All handling and operation of both guns are what you would expect from a 1911 – the reason Browning's creation has entered legendary status and there's no hint of its popularity declining anytime soon.
Cocking the slide using the high shoulder rear sight on the Desert (TFS) is doable, we're not used to it, so we have not tested it much beyond a "wow it really works!".
Sight picture in our opinion is best with the Tactical Wedge tritium night sights in the plain Warrior. The higher sights of the TFS, made to clear the width of a mounted sound suppressor, personally gave us a slight delay in acquiring the target, however that is very personal, and of course, YMMV.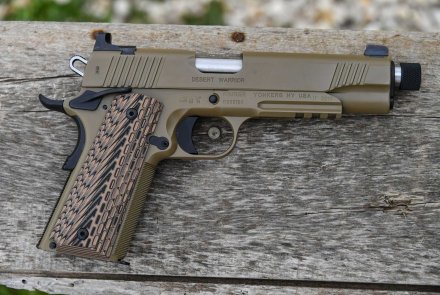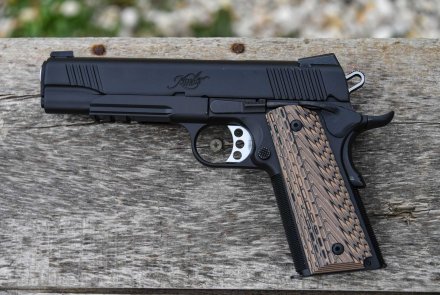 Controls are nothing short of perfect, in both size, feel and operation. The oversized ambidextrous levers of the manual safety are a joy to use, carrying the gun cocked and locked – as it should be.
The feel and performance of a racegun in a defense and duty package . What else can we say? Well, the guns are accordingly priced: we will not lie, both the Kimber Warrior and the Desert Warrior (TFS) are expensive guns, at 2196 and 2309 euro (including taxes) respectively, but they are indeed able to live up to their fame.
Video: the Kimber Warrior and the Desert Warrior (TFS) on the shooting range!
This video has been hidden because of an external service (YouTube) that could potentially collect personal data.Allow video services for the duration of the visitAllow video servicesStop allowing video services