A blue line encircling the slide is the distinctive feature of the new special edition "Thin Blue Line" PM9 pistol by Kahr Arms.
The reason for this is explained in Kahr's press release:  "Every day, hundreds of thousands of law enforcement officers across America form a 'thin blue line' between a lawful and lawless society. They place their lives at risk to protect their communities from harm. In doing so, they deserve the respect and gratitude of those they serve. Kahr Firearms Group has chosen to honor the men and women of law enforcement with a new special edition pistol called the 'Thin Blue Line'."  "We offer this product as a show of support and strength for those men and women in blue," adds Jodi DePorter, Director of Marketing.
Kahr Arms PM9  "Thin Blue Line", compact and rugged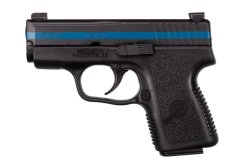 This custom project was developed in conjunction with Kahr's Law Enforcement Pro Staff Shawn Barry. Compact and rugged, the PM9 is a well-known model, being on the market for more than ten years. It's a polymer-framed, striker-fired, double action only pistol, featuring a low bore axis to mitigate felt recoil and a Lothar Walther 3-in match-grade polygonal barrel as standard. Chamberings available are 9mm, 40S&W and .45 ACP.
Our only objection is that blue is usually associated with training and non-live weapons, and the blue line on the slide could be confusing for some professional users.
The "Thin Blue Line" PM9 slide is finished in durable Armor Black Cerakote. TruGlo tactical night sights and two flush mount six-round magazines plus one seven-round extended magazine are included in the package, for a price tag of 899 USD. A full limited lifetime warranty is included.